There is a lot of confusion among investors about Qihoo's browser market share. Does Qihoo really have 60% market share in China? (EG, Here)
28% and 2nd place.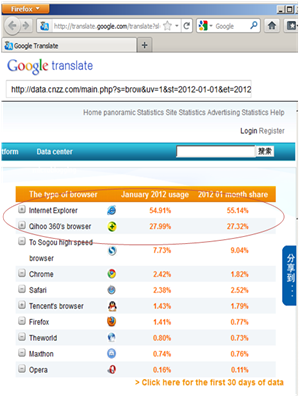 In reality, Qihoo's browser utilization rate is 28%, as of January 2012 -- and as one would expect it is Microsoft's Internet Explorer which is the market leader.
Citron Research already illustrated this by citing the source -- cnzz.com -- but the confusion remains.
So why are so many investors confused?
Here is Qihoo's 2011 third quarter press release, …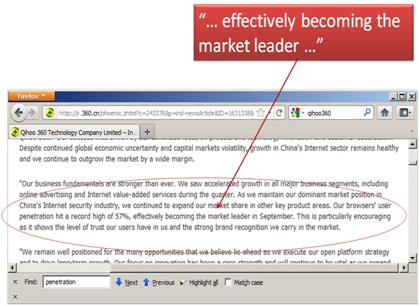 "Our browsers' user penetration hit a record high of 57%, effectively becoming the market leader in September."
But in September 2011 Qihoo's browser was clearly not the leader.
Using the statistics page from Baidu, slide to the September 2011 time period and you will see Qihoo's 21% for 360 browser sandwiched between 59% worth of Microsoft browsers … (Confirm Qihoo 360's Chinese Characters in the Google translator here.)
Citron Research called Qihoo out on this data mismatch, showing that it is impossible for Qihoo's browser to have 57% while MSFT has 55%. (here and below)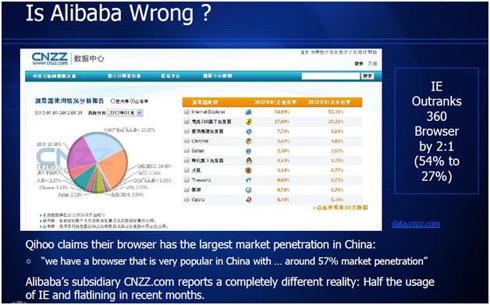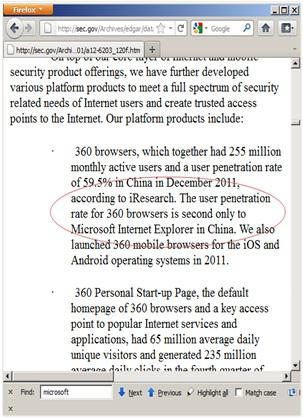 Next Qihoo updates its SEC disclosure, this time using Internet Explorer as a reference point … in the lead ... but the damage has already been done.
Qihoo's 360 browsers have "... a user penetration rate of 59.5%"
and are "...second only to Microsoft Internet Explorer in China."
(SEC filing DEC 2011 20-F here)
All of this only makes sense if we are talking about what users have on their computers … not what they actually use. For example I have three different browsers installed on my computer, but I only use one of them ... 99% of the time. So when Qihoo refers to +50% it must be referring to the number of users who have the software on their computer. When Baidu refers to Qihoo's browser as 20-something percent it refers to actual usage relative to other browsers ... a number which is much more meaningful when making an investment decision regarding Qihoo.
In the 2011 third quarter announcement mentioned above, which does not use Internet Explorer as a reference point, Qihoo's readers are easily left with the impression that the 360 browser dominates the Chinese marketplace ... with 60% usage. Again,
"Our browsers' user penetration hit a record high of 57%, effectively becoming the market leader in September."
The second half of this sentence is simply untrue, and it renders the first half not merely incomplete, but clearly misleading.
And what kind of browser "war" is this anyway? ... to be the best imitator?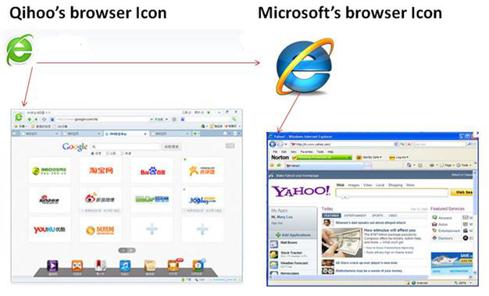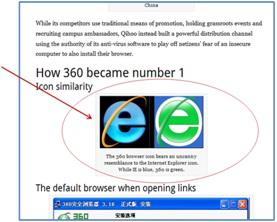 Here is a juxtaposition of both MSFT's IE and Qihoo's 360 browser icons. How many novice users might there be who do not know the difference? (I took this snapshot from an online history of Qihoo's browser "war." It's an interesting read: Here. This history incidentally illustrates the scope of the confusion; even though he is a critic, he too believes that Qihoo has surpassed Microsoft for browser dominance in China.)
… As for Qihoo's technology ….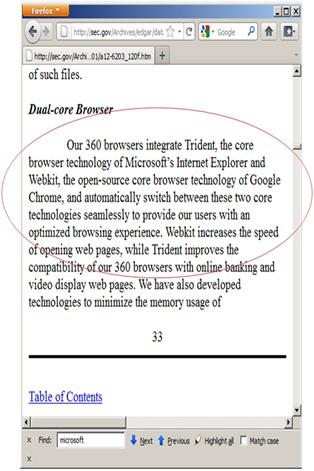 (SEC filing DEC 2011 20-F here )
Is it Qihoo who occupies second place in China's browser war ... or is it just Microsoft again?
Is Qihoo's 360 browser dominant in China? No.
1) Do many people think it is? 2) Is it growing?
For "Yes" as an example of the first question and "Yes" as an answer to the second, read this interesting history: How Qihoo 360 Won the Browser War in China
Disclosure: I am short QIHU.
Additional disclosure: and long MSFT (but not for reasons outlined here)