[Return to "Table of Contents"]
Reporters and Technical forums disassemble the Qihoo AK47 Smartphone and declare its workmanship to be "shoddy," its parts "rubbish," and spread photos through the internet news and blogs.
All excerpts below, unless noted otherwise, were professionally translated.
Title: "The 91 testing lab takes a look at 360-exclusive phones - The facts about the high quality-price ratio" (Google Translation, here; original, here)
ZDNet News Source: 91 Mobile Entertainment
Regarding Qihoo's branded phones:
"The so-called high specifications are (in fact) no more than cheap compromises."
"Take the popular Alcatel AK47 as an example. As early as the 27th June the media had rushed to be the first to publish pictures evaluating this disassembled 360-exclusive phone. The pictures demonstrated soldering techniques on the motherboard akin to those found in last century's mobile phones, meaning that the motherboards could be justly described as "cheap compromises" in the smartphone era."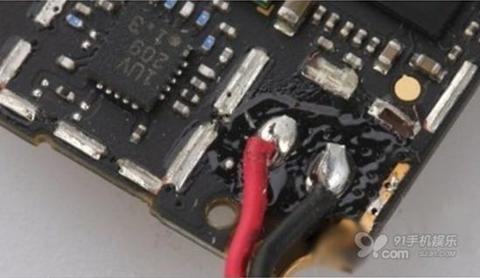 Caption: "Described by netizens as "a revival of 20th century hand-working technology""
After the "Soldergate" jump-wires had been exposed on the AK47, some media editors ridiculed them and exposed pictures of "Soldergate" on micro-blogging sites, stating that "there's nothing special about jump-wires" and that such jump-wires could still be considered passable for use.
Title: QIHU360 Branded Phone Is Accused of Using Inferior Motherboard, Suspected Intimated Production in Black Workshops
The Google translator was less kind: "Qihoo 360 special phone accused of rubbish motherboard suspected black workshop foundry"(Google Translation, here; original, here.)
Finally, the QIHU360 branded phone AK47 model arrived after rounds of speculations. The media reviewed this model before its official release. It is reported that the phone is equipped with a "dirty display" without a nano-coating. What is even worse is the release of the break-up evaluation image of AK47 model (TCL branded Alcatel OT986). The inferior motherboard is the biggest concern. It is suspected that AK47 model is a result of imitated production in workshops in Huaqiangbei. The model is attached a label of "jerry-built motherboard".

"The image was first released on the Android Forum."
[These three images were shown in this article]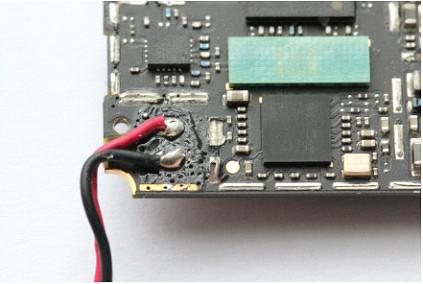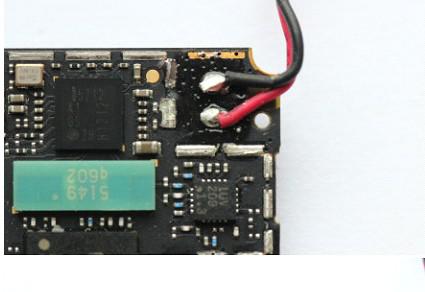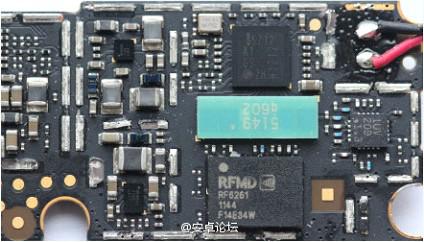 The following was clearly stated in a Qihoo conference call:
"Coincidentally, Zhou Hongwei has made it clear that QIHU360 is not responsible for the quality and after-sale service which confirms that Zhou himself is not confident in the model. "
"In countryside of Dongguan, products as shown in the figure above are made on a family workshop basis, using the primary welding technology and motherboard scrap screened in scrap yard or garbage collection."
"Branded makers are not courageous to use such "jerry-built motherboard", among which, the quality is the first and utmost concern. It is self evident that such issues as battery explosion, crash or others resulting from the inferior motherboard prove a damage to phone makers."
Professional translation below to be compared to immediately following good translation:
"QIHU360 branded phone is the recipient of wide criticism due to its "jerry-built motherboard". Its AK47 model is the biggest concern in microblogs. It is estimated that the cost is less than 700 Yuan since intimated production is based on cheap and low-end components including inferior displays. Such phones are sold at 1699 Yuan while Zhou himself claims that it is sold at "no margin".
[I'm getting feedback on the translation "intimated production" - it may be a typo related to translation "imitated production" above. I will post the reply or (hopefully) substitute this expression with a better translation. I believe the Chinese Characters in question were translated by Google as "black workshop foundry." See next paragraph.]
Google translation of the above paragraph:
"Qihoo 360 special phone this "jerry-board mobile phone has received continuous users of Tucao the microblogging AK47's Tucao formation of hot spots, black workshop foundry as well as poor quality screen, and other low-end inexpensive accessories, the media pointed out that its cost is less than 700 yuan, while Qihoo 360 special for the machine is priced at 1699 yuan, Zhou claimed that his own special for the machine to "zero profit"."
[Return to "Table of Contents"]
Disclosure: I am short QIHU.