I've personally followed and analyzed Glu Mobile more than any other stock over the past 3 years. In hindsight, I might have preferred to follow a more profitable investment, but here we are…..So, this article is my attempt at sharing with you the highlights of my many hours of research on Glu's business. This blog will cover:
- My Q1 and FY2017 booking revenue estimates; the big 3 games.
- Crowdstar acquisition evaluation.
- Discuss key data points for Glu Mobile in FY2017
First, I don't recommend you buy GLUU stock based on my opinion. I don't plan to recommend a stock until I consistently outperform the S&P500, which to date, isn't the case…Having said that, I'm confident I can still contribute value to you in this article and the future if you're interested in Glu Mobile. You'll have to use your own expertise on how to profit from the stock.
I've been a Glu Mobile shareholder since 2014 and the original Deer Hunter game. Over the past 3 years, if you've been following GLUU (or a quick check on GLUU's stock performance)…you know that the experience has been a roller coaster. Multiple time's GLUU has shown significant promise for growth and success in mobile gaming, only to be a large disappointment. As you can see below, GLUU's stock is back to where it was, and has even been below 2013 lows.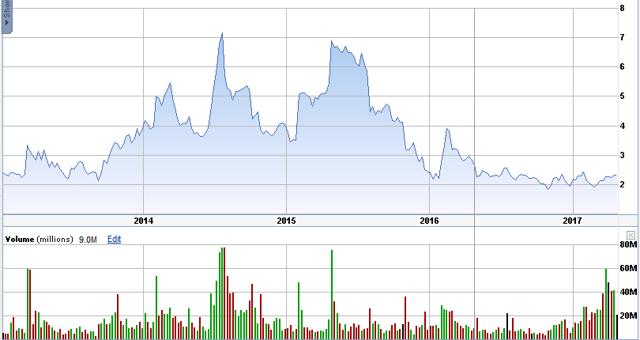 In FY2013, GLUU's revenue was ~$100M. In FY2016, revenue was doubled to ~$200M; however the number of shares outstanding has also almost doubled from roughly 70M shares to 134M shares. They've launched successful games (and unsuccessful), made some great acquisitions, took on investment from Tencent, forecasted $1 Billion revenue in FY2020, hired a new CEO, introduced celebrity game model, consistently estimated revenues and profits inaccurately, plus a laundry list of other positive and negative factors.
I can't cover everything, but I think the data in this article will be interesting and helpful.
GLUU FY2017 Guidance + My Estimates:
(Quick NOTE: Total Revenue vs. Booking Revenue - For the first time in Q4 2016 (last quarter), GLUU reported the 'Revenue' total, in addition to the 'Booking' Revenue. Revenue total is commonly reported by the larger mobile gaming companies, but GLUU had previously only reported Booking Revenue.)
Because of the new 'revenue total' number to be reported for Q1, my estimates for this metric is much less predictable since there's only 1 quarter of numbers to compare against. The best data we can compare is from last quarters filings:
Here is reassembled data from GLUU's FY16 Q4 8-K:

(*8-K disclosure: Bookings do not reflect the deferral of certain game revenue that Glu recognizes over the estimated useful lives of paying users of Glu's games and excludes changes in deferred revenue and litigation settlement proceeds.)
The '% difference' data between the booking revenue and the total revenue reported last quarter is the key data point in the above chart. Bookings were 25% higher than total revenue. As you can see over the past two years, this number should sit in the single digits. I expect during FY2017 the difference between Bookings and Revenue will align closer with FY15 & FY16; which means a revenue boost for GLUU when those bookings in Q4 are converted into total revenue during FY2017.
Due to the wide spread between 'Total Revenue' and 'Bookings' in Q4, I'm only going to reference the Booking revenue for my estimates. This is the number I've used for years and I feel I can present more accurate data for you this way.
GLUU's guidance for Q1 2017 & FY 2017 as announced in the Q4 earnings report: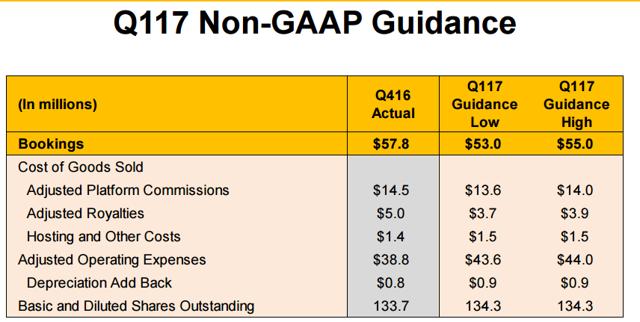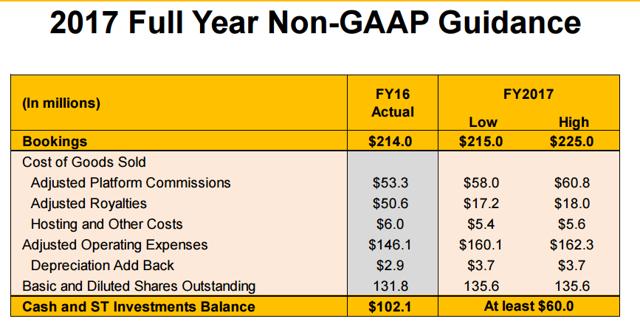 I've added GLUU's guidance into the chart below and provided my estimates for FY 2017: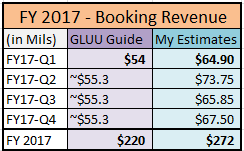 I must note that GLUU's guidance, and my own estimates, can change during the year with any number of developments (Game delays, +/- game performance, acquisition/partnerships/royalties, etc). Any GLUU investor has seen this play out over the past few years. For that reason, although I try to estimate as accurately as possible, I'll always err on the conservative side with my numbers. My estimates in this article reflect the most accurate data currently available to me.
As you can see below, my estimates for Q1 & FY 2017 are quite a bit higher than GLUU's guidance. I've provided a detailed breakdown of my revenue estimate for each game in FY 2017.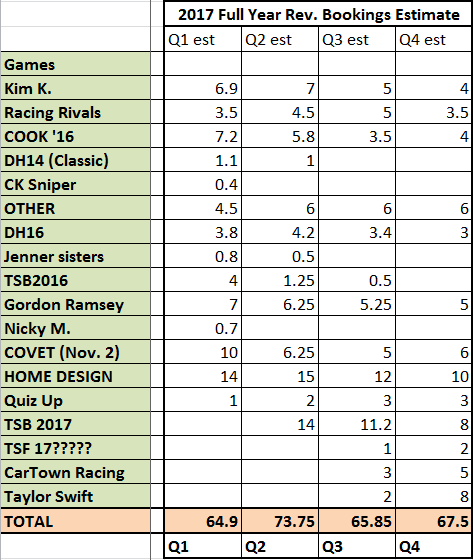 Based on my estimates for Q1 and FY17, as well as my conservative revenue total for new games, it seems entirely possible for GLUU to raise both Q2 and FY17 revenue guidance (currently $55M and $220M respectively). Of course, even if they expect the increased bookings, there's no guarantee that they'll raise guidance to reflect it.
GLUU plans to launch 1-3 other games, not listed in my chart, in 2017. You can see I assumed $0 revenue from any surprise here.
When FY 2017 is completed, it appears very likely the total revenue bookings for the year will be above $250M. Which is $25M-$35M above current guidance.
In the chart below, you can see my FY2017 revenue estimates on the right, but I've expanded to include FY2016 revenues and the estimates I had for each game going into every quarter.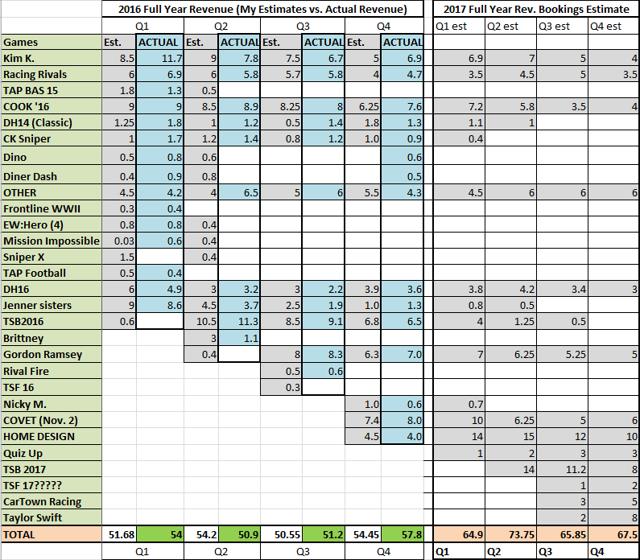 For the 1st half of FY2017, three games standout as the most important for evaluation. Each game will generate $10M per quarter, in Q1 and/or Q2 FY2017. The three games are MLB Tap Sports Baseball 2017, Design Home and Covet Fashion. (Design Home and Covet Fashion are both Crowdstar games which was acquired by GLUU in Nov. 2016)
MLB Tap Sports Baseball 17:
The chart for MLB Tap Sports Baseball 17 looks good for the first 3+ weeks. Below shows the ios comparison for the first ~1 month of MLB Tap Sports Baseball '17 from the previous year's version, TSB 2016: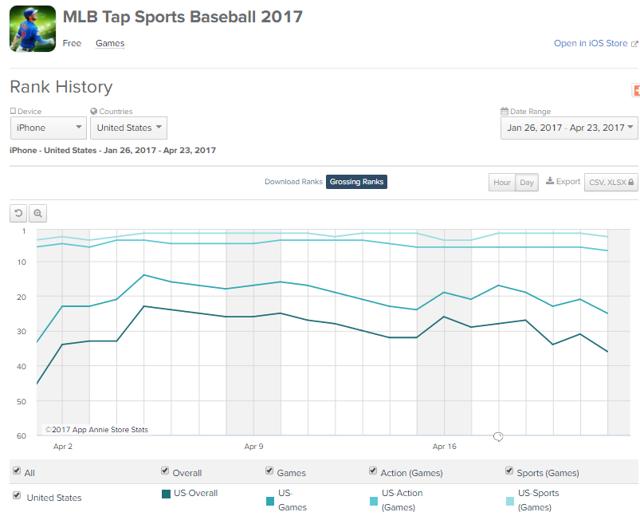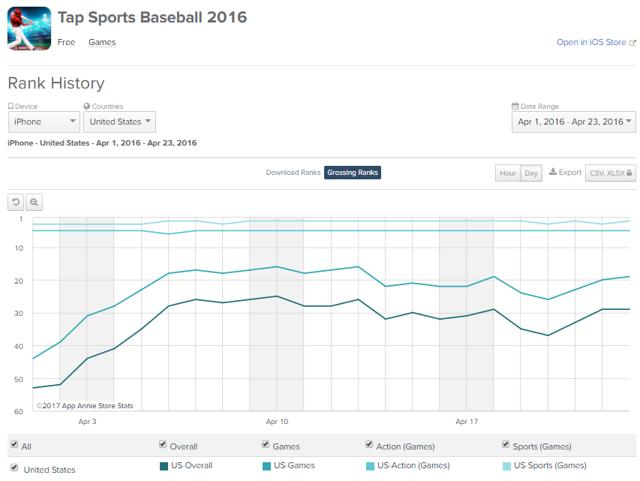 Both games were published at the end of March. The largest difference in the game: MLB licensing for all MLB teams. This cost GLUU $17M for the '17 version of the game. GLUU needs to gross at least $17M more for the new MLB baseball game than they did for the 2016 Tap Sports game. I expect the MLB licensing to be a big benefit for the game, as well as the new GLUU CEO with extensive EA Sports experience.
Whether the game outperforms last year's grossing revenue by $17M is possible with current grossing trends after <1 month. However, if it doesn't continue for 2+ quarters, this game could be categorized as a disappoint.
Below shows the performance of Tap Sports Baseball 2016 over the last 3 quarters; plus a Q1 revenue estimate to be reported on May 3 rd. We can see that revenue will be down 'bigly' in Q1, but let's see how 2016's performance relates to MLB Tap Sports Baseball 2017 estimates.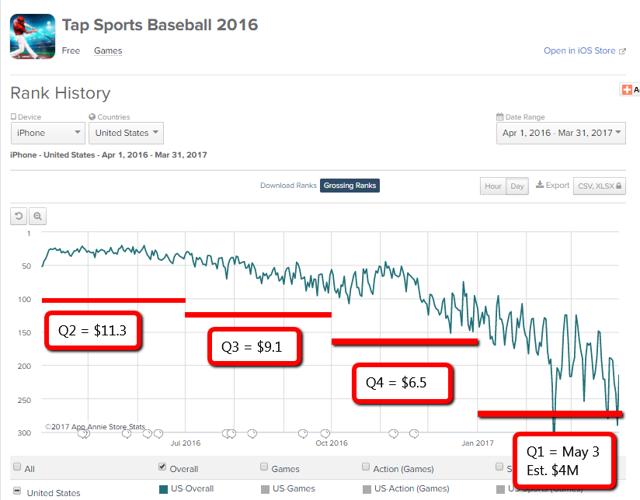 My revenue estimate for MLB Tap Sports Baseball '17 vs. TSB 2016's actual revenue reported.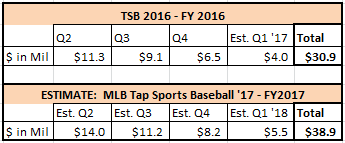 MLB Tap Sports '17 could outperform my estimates, but currently, at least, it should exceed grossing revenue for the same full year time period of last years' game by $8 Million. I think management would be disappointed with anything less than the $38.9 Million I've estimated for earnings Q2 '17 - Q1 '18. ($33.4M in FY2017 revenue).
Crowdstar Acquisition (Covet + Design Home Performance):
The acquisition of Crowdstar is on a path to be a major win for GLUU. It was purchased for $45.5M in cash, bringing GLUU's ending FY16 cash balance to $100M. Crowdstar has two titles that are key for FY2017.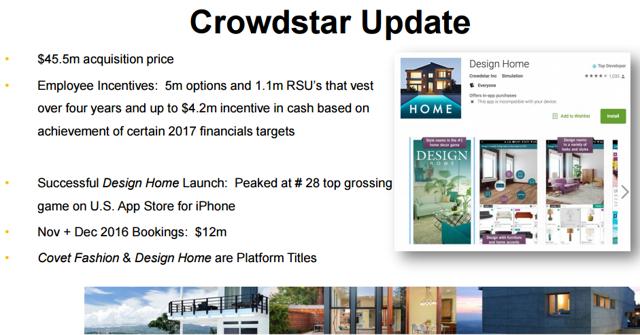 Design Home:
Design Home (DH) was launched by Crowdstar/GLUU in November a few weeks after GLUU acquired them. Design Home is preforming better than could have been anticipated in the most optimistic scenarios when the company was acquired.
In 6 weeks of Q4 FY2016, Design Home contributed $4M revenue bookings. Q1 FY2017 earnings on May 3 rd will be the first full quarter for DH reported revenue bookings. Since January 2017, DH grossing revenue has been steadily growing across both platforms and worldwide. My estimate for DH Q1 revenue bookings is $14M, with Q2 revenue growth above $15M.
In other words, Design Home is on track to pay for GLUU's entire Crowdstar acquisition of $45.5M by ~Q3 FY2017. If the 'Covet Fashion' game's past success and multiyear revenue performance are any indication for DH, FY2017 and FY2018 could see significant revenue contributions. (Potentially >$100M total.)
Below are the App store and Google Play grossing rankings since Design Home was launched. I've included quarterly revenue reported, as well as my estimates,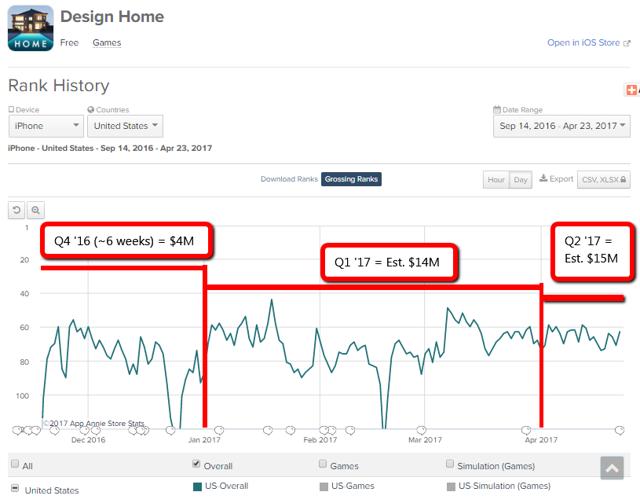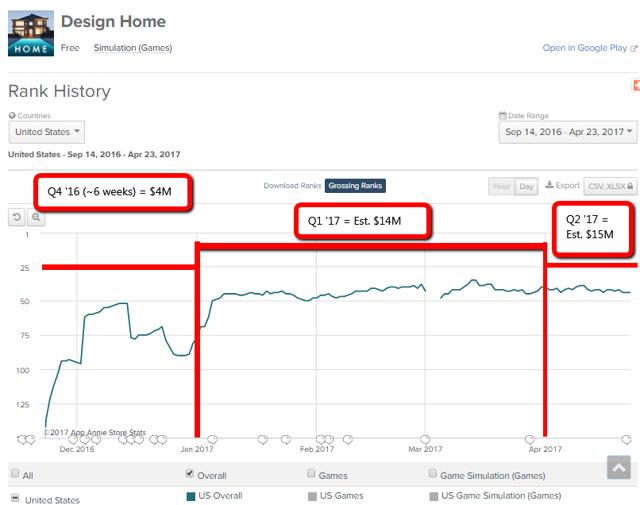 Design Home revenue numbers look good and consistent in the US on both ios and google. DH ranks similarly high in gross revenues amongst other top spending countries (CAN, UK, others). Even though a majority of DH's revenue will come from the US, I find the daily worldwide rankings interesting for DH. They appear to signal that the grossing revenue numbers continue to trend higher week over week for Design Home.
In the chart below I used App Annie to track the number of countries where Design Home showed up in the Top '10', '100' and '500' grossing overall app's in the App store and Google Play, from January 1 st to today. I did this by charting the total number of countries in each top grossing category every Saturday of 2017.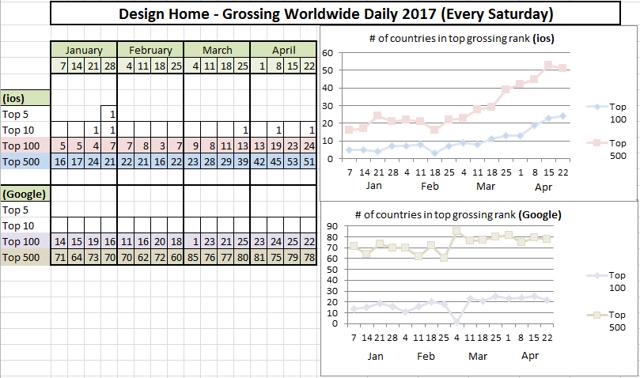 The worldwide daily grossing numbers for DH show that the first month of Q2 2017 (April) is outperforming all of Q1 (ios most significantly). If you take the last 2 weeks of Q1 (March) vs. the last 2 weeks in April (Q2). The average shows the # of countries grossing in the top 100 moved from 12 to 24 countries. In the same timeframe, Top 500 moved from 34 to 52 countries.
It takes a lot of markets grossing in the top 100 and 500 to impact revenue on a scale of the US market, but it's a trend in the right direction and a fact that can impact the annual revenue of Design Home by millions.
Covet Fashion:
Covet Fashion is experiencing a drop in grossing revenue since January 2017 on both ios and google. In Q4, since the acquisition on November 2nd (2 months of Q4), Covet contributed $8M in revenue. It will be important to recover Covets grossing revenue to a sustainable level. The Crowdstar team leads me to believe this is a very possible scenario. Having said that, I've been very conservative estimating FY 2017 revenue by quarter for Covet. I estimated revenue with the assumption Covet doesn't return to its $40M+ annual revenue of the past so that any success can provide lots of upside potential.
I estimate FY17 revenue for Covet to be $27.25M (Q1=$10M, Q2=$6.25M, Q3=$5M, Q4=$6M).
My judgement assumes continued success of Crowdstar games based upon past results and current trajectory.
Improvements to revenue with Crowdstar:
Covet, under Crowdstar, earned 8% of revenue from advertising. GLUU games average 16% of revenue from advertising. Therefore, with movement towards advertising revenue percentages similar to GLUU, Covet could see $1.5-$3M added to annual revenue. GLUU also said they can cut development costs for Crowdstar from 35% to 17.5%. (Hopefully not at the expense of Crowdstar quality games.) This could reduce Crowdstar's annual dev expenses by $3M+.
Volume!
The trading volume of GLUU stock over the past month has reached and exceed the peak volume experienced during the rise of Kim Kardashian's game in 2014. A large difference is that the volume in 2014 coincided with a stock price movement of 100%+, whereas, the past month has seen the stock in a mostly tight range of $2.10-$2.30 (<10% stock price movement).
What does this mean? Your guess is as good as mine.
Shares outstanding is one difference: Q1 2017 = 134M shares outstanding versus between 80M to 107M shares in 2014 (Those are total outstanding shares Year End 2013 and 2014. So at the time of KKH launch, shares outstanding were in that range).
A few details I'm thinking about GLUU's recent stock volume:
The high volume (50 day avg. volume = 7M+ shares) translates to $15 Mil daily buy/sell activity ($2.15 avg. x 7M share). This volume must be large funds, with retail investors having very little effect due to $15 mil worth of stock changing hands daily. With this extremely high volume, there has been minimal stock price movement. What does it mean? Is it good or bad? I doubt existing GLUU shareholders are buying up 10M shares per day after the stock price disappointment over the past 2 years…
Who is buying/selling GLUU?
Tencent is a possible buyer and something investors would like to hear. If Tencent is selling shares, I see this as very bad for future growth and capital support. I really don't expect Tencent to exit their GLUU position. There seems to be much more upside than risk considering Tencents massive market cap and cash/investment history.
GLUU's buyback program is certainly possible, although I'd personally be very surprised with this based on past experience. While I've thought buybacks would be a smart move in the past, that was when they had much more cash and a stock price below $2. Also, guidance for outstanding shares in Q1 didn't reflect a reduction in shares. If GLUU has recently used the buyback, with the limited insider buying we've seen, and the fact that it would mean some large fund is selling stock back to GLUU, I don't see this as positive news.
A new institutional investor or fund is the most likely reason for high volume. Someone must be accumulating GLUU shares. I'll be interested to see if and how many new 2-4%+ outstanding share owners are reported.
If you check Nasdaq.com and the institutional holders of GLUU, you'll see there are many more funds that need to report buy/sell activity for the period 1/1/17-3/31/17. As you can see in the diagram of total shares sorted by reported 'date', the funds that have reported for Q1 2017 only total ~150,000 shares of stock activity. Considering the massive volume over this time period and continuing in April, institutional ownership should see some big changes, for better or for worse. Due to section 13(f) of the 1934 Securities Exchange Act, Institutions can delay ownership disclosures for 45 days. This means that Monday May 15 th is the date institutions must have filed their disclosures. It may be after Q1 earnings on May 3rd before we see all of the changes in the institutional investor's holdings.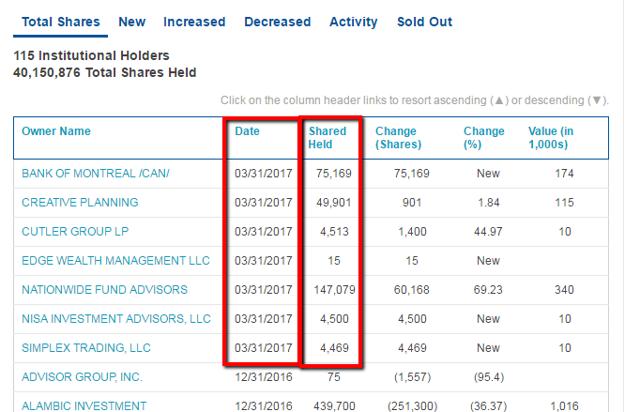 Or, of course, I could be completely wrong and retail investors decided to buy/sell $750M worth of GLUU stock over the past 50 trading days! (7Mil avg. daily volume x $2.15 avg. stock price x 50 trading days = $750Mil)
Short interest?
Short interest is still elevated, but lower than it has been in over one year. The chart below shows the increase in volume over the past 6 months.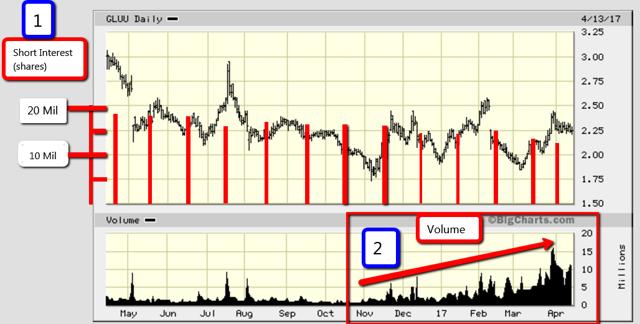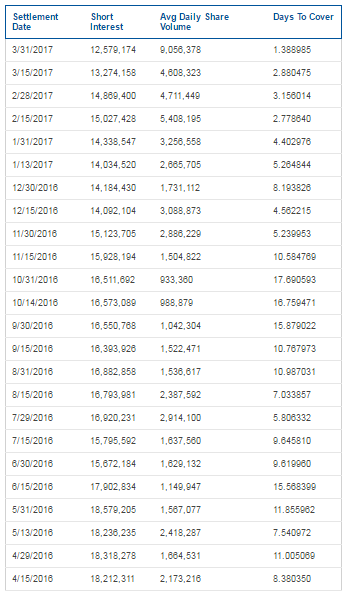 While on the topic of volume and shorting, GLUU has issued large amounts of outstanding shares over the years, diluting shareholders. As of the end of FY2015, through FY2016 and based on guidance for FY2017, GLUU appears to be making a committed effort to reverse this. By the end of FY2017, estimates are for 135M outstanding shares, up a few million over two years. (Much better than the almost 100% growth in issued outstanding shares between 2012 and 2015 (64M shares to 119M+ shares).
As mentioned, GLUU's stock volume has been increasing over a longer time horizon dating back to November 2016. At that time there were two noteworthy events:
1. GLUU stock reached a multiyear low of $1.73.
2. GLUU announced the acquisition of Crowdstar for $45.5M.
Since those events, GLUU's stock has become more interesting to investors as reflected by the volume.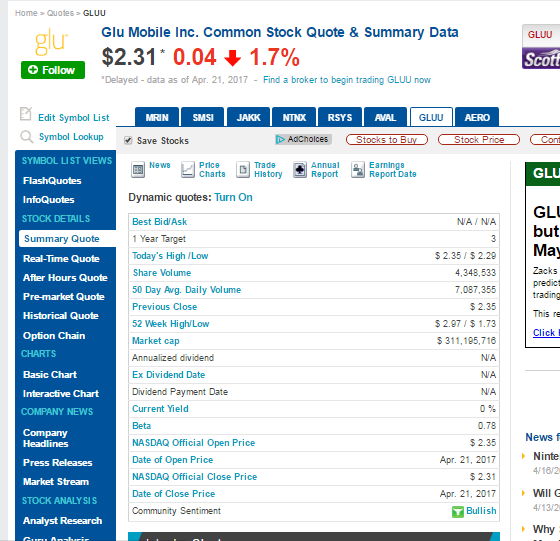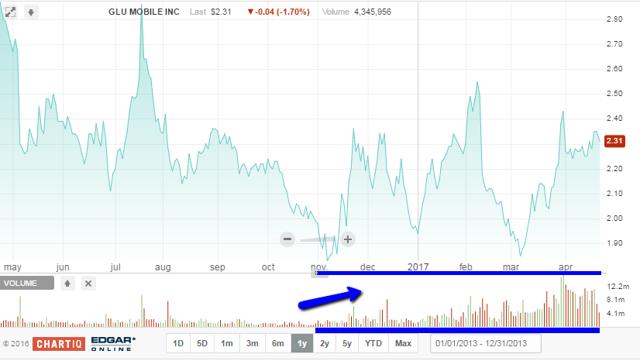 Conclusion:
2017 will be an interesting year for Glu Mobile. I see multiple positive catalysts and opportunities for the company. I again must re-iterate that I've felt a similar sense of positivity heading into certain earnings reports over the past few years, only to be less than satisfied with the updates. So we'll see what May 3rd and FY2017's outlook brings.
Keys for me:
Design Home revenue surprise? MLB Tap Sports Baseball 2017 guidance for Q2. New institutional investors? Explanation for 6 month trend of growing GLUU trading volume.
I hope some part of my research has helped you in your understanding, or given you a different perspective to leverage. I've shared a few other data points below that I'm interested in, but didn't discuss in the article.
Other data points:
Unexpected trouble for May 3rd:
Poor profit guidance for 2017 Issuing more stock; increasing compensation disproportionately. Minimal details on upcoming game releases (CarTown Racing, EW4, Taylor Swift, etc.) No raise to Q2 or Full Year 2017."Glu will be required to consolidate Carbonated's financial results into Glu's financial statements beginning in the first quarter of 2017."(Carbonated is new owner of Racing Rivals and includes Profit sharing with GLUU.) Since Racing Rivals has not performed well, I expect the addition of Carbonated's financials into GLUU's Q1 ER to negatively affect their reported earnings. Car Town Racing DID NOT Launch End of Q1; this will cause a $5.4M restructuring costs as reported by GLUU. $4.5M will reflect in Q2. This is negative for GLUU earnings in Q1 and Q2.
Positive news for May 3rd:
Expanded partnership with Tencent or ownership increase. New games announced and timelines. Male celebrity announced. Home Design Revenue beat to $14-16M in Q1; $15M+ Q2 est. New games
Royalties: FY2017 guidance = $18M vs. FY 2016 = $50.6M
"During the fiscal year ended December 31, 2016 we recorded a $14.5 million royalty impairment related to the prepaid guaranteed royalty and license fee payments that we have made to an affiliate of Tencent Holdings Limited, or Tencent, related to our Rival Fire game and a $20.2 million impairment related to certain contractual minimum guarantee payments made to certain of our celebrity licensors and other prepaid royalties. "
Disclaimer:
I currently use a 401K account for retirement investing. I have >20%+ of my portfolio invested in GLUU at an avg. of $2.31. I've watched many positive catalysts going into an earnings call and seen how it can result in the stock shooting in unexpected directions. My experience with GLUU's stock has been mixed, and I've had past earnings report expectations for positive stock movements, only to see a large drop after having added to my stock position.
I don't want to increase my portfolio % allocation to GLUU beyond where it is, but I'd like to be able to buy a few thousand shares if the Q1 ER/FY17 outlook disappoints and the stock retests the $2.00 range. For these reasons, I am actually looking to sell some GLUU shares prior to the Q1 earnings report (My new GLUU portfolio % target before ER <20%). My high % of portfolio allocation to GLUU is based on longer-term hold (2+ years).
Disclosure: I am/we are long GLUU.