This article appeared in our Weekly Index Analysis for Feb 22 - 2009

Dow Jones Industrial Average broke a major support on Feb 04, 2009 with a long black candle. This price action was accompanied by volume higher than 65 days average volume for the index. We consider 10729 to be a new resistance for Dow Jones. This level acted as a support in 2006 and 2008. A failure to breakout of this resistance can dip dow below 10000 sentimental level.
.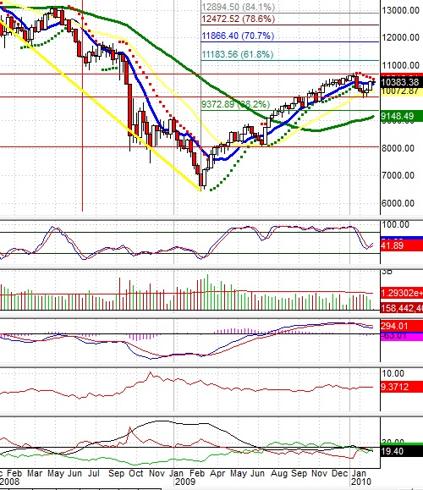 Weekly Analysis of the Dow Jones Chart shows MACD histogram crossing below zero. This implies further pressure on the index. Our simulation of past candles based on the price action of the latest session indicates a 60-70% probability of price falling further from this level.
New Support for Dow - Unless market comes with spectacular news, that could lift all indices, StockJupiter.com analysis indicates a new support at 9904 mark. Breakdown below this new support could lead to Dow seeing 9300 mark. We do not anticipate price action at this low levels, however unfavorable economic news, especially around industrial production, employment, consumer price index, Fed discount rates etc. could lead Dow to this point.