On Monday, Apple (NASDAQ:AAPL) announced a number of new features and benefits to its platform - largely centered around tighter integration and a better user experience. Microsoft (NASDAQ:MSFT) chose the same day to announce its acquisition of LinkedIn (LNKD) for $26.2B. So, which of these two titans fared better in the social media landscape?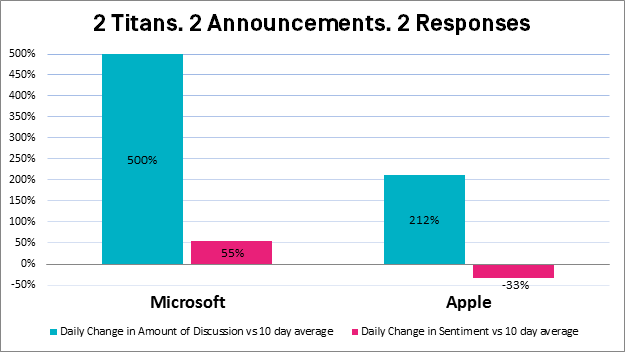 MSFT Wins the Conversation Tide: Leaping over Apple, the amount of people talking about Microsoft's acquisition of LinkedIn represented an increase in the level of conversation 5 times over its normal volume. For all of the work Apple put into its developer platform, the response was lackluster, generating just a doubling of typical levels of conversation.
AI for the Win: A hot topic, much of the acquisition news drove conversation around the future - and importance - of artificial intelligence to both Microsoft and the workplace.
Notably Negative Sentiment for AAPL: Hand-in-hand with its increase in conversation volume, the news of the LinkedIn acquisition was markedly positive for MSFT (+55%). And while modest, it's notable that sentiment for AAPL declined overall (-33%).
Apple News Summary:http://www.theverge.com/2016/6/13/11906654/apple-wwdc-2016-news-highlights-recap-imessage-siri
Microsoft LinkedIn Acquisition:http://www.theverge.com/2016/6/13/11920072/microsoft-linkedin-acquisition-2016
Additional disclosure: Analysis of social sentiment performed by Buzz Indexes.