The short interest for Frontier Communications Common Shares (FTR) was reported to be 24,171,172 shares at settlement on the close of Aug 15th, up 573,571 shares from the level of the previous report of 23,597,601.  The latest report shows a "Days to Cover" of 6.2 days, down from 9.6 days from the previous report, presumably due to higher volume in recent periods.
The latest short interest reported remains 1,183,038 shares below the record level reported for settlement on July 14th of 25,354,210.  Even so, short interest remains at historically very high levels, hovering within 5% of those record highs, and at the second highest level in recent history.
Short interest for the past sixteen months is shown here: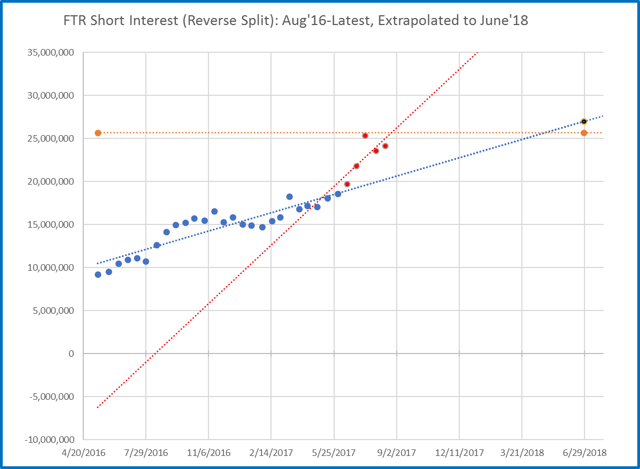 As discussed in earlier reports, there appeared to have been a break in the steady increase in short interest, starting with a move in early June 2017.  A separate trend line for the latest five short interest reports (in red) shows a sharp increase in slope, indicating a distinct increase in the trend of short interest for FTR.
Short interest for Frontier Communications Convertible Preferred shares (NASDAQ:FTRPR) was reported to be 51,715 shares, down 11,850 shares from the previously reported short interest at settlement on July 31st of 63,565 shares.
Being more constructive on FTRPR (and FTR) than many, I have been asked many times when will the tide will change in favor of FTRPR (& FTR) holders.
I will now provide a definitive answer:  "I have absolutely no idea".
However, there are some pivotal moments when there could be changes in direction and monitoring short interest may provide some early clues about an overall change in sentiment:
a.  Dates immediately after the ex-dividend dates for both the common and preferred shares:  Short interest as of mid-month for September, December, March and June may provide clues about an improvement(or a deterioration) in sentiment.  Those short will need to decide to carry the short position across the ex-dividend date, paying a heavy charge at this point for covering the dividend at those points.  Short interest remaining high suggests those short have enough confidence to cover the dividends while remaining for an additional payoff through additional, significant market price declines.
b.  Dates after earnings:  While the short interest reports can provide some insight as to the confidence of FTR shorts prior to earnings releases, the real assessment comes after earnings are reported, for which the relative short interest reports would be for mid-November, mid-March and mid-May.  As I have premised a return to historical revenue decline levels in 4Q'17, to be reported in late Feb/early March, that might be a salient point at which those expecting continued, higher levels of decline might be convince bears that the trade is over;  likewise, an above-trend revenue decline might concern those looking for recovery and embolden bears, leading to yet higher short interest.
In my case, while I will be interested in third quarter earnings to identify model tweaks and look at revenue to ensure that the revenue decline is close to 1.3% or less from the second quarter, I am looking forward to the fourth quarter report as the first report where there should be near-historical revenue decline as we will be six quarters after the acquisition.  That is my next milestone followed by conversion at the end of the 2Q'18.
Disclosure: I am/we are long FTRPR.