Short interest for Frontier Communications common shares (FTR) at settlement on Nov 15th, 2017 were reported this afternoon to be 32,717,300 shares.  This represents a new record high short interest, eclipsing the old record set at settlement on August 31st of 27,666K shares by 5M shares or 18%. Short interest reported today represents 41.7% of the current outstanding shares of Frontier Communications common shares.
A chart of short interest since April 2016 is provided here: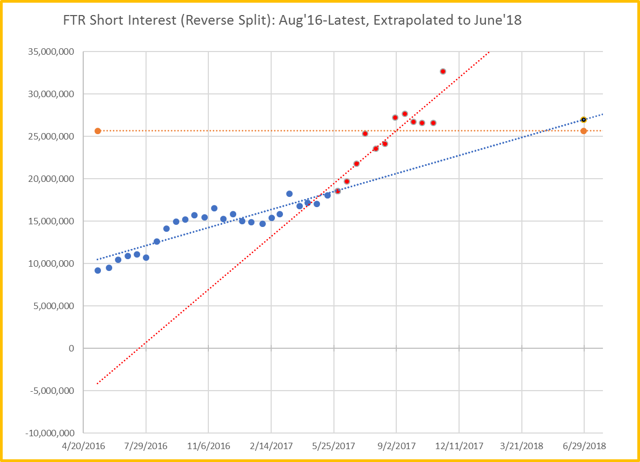 From April 2016 through April of this year, short interest had been steadily increasing, tracking a reasonably-defined line towards the amount of shares to be created in exchange for the Frontier Communications preferred shares (NASDAQ:FTRPR).
In late April or early May, however, it appears that there was a divergence from the previous trend, with short interest increasing much more aggressively from that point. This can be readily seen by comparing the red to blue lines.  If short interest continues to build through to conversion at the current, more aggressive pace, short interest will reach 45MM shares outstanding on the day of preferred conversion, 57% of pre-conversion common share count and 43% of the higher, post-conversion share count of 104.1M shares.  
Here is the chart above replotted to see the impact of a continued, more aggressive pace of short interest building to conversion: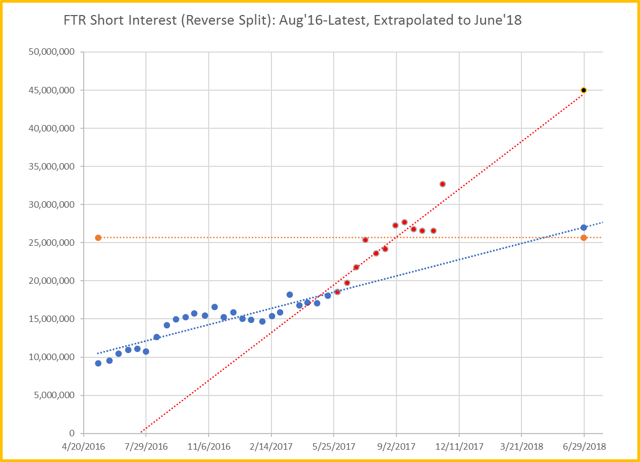 This latest report should dispel any notion that the current short interest is merely a hedging device for the upcoming preferred conversion, as short interest already exceeds shares to be created upon conversion by 7M shares. In addition, if the current trend continues, there will be nearly twice the number of shares short (45M) as scheduled to be created upon conversion (25M) on  June 29th, 2018.  While there may well be some "hedging" going on, there are more factors at work than simple preferred conversion hedging. Speculation on continued declines and those owning corporate bonds hedging their position have both been suggested by commentators as impacting short interest levels.
Based upon the market action in early Nov, I had suggested that higher short interest was in store:
"One might have expected or hoped that one might see some recovery rally in FTR, but such a recovery rally has not appeared.  Since November 1st, volumes have remained relatively high even as the price has continued to decline;  specifically, 38.6% of all shares outstanding have traded after November 1st, with the price continuing to decline, net, by yet another 10% at the close of November 9th. This suggests that 98% of total shares outstanding are either borrowed and shorted or were "dumped", traded on a market where the share price has declined by about a third on volumes representing 72% of total shares outstanding in seven trading days after October 31st.
This will make the next short interest report on November 27th very interesting.  Even as one cannot know for sure, one could reasonably infer that at least some of this volume has been sold short.  This suggests, but is not proof, that we are likely to see a higher short interest at mid-November." 
However, even I did not expect an increase of this magnitude.
Interestingly, the record level represents only 5 days to cover.  This is caused by the increase in daily volume of 270% observed in this two-week period relative to the report just two weeks ago, with daily share volume reported to be 6.4M shares versus 2.3M share in the report covering the second half of October.  A reduced level of trading to a normal 2.3M daily share volume, however, will result in the current short interest levels representing a days to cover metric of 14 days.
Short interest for the Frontier Communications preferred shares (FTRPR) increased to 41,801 from 28,681 in the previous reporting period.  While this is a 46% increase, it is a large increase from a very small base and remains a very small number of shares.  Short interest in the preferred shares remains a less interesting story.
Short interest for Frontier Communications will be next reported on December 11th for short interest at settlement on Nov 30th. 
Disclosure: I am/we are long FTRPR.