"As the most shorted stock in the history of the stock market, being public means that there are large numbers of people who have the incentive to attack the company,"......Elon Musk
In the reporting on the recent firestorm about Tesla going private (quote from article here), Mr Musk claimed (seen in the quote above) that Tesla was the most shorted stock in the history of the stock market (at 20% or 27% of the outstanding shares).
While I have the utmost of respect for Mr. Musk as an innovator, I have only this to say: "Sorry, Bubba, not even close".  Frontier Communications has you beat, unfortunately, by a mile.
As of settlement on July 13th, 2018, short interest for Frontier Communications common stock (FTR) was 31,083,539 shares on      outstanding shares of 105,918K, or  29.3%, while short interest for Tesla (TSLA) on that same date was 34,721,889 shares on outstanding shares of 170,516K, or 20.3% (based upon last quarter's reported share count, with CNBC reporting 27%).  At settlement on June 29th, 2018, Frontier Communications had short interest approaching 50% of outstanding shares, as you can see in the spike in the graph below.  Honestly, he really doesn't know what historically high short interest truly feels like and I can only imagine the intensity of reaction if he did.
Those of us who are owners of FTR would be happy with short interest at 20% of outstanding shares as we have not seen short interest at Tesla's "low" level for quite a while, as I have been recording over the past year through the last report: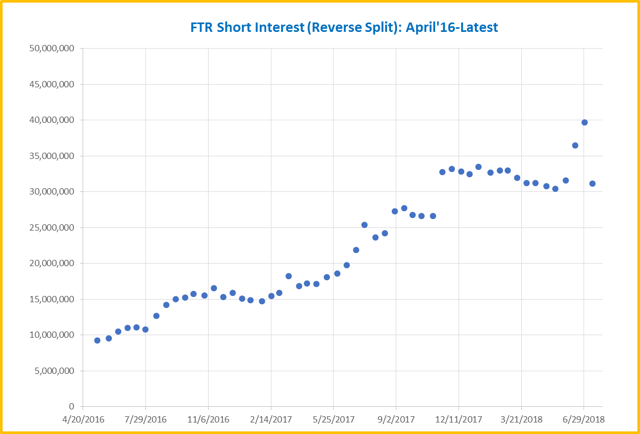 You need to get back over a year to reach a short interest ratio at 20%.
New short interest was reported after the close on August 9th, 2018 (today) for settlement on July 31st, 2018 and I have added that data to the historical graph here: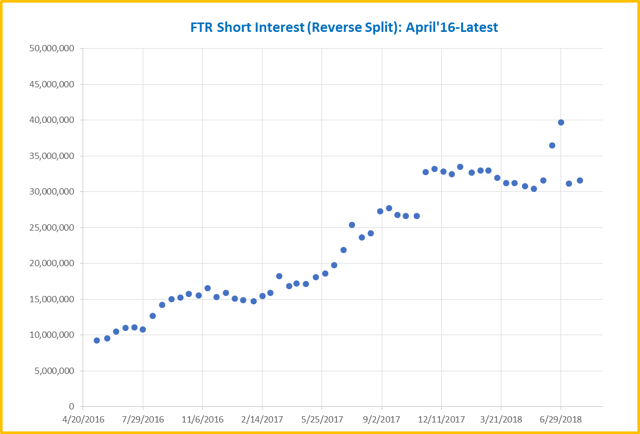 So, short interest remained reasonably stable (up 500K) from mid-July through the end of July.  This level of short interest represents 29.8% of the total shares outstanding, representing a notably higher percentage than TESLA, based upon reported shares outstanding in the latest 10Q.
This level of short interest represents the position going into the Q2 earnings report after the close on July 31st, so we won't get the impact of the earnings report on short interest until August 24th after the close of the market, when the short interest as of settlement on August 24th will be reported.
Disclosure: I am/we are long FTR.