Gunther Grant, Inc (OTCPK:GNGR) is a company based in East Islip, NY and was started by Grant Newsteder in 2002. He also started Got Chocolates, Inc in 2000, owns WonkaChocolates.com and the rights to produce Betty Boop confections. GNGR also owns supercrave.com and logococo.com. GNGR takes an idea and further develops it to bring the product to market. When the product is brought to market, the company decides it if it needs further development, and thus a finished product.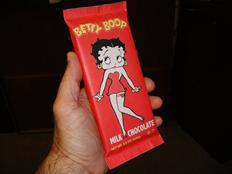 On November 8th, GNGR announced that it will open a second "Chocolates & Treasures" location in Bay Shore, New York. The first store is located in Oakdale, New York. The second store combines two subsidiaries, Got Chocolates and Neat Stuff for Sale. Neat Stuff for Sale is a wholly owned subsidiary. Through the subsidiaries, GNGR has been producing chocolates for over 35 years.
GNGR is currently trading for $.0067. The previous close was for $.008. The 52 week range was $.0072 up to $.51. This company need some steam again.
For the most current and up to date information, you can sign up to receive the best penny stock newsletter: bestdamnpennys4bucks.com
GNGR
Grant Newsteder
Marcie Allen
Patricia A. Lopez