Echo Automotive, Inc. (OTCPK:ECAU), formerly went by Canterbury Resources until September 2012 and is based in Auckland, New Zealand. ECAU created the EchoDrive system which the patent is still pending. This system converts fleet vehicles into fuel efficient plug in hybrids. The EchoDrive is an easily mountable (bolted on) on vehicles and reduces the vehicles fuel consumption.
The first vehicle to ever have the EchoDrive installed on it was a delivery van and this happened in 2010. It was seen at the Washington Auto Show of that year. GM helped fund this project.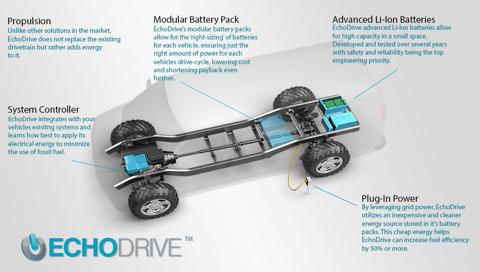 On January 29th, 2013, ECAU added an Indy 500 winner to there advisory board. Arie Luyendyk retired from the racing sport in 1999. He won the races in 1985 and in 1997.
A demonstration will be held in Indiana on the dates of March 6-8 at the National Truck and Equipment Association. This is the largest event in North America of its kind. The 2012 show brought over 10,000 visitors.
ECAU is currently trading for $1.97. Over the course of the last52 weeks, this company has seen a low of $.70 and a high up to $3.61. The previous close was for $3.24. The market cap is at $145M.
For the most current and up to date information on ECAU and many other companies, stay informed for FREE at bestdamnpennys4bucks.com
ECAU
Dan Kennedy
David Crecelius
Jim Holden
Disclosure: I have no positions in any stocks mentioned, and no plans to initiate any positions within the next 72 hours.