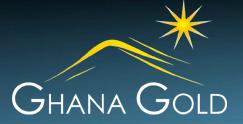 Ghana Gold Corporation (GGCO), was formerly National Pharmaceuticals Corp. until July 2012 and was incorporated in September 2006. This company is a gold exploration company in Ghana. They are also interested in alluvial production (surface mining) to exploration of hard rock concessions. The main efforts of this company going on the Ashanthi Gold Belt. The Ashanthi Gold Belt is a major source of the world's gold. It also wants to explore Jukwa Concession, Grumesa on the Ofin River and several others.
In January 2013, Ghana Gold acquired 100% of the West African Projects Consult Ltd. Ghana contains over 2B ounces of unmined gold.
Currently GGCO is trading for $.0247. Over the past 52 weeks, this company has seen a low trade of $ .026 and a high up to $14.00. The market cap for this company is $4.94M. The previous close was for $.0261.
For the most up to date and current information on GGCO and many other companies, subscribe to our FREE newsletter at bestdamnpennys4bucks.com
GGCO
Elaine Affleck
Karen Diamond
Linda MacDonald
Disclosure: I have no positions in any stocks mentioned, and no plans to initiate any positions within the next 72 hours.