Two weeks ago, in the November 14 issue of The Wagner Daily, our ETF and stock picking newsletter, we initially pointed out the relative strength of iShares China Xinhua 25 Index ($FXI) and said, "Although the main stock market indexes of the USA have been in a downtrend since mid-September, FXI actually started trending higher right as the domestic markets started selling off...and is now in pullback mode."
In our subsequent November 19 ETF analysis, just a few days later, we revisited the chart pattern of $FXI and said that, "very short-term traders only might consider buying FXI if it moves above the November 16 high of $35.88." Because US stocks had not yet confirmed at least a near-term low had been formed, we passed on "officially" adding this trade setup to our ETF Trade Watchlist. Nevertheless, we still pointed out the trade so that more aggressive, very short-term traders could take advantage of an anticipated "quick pop" is the desired. Fast forwarding to the present, take a look at the updated chart of $FXI below: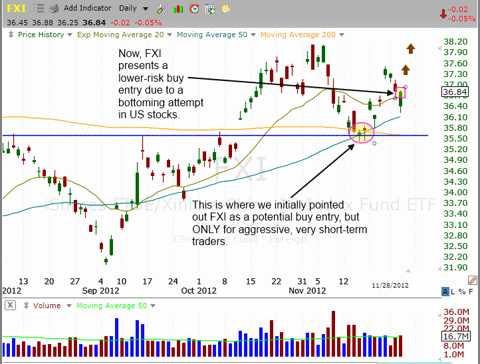 Note on the chart the level where we initially said aggressive traders could buy above the two-day high (circled in pink). This was due to the relative strength of FXI, a major level of horizontal price support (the blue line), and convergence of the 50 and 200-day moving averages (teal and orange lines respectively). Thereafter, FXI generally trended higher, but not in a very steady fashion.
Yesterday (November 28), like most stocks and ETFs in the market, FXI gapped down sharply lower, but reversed to close at its intraday high and back above its 20-day exponential moving average (beige line). This followed a normal four-day pullback from its November 23 high. This has created an ideal pullback buy setup in FXI, which has a positive reward to risk ratio for swing trade entry above yesterday's high. Regular newsletter subscribers should reference today's ETF Trade Watchlist section above to see our preset, exact entry, stop, and target prices for this swing trade setup.
To receive the best short-term ETF and stock picks, as well as access to our winning market timing system, subscribe to The Wagner Daily swing trading newsletter at http://www.morpheustrading.com
DISCLAIMER: There is a risk for substantial losses trading securities and commodities. This material is for information purposes only and should not be construed as an offer or solicitation of an offer to buy or sell any securities. Morpheus Trading, LLC (hereinafter "The Company") is not a licensed broker, broker-dealer, market maker, investment banker, investment advisor, analyst or underwriter. This discussion contains forward-looking statements that involve risks and uncertainties. A stock's actual results could differ materially from descriptions given. The companies discussed in this report have not approved any statements made by The Company. Please consult a broker or financial planner before purchasing or selling any securities discussed in The Wagner Daily (hereinafter "The Newsletter"). The Company has not been compensated by any of the companies listed herein, or by their affiliates, agents, officers or employees for the preparation and distribution of any materials in The Newsletter. The Company and/or its affiliates, officers, directors and employees may or may not buy, sell or have positions in the securities discussed in The Newsletter and may profit in the event the shares of the companies discussed in The Newsletter rise or fall in value. Past performance never guarantees future results.
© 2002-2012 Morpheus Trading, LLC
Reproduction without permission is strictly prohibited.