On the close of December 13, our stock market timing system shifted from "buy" to "neutral" mode. This means we now have no firm bias with regard to near to intermediate-term market trend. The lack of substantial bullish follow-through in leading individual stocks, the absence of leadership in most ETFs (other than international ETFs), and the bearish pattern on the weekly chart of the S&P 500 Index are all valid reasons to avoid the long side of the market now. Nevertheless, recent price action in the stock market has not yet convincingly confirmed the balance of power has shifted back to the bears, so we are a bit cautious about aggressively jumping in the short side of the market just yet.
Below is a longer-term weekly chart pattern of S&P 500 SPDR ($SPY), a popular ETF proxy for trading the benchmark S&P 500 Index. Notice that $SPY will likely print a bearish "shooting star" candlestick pattern for the week. This is a topping pattern that often indicates near-term bullish momentum is running out. Since a weekly chart is a longer-term interval than a daily chart, the formation of this shooting star pattern on the weekly chart is more important than if the the same pattern occurred on a daily chart: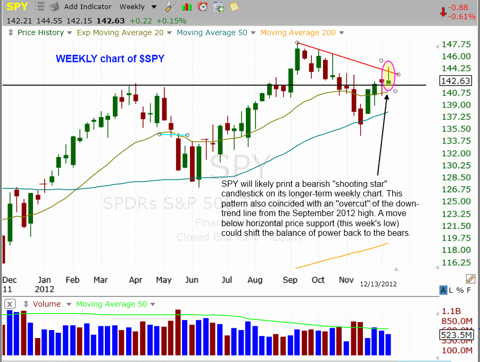 Notice that the formation of the shooting star candlestick also occurred as $SPY "overcut" resistance of its downtrend line from the September high. This overcut of the downtrend line is significant because it sucks in new buyers, just as institutions are starting to sell into strength. This creates additional overhead supply that subsequently increases the odds of a resumption of the dominant downtrend. This would be confirmed if $SPY breaks below the horizontal price support shown above, which is merely a move below the low of its current weekly candlestick.
Although the weekly pattern of $SPY looks a bit ominous, at least in still trading above technical support of its 20, 50, and 200-day moving averages on the shorter-term daily chart. That's more than one can say about the Nasdaq 100 Index, which sliced back below its 50 and 200 day moving averages yesterday. As you can see on the daily chart of $QQQ (an ETF proxy that tracks the Nasdaq 100), a break below yesterday's low would coincide to the Nasdaq sliding back below its 20-day exponential moving average as well: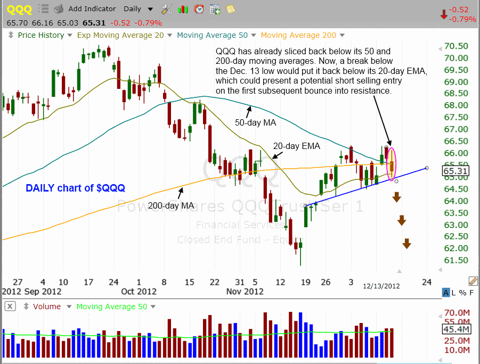 We concluded yesterday's technical commentary by saying, "Given the lack of explosive price action in leadership stocks and the late day selling in the averages the past two days, the market could be vulnerable to a sell off in the short term...We are not calling the current rally dead, but we do not mind stepping aside for a few days and monitoring the price action." To coincide with this statement, we made a judgment call to take profits on all long positions in our model trading portfolio by selling at market on yesterday's open. Given that the broad market subsequently trended lower throughout the entire session, this worked out pretty well. Now, we are back to "flat and happy," sitting on the sidelines 100% in cash.
One big challenge for swing traders right now is that volume levels in the broad market will likely begin heavily receding next week, as we approach the Christmas holiday. As we have warned several times in recent weeks, swing trading in low-volume environments is challenging because day-to-day price action tends to be more erratic and indecisive. Therefore, we're not in a hurry to enter multiple new positions (either long or short) ahead of the holidays, but will still consider new stock and/or ETF trade entries (possibly on the short side and/or inverse ETFs) with reduced share size if an ideal trade setup with a firmly positive reward-risk ratio presents itself. We do have one new setup to possibly sell short iShares Nasdaq Biotechnology ($IBB) on a slight bounce. Review this recent post on our trading blog to see the bearish setup for $IBB. Our exact, preset entry, stop, and target prices for this swing trade setup are available to regular subscribers of The Wagner Daily newsletter.
Want to improve your trader education, while profiting from a proven track record of the best ETF and stock swing trading picks? Sign up for your risk-free subscription to The Wagner Daily swing trade newsletter at http://www.morpheustrading.com.
DISCLAIMER: There is a risk for substantial losses trading securities and commodities. This material is for information purposes only and should not be construed as an offer or solicitation of an offer to buy or sell any securities. Morpheus Trading, LLC (hereinafter "The Company") is not a licensed broker, broker-dealer, market maker, investment banker, investment advisor, analyst or underwriter. This discussion contains forward-looking statements that involve risks and uncertainties. A stock's actual results could differ materially from descriptions given. The companies discussed in this report have not approved any statements made by The Company. Please consult a broker or financial planner before purchasing or selling any securities discussed in The Wagner Daily (hereinafter "The Newsletter"). The Company has not been compensated by any of the companies listed herein, or by their affiliates, agents, officers or employees for the preparation and distribution of any materials in The Newsletter. The Company and/or its affiliates, officers, directors and employees may or may not buy, sell or have positions in the securities discussed in The Newsletter and may profit in the event the shares of the companies discussed in The Newsletter rise or fall in value. Past performance never guarantees future results.
© 2002-2012 Morpheus Trading, LLC
Reproduction without permission is strictly prohibited.