In our December 14 ETF trading commentary, we pointed out the bearish shooting star candlestick pattern that S&P 500 SPDR ($SPY) formed on its longer-term weekly chart interval. The rest of the major indices closed with the same topping pattern on their weekly charts. Last Friday, we also illustrated the bearish pattern and relative weakness in PowerShares QQQ Trust ($QQQ), a popular ETF for trading the Nasdaq 100 Index. On the updated daily chart below, notice that $QQQ is now trading below its 20, 50, and 200-day moving averages, each of which should now act as resistance on any bounce attempt. The blue horizontal line marks horizontal price support of the recent "swing lows" set earlier this month: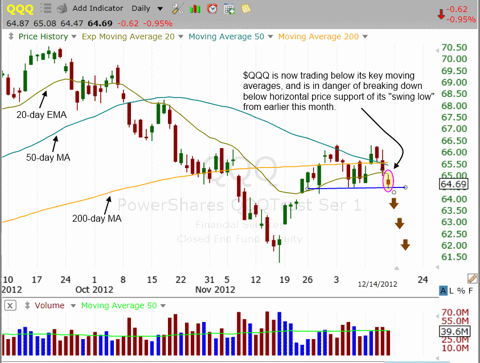 As marked by the brown, downward facing arrows, we anticipate that a break of horizontal price support in $QQQ will swiftly lead to a retest of the prior low from mid-November. Why? The reason is simply that the stock market rally off the mid-November lows has technically been nothing more than a countertrend bounce from near-term "oversold" conditions. Now, it looks as though the rally may have already run its course, as QQQ has run into major resistance of its downtrend line from the September 2012 high. Below is a second daily chart of $QQQ, which clearly illustrates how the ETF reversed after bumping into its multi-month downtrend last week (the red descending line):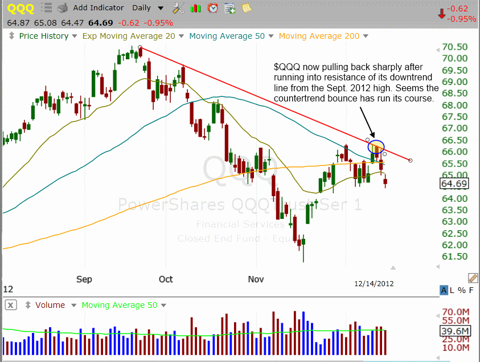 We recently profited in a few ETF and stock swing trades on the long side after our system for timing the stock market shifted to "buy" mode. Yet, we were still fully aware at the time that the rally off the lows had not yet proven itself to be anything more than a countertrend bounce within the dominant downtrend. This is one of several reasons our market timing system shifted from "buy" to "neutral" mode on December 13, after several major indices formed "shooting stars" on their weekly charts while running into the downtrend lines from their September 2012 highs. Furthermore, if selling pressure in the broad market persists and we receive the necessary signals, the timing model may soon revert back to "sell" mode. We locked in solid profits on the short side of the market (and through inversely correlated "short ETFs") when our stock market timing system was formerly in "sell" mode throughout most of October and part of November.
Going into today, we have "officially" added ProShares UltraShort QQQ ($QID) to our watchlist as a potential ETF to buy for swing trade entry. This inversely correlated ETF that tracks the price action of $QQQ, but moves in the opposite direction. We are looking to buy $QID, rather than sell short $QQQ, because subscribers with non-marginable cash accounts are unable to initiate short positions, but are not restricted from buying "short ETFs" such as $QID. Also, even though it is leveraged, $QID has shown only fractional underperformance to its underlying index for short-term trading.
Our short setup in iShares Nasdaq Biotechnology Index ($IBB) remains on our watchlist as a candidate for potential swing trade short sale entry going into today (December 17). Regular subscribers of The Wagner Daily should note our clear, predefined trigger, stop, and target prices for the $QQQ and $IBB trade setups in the ETF Trading Watchlist section of today's report. Also, if you are new to our ETF and stock short selling strategy, be sure to check out this article on our trading blog, as well as this brief video, both of which provide a good primer on how we enter new short positions.
As for the long side of the market, many international ETFs continue to show clear relative strength and bullish price divergence to the US markets. A handful of these ETFs even closed at fresh 52-week highs last Friday. We recently profited from the sale of two ETF swing trades on the long side of the market, $FXI (China) and $EPOL (Poland), and we continue to monitor select international ETFs for potential buy entry on a pullback. When emerging markets ETFs start forming price retracements that present positive reward to risk ratios for buy entry, we will highlight and bring to your attention some of the better-looking charts for possible buy entry. But other than international ETFs, there are practically no industry sector or other domestic ETFs on the long side of the market to get excited about.
Want to improve your trading education, while profiting from a proven track record of the best ETF and stock swing trading picks? Sign up for your risk-free subscription to The Wagner Daily swing trader newsletter at http://www.morpheustrading.com.
DISCLAIMER: There is a risk for substantial losses trading securities and commodities. This material is for information purposes only and should not be construed as an offer or solicitation of an offer to buy or sell any securities. Morpheus Trading, LLC (hereinafter "The Company") is not a licensed broker, broker-dealer, market maker, investment banker, investment advisor, analyst or underwriter. This discussion contains forward-looking statements that involve risks and uncertainties. A stock's actual results could differ materially from descriptions given. The companies discussed in this report have not approved any statements made by The Company. Please consult a broker or financial planner before purchasing or selling any securities discussed in The Wagner Daily (hereinafter "The Newsletter"). The Company has not been compensated by any of the companies listed herein, or by their affiliates, agents, officers or employees for the preparation and distribution of any materials in The Newsletter. The Company and/or its affiliates, officers, directors and employees may or may not buy, sell or have positions in the securities discussed in The Newsletter and may profit in the event the shares of the companies discussed in The Newsletter rise or fall in value. Past performance never guarantees future results.
© 2002-2012 Morpheus Trading, LLC
Reproduction without permission is strictly prohibited.