In this April 2 blog post, we explained in detail how to trade a bullish technical chart pattern known as the "cup and handle." At the time, United States Natural Gas Fund ($UNG) was still forming the "handle" portion of the pattern. However, since the ETF broke out last Friday (April 5), $UNG is now in play as a valid swing trade entry. Here is a follow-up look at the current price action...
In our initial analysis of $UNG, we said, "While forming (the handle), price action will typically slope lower. In the case of $UNG, even an 'undercut' of the March 25 low and 20-day exponential moving average would be acceptable."
On April 4, an "undercut" of the March 25 low and 20-day EMA is exactly what happened. The following day, $UNG jumped 4.5% and broke out above the high of its 3-week range. The move was also confirmed by an impressive volume spike. This is all shown on the daily chart below: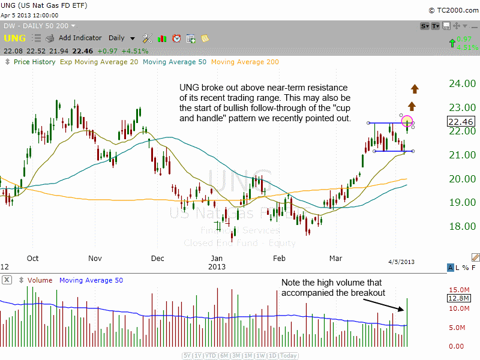 Since this ETF closed only slightly above the highs of its range, it is not too far extended to buy near the current price level. As such, regular subscribers of our nightly ETF and stock picking newsletter should note we have listed this trade setup as a new potential buy entry. Our exact trigger, stop, and target prices for this ETF swing trade can be found in the "watchlist" section of today's report.
One of the things we like about the $UNG trade setup is that it is a commodity ETF. Since our market timing model is now in "sell" mode, we are generally avoiding the long side of the market. However, one exception is ETFs with a low correlation to the direction of the stock market. Commodity, currency, fixed-income, and international ETFs are all such examples. If you are unfamiliar with our rule-based system for timing the market, click here to learn more.
Would you like to improve your trading education? If so, sign up to receive our FREE Top 5 Trading Rules For 2013 And Beyond by clicking here.
DISCLAIMER: There is a risk for substantial losses trading securities and commodities. This material is for information purposes only and should not be construed as an offer or solicitation of an offer to buy or sell any securities. Morpheus Trading, LLC (hereinafter "The Company") is not a licensed broker, broker-dealer, market maker, investment banker, investment advisor, analyst or underwriter. This discussion contains forward-looking statements that involve risks and uncertainties. A stock's actual results could differ materially from descriptions given. The companies discussed in this report have not approved any statements made by The Company. Please consult a broker or financial planner before purchasing or selling any securities discussed in The Wagner Daily (hereinafter "The Newsletter"). The Company has not been compensated by any of the companies listed herein, or by their affiliates, agents, officers or employees for the preparation and distribution of any materials in The Newsletter. The Company and/or its affiliates, officers, directors and employees may or may not buy, sell or have positions in the securities discussed in The Newsletter and may profit in the event the shares of the companies discussed in The Newsletter rise or fall in value. Past performance never guarantees future results.
© 2002-2013 Morpheus Trading, LLC
Reproduction without permission is strictly prohibited.