Led by solid gains in the Nasdaq 100 and Nasdaq Composite, stocks closed higher across the board yesterday (April 22). The Nasdaq Composite easily outperformed the S&P 500 on Monday, signaling that money is beginning to rotate out of the S&P 500 (and Dow) and into the Nasdaq. This is a positive sign for the bulls, but there is one main concern about this -- a lack of higher volume.
Over the past two sessions, the Nasdaq has climbed about 2.5% off last Thursday's low. However, volume declined in each of those past two sessions, which means the move was unconfirmed by institutional buying. The Nasdaq may need a bit more time to consolidate, as there is quite a bit of overhead resistance.
Looking at the daily chart of the Nasdaq 100 ETF ($QQQ) below, we see price action running in to resistance clustered around $69.00: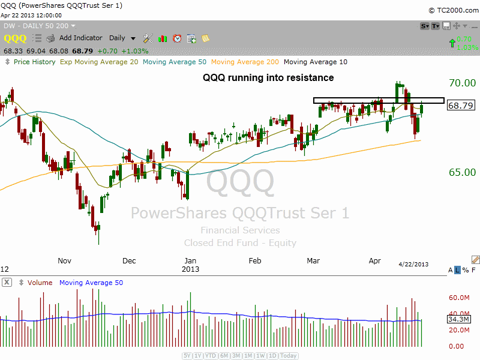 The five weeks of stalling action near $69, along with the 10 and 20-day moving averages, make for quite a bit of resistance. However, if $QQQ can power through this level without further consolidation, it would be a very bullish sign.
Market Vectors Semiconductor ETF ($SMH), an ETF we have been bullish on since the initial March 28 analysis on our trading blog, continues to chop around near the pivotal, intermediate-term indicator of its 50-day moving average, with support coming in around $34.50 last week.
If $SMH can set a higher swing low and close above Monday's high on a pick up in volume, then it may attract enough buying interest to break the short-term downtrend line and test the highs of the base: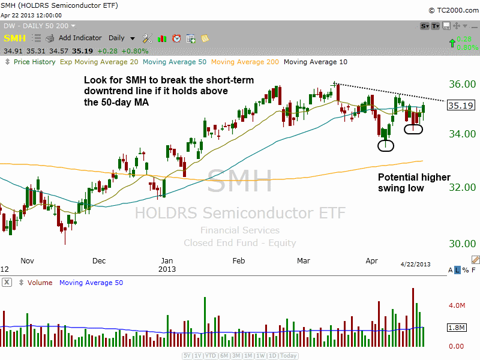 In today's Wagner Daily newsletter, we are stalking $SMH for potential swing trade buy entry if it meets our technical criteria (looking to add to our existing position on strength). Subscribing members should note the details for $SMH in the "watchlist" section of today's report. Presently, all five of the open positions in our model trading portfolio (3 ETFs and 2 individual stocks) are showing unrealized gains.

Improve your trading education by registering to receive our new Top 5 Trading Rules For 2013 And Beyond. Sign up for free at http://www.toptradingrules.com.

Follow Us:



DISCLAIMER: There is a risk for substantial losses trading securities and commodities. This material is for information purposes only and should not be construed as an offer or solicitation of an offer to buy or sell any securities. Morpheus Trading, LLC (hereinafter "The Company") is not a licensed broker, broker-dealer, market maker, investment banker, investment advisor, analyst or underwriter. This discussion contains forward-looking statements that involve risks and uncertainties. A stock's actual results could differ materially from descriptions given. The companies discussed in this report have not approved any statements made by The Company. Please consult a broker or financial planner before purchasing or selling any securities discussed in The Wagner Daily (hereinafter "The Newsletter"). The Company has not been compensated by any of the companies listed herein, or by their affiliates, agents, officers or employees for the preparation and distribution of any materials in The Newsletter. The Company and/or its affiliates, officers, directors and employees may or may not buy, sell or have positions in the securities discussed in The Newsletter and may profit in the event the shares of the companies discussed in The Newsletter rise or fall in value. Past performance never guarantees future results.
© 2002-2013 Morpheus Trading, LLC
Reproduction without permission is strictly prohibited.