In early May, we sold short spot gold through buying Gold Double Short ($DZZ), an inversely correlated "short ETF." The trade worked out well, as we sold short gold when it bounced into resistance of its 20-day exponential moving average, which followed a massive break of key support. We subsequently covered about two weeks later for a gain of nearly 10%.
Since closing that trade, gold has been oscillating in a range, near its lows, and is now poised to once again break down below a key level of support. This is shown on the daily chart of SPDR Gold Trust ($GLD) below: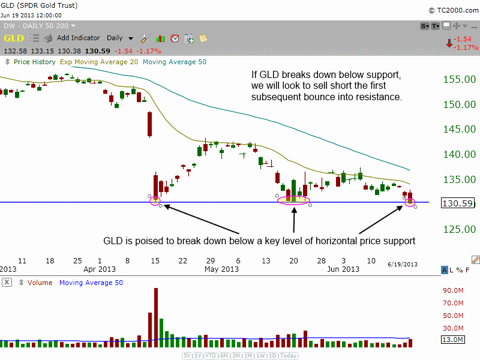 As you can see, $GLD closed right at crucial horizontal price support of its mid-April and mid-May lows. In the coming days, we will be monitoring $GLD for a potential breakdown below this support level. If a convincing break of support occurs, we will then look to sell short $GLD (or buy $DZZ) on a subsequent bounce into new resistance of that prior support level. If a low-risk entry point into this setup can be found, subscribing members of The Wagner Daily will be alerted to the swing trade opportunity with exact entry, stop, and target prices.
Although some aggressive traders like to sell short the actual break of support, rather than waiting for a bounce, we have learned over the years that such an entry in a short position can be risky because false breakdowns occur rather frequently.
Instead, a much lower risk entry point is to wait for the breakdown to occur, then look for a short entry into the bounce (just as we did with our trade in early May). To learn more about our strategy for selling short stocks and ETFs that are breaking down, take a look at this educational article here on our trading blog.

To receive preset and exact entry, stop, and target prices of our best daily stock and ETF trading picks, sign up here for your 30-day risk-free subscription to The Wagner Daily swing trading service.

Follow Us:



DISCLAIMER: There is a risk for substantial losses trading securities and commodities. This material is for information purposes only and should not be construed as an offer or solicitation of an offer to buy or sell any securities. Morpheus Trading, LLC (hereinafter "The Company") is not a licensed broker, broker-dealer, market maker, investment banker, investment advisor, analyst or underwriter. This discussion contains forward-looking statements that involve risks and uncertainties. A stock's actual results could differ materially from descriptions given. The companies discussed in this report have not approved any statements made by The Company. Please consult a broker or financial planner before purchasing or selling any securities discussed in The Wagner Daily (hereinafter "The Newsletter"). The Company has not been compensated by any of the companies listed herein, or by their affiliates, agents, officers or employees for the preparation and distribution of any materials in The Newsletter. The Company and/or its affiliates, officers, directors and employees may or may not buy, sell or have positions in the securities discussed in The Newsletter and may profit in the event the shares of the companies discussed in The Newsletter rise or fall in value. Past performance never guarantees future results.
© 2002-2013 Morpheus Trading, LLC
Reproduction without permission is strictly prohibited.