After completing our weekend stock scanning research, Himax Technologies ($HIMX) has entered our radar screen as a potential swing trade buy entry in the coming days.
This small-cap tech company, which manufactures the liquid-crystal on silicon chips that power the displays of Google Glass, is presently forming the "handle" portion of a cup and handle chart pattern.
As explained in our recent blog post, How To Find Chart Patterns That Precede The Best Breakouts, one of the best and most reliable technical chart patterns that precede the strongest stock breakouts is the cup and handle.
Looking at the daily chart of $HIMX below, notice the depth from the high of the left side of the cup (mid-May), down to the low of the cup (late June), equates to a price retracement of over 40%.
Although this is a bit wider than we like to see, bear in mind that $HIMX is only a $7 stock that is forming a base of consolidation after a gain of more than 100%. As such, a little extra volatility is to be expected.
The same could be said for the handle, which should not retrace more than 15% from the highs in a normal cup and handle pattern. With $HIMX, the pullback was 19%.
Again, this is fine because it is a volatile small-cap stock. Conversely, if the handle dipped 20% in a stock like Google ($GOOG), it would be ugly.
On the annotated daily chart below, we have highlighted the cup and handle that has developed for this swing trade setup: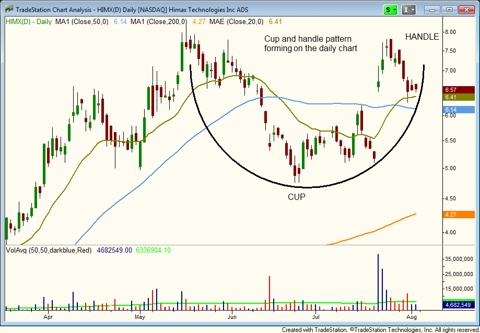 With this momentum trade setup, please be aware that $HIMX is scheduled to report its quarterly earnings results on August 15. Since that is only ten days away, our initial share size will be very small if the trade triggers for buy entry because we are only seeking a quick pop ahead of earnings. If, however, the stock blasts off in the coming days and we have a large enough profit buffer, we would hold the position through the earnings report.
Our exact entry, exit, and target prices for this trade setup are restricted to subscribing members of our popular stock picking newsletter. However, we will point out that our initial stop price on $HIMX is tight because this is a G.O.N.G ("go or no go") trade setup. We want to be right or be right out, as we are not willing to hold this stock for long if it doesn't quickly take off.
Finally, it is noteworthy to point out that $HIMX is not an "A-rated" stock for us. This means if your portfolio is full (buying power is maxed out), there is no reason to cut existing positions to move into this stock. Nevertheless, a stock is still quite capable of outperforming even if it is not "A-rated."
For us, an "A-rated" stock is one with top earnings growth (usually small to mid-cap), solid volume, and overly positive price action. If a stock is slightly lacking in any of those areas, it is not "A-rated." Two current examples of "A-rated" stocks are LinkedIn Corporation ($LNKD) and Michael Kors Holding Limited ($KORS).
DISCLAIMER: There is a risk for substantial losses trading securities and commodities. This material is for information purposes only and should not be construed as an offer or solicitation of an offer to buy or sell any securities. Morpheus Trading, LLC (hereinafter "The Company") is not a licensed broker, broker-dealer, market maker, investment banker, investment advisor, analyst or underwriter. This discussion contains forward-looking statements that involve risks and uncertainties. A stock's actual results could differ materially from descriptions given. The companies discussed in this report have not approved any statements made by The Company. Please consult a broker or financial planner before purchasing or selling any securities discussed in The Wagner Daily (hereinafter "The Newsletter"). The Company has not been compensated by any of the companies listed herein, or by their affiliates, agents, officers or employees for the preparation and distribution of any materials in The Newsletter. The Company and/or its affiliates, officers, directors and employees may or may not buy, sell or have positions in the securities discussed in The Newsletter and may profit in the event the shares of the companies discussed in The Newsletter rise or fall in value. Past performance never guarantees future results.
© 2002-2013 Morpheus Trading, LLC
Reproduction without permission is strictly prohibited.