As you may recall from my August 18 blog post (How To Profit From Oil And Silver ETFs In This Stock Market Downturn), I have been bullish on both Oil and Silver ETFs (and, to a lesser degree, Gold) for the past week.
Today, my patience is paying off because crude oil ($USO is the main ETF) has convincingly broken out above key resistance of an 8-week base of consolidation. Take a look: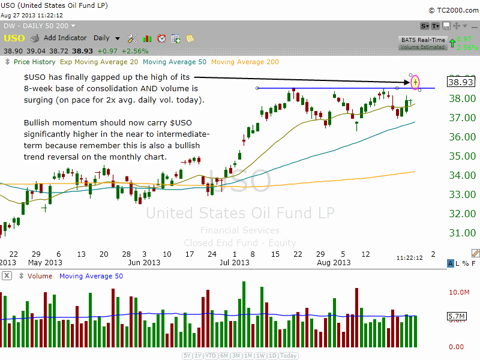 In The Wagner Daily newsletter, our current position in $USO is now showing an unrealized price gain of 7.7% since our swing trade buy entry. Also, the position in our leveraged Silver ETF ($AGQ) is now up more 10% since our August 21 buy entry.
When the main stock market indexes are down sharply (as they are so far today), the benefits of ETF trading really become clear.
Unlike stocks, most of which are correlated to the direction of the broad market, ETFs enables traders and investors to still profit in a down market because many types of ETFs have low to zero correlation to the overall stock market direction.
Commodity ETFs such as $USO and $AGQ are two great examples of the above.
If you're not yet a subscriber to our nightly swing trading newsletter, you may not have added $USO to your portfolio yet.
If this is the case, a secondary buy entry point into $USO would be a slight pullback to new support of the breakout level (consider a buy limit order around the $38.50 to $38.75 area).
DISCLAIMER: There is a risk for substantial losses trading securities and commodities. This material is for information purposes only and should not be construed as an offer or solicitation of an offer to buy or sell any securities. Morpheus Trading, LLC (hereinafter "The Company") is not a licensed broker, broker-dealer, market maker, investment banker, investment advisor, analyst or underwriter. This discussion contains forward-looking statements that involve risks and uncertainties. A stock's actual results could differ materially from descriptions given. The companies discussed in this report have not approved any statements made by The Company. Please consult a broker or financial planner before purchasing or selling any securities discussed in The Wagner Daily (hereinafter "The Newsletter"). The Company has not been compensated by any of the companies listed herein, or by their affiliates, agents, officers or employees for the preparation and distribution of any materials in The Newsletter. The Company and/or its affiliates, officers, directors and employees may or may not buy, sell or have positions in the securities discussed in The Newsletter and may profit in the event the shares of the companies discussed in The Newsletter rise or fall in value. Past performance never guarantees future results.
© 2002-2013 Morpheus Trading, LLC
Reproduction without permission is strictly prohibited.