---
The Wagner Daily - December 1, 2011 
  Concise technical analysis and picks of the leading global ETFs

---
Commentary:
Stocks surged higher on Wednesday on a massive spike in trade.  All five major indices closed up more than 4.0% and ended the day near session highs.  High beta issues led the advance, as the small-cap Russell 2000 and the S&P MidCap 400 spiked 5.9% and 5.0% respectively.  The S&P 500 jumped 4.3%, while the Dow Jones Industrial Average and Nasdaq both advanced 4.2%.
As might be expected, yesterday's market internals were decidedly bullish.  Turnover skyrocketed on the Nasdaq by 50.6% and on the NYSE by 36.3%. Advancing volume overwhelmed declining volume by a whopping margin of 33.6 to 1 on the NYSE and by over 10.0 to 1 on the Nasdaq.  Given the strength of Wednesday's internals, it is apparent that institutional players were actively acquiring stocks.  Wednesday was clearly an accumulation day on Wall Street. 
Since March of this year, the DB Agricultural Double Short ETF (NYSEARCA:AGA) has been forming a basing pattern as it has attempted to break above resistance near $20.00 on five separate occasions.  A volume fueled move above the November 25th high of $20.39 could provide a buying opportunity in this ETF.  Alternatively, an undercut of the 20-day EMA may also provide a buy entry for AGA.  We are monitoring this AGA closely for a possible long entry.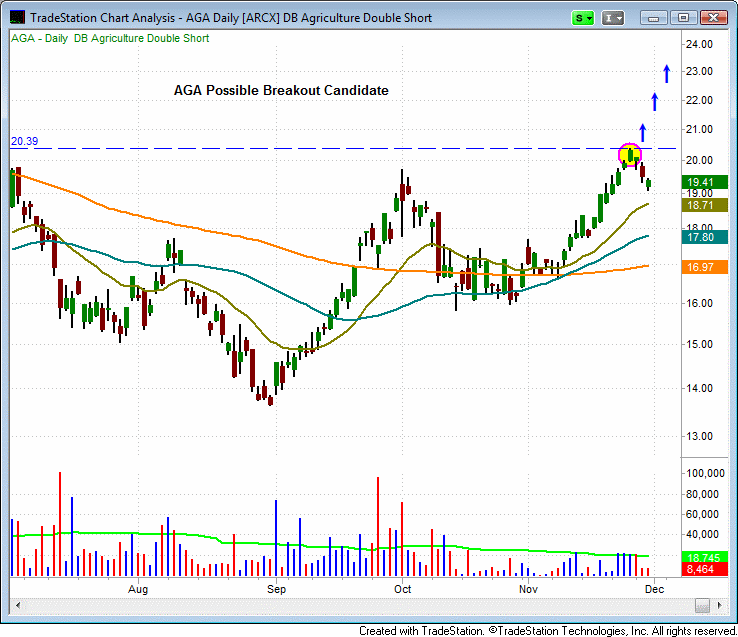 The S&P Select Consumer Staples SPDR ETF (NYSEARCA:XLP) broke out of a multi-week consolidation base yesterday and is now poised to challenge its 52-week high at $32.46.  It is not advisable to chase this trade now that it has broken out.  Rather, a pullback into support near $31.60 offers a more favorable entry point for this potential long candidate.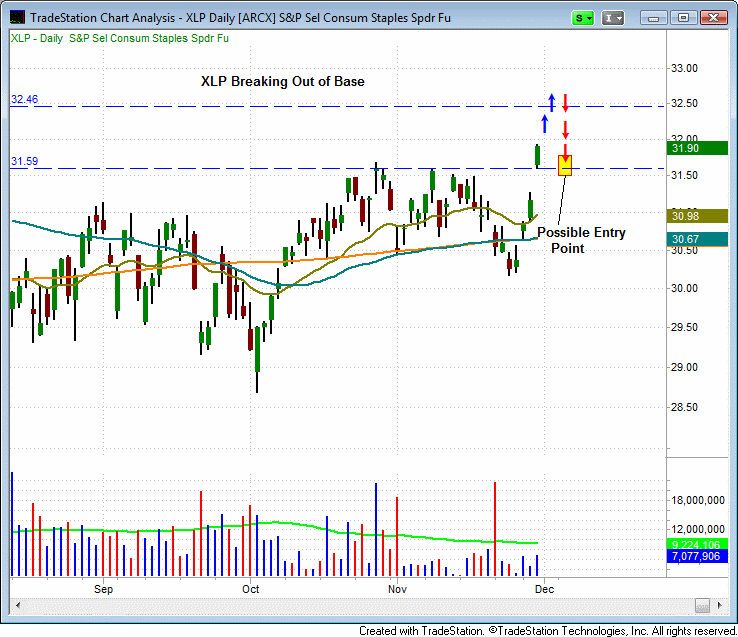 Due to yesterday's massive move higher, we decided to remove both the QQQ and EUM short setups from the watchlist.  When violent moves against the predominant trend occur, we find it prudent to step back from the market and re-evaluate market conditions.  This holds particularly true when the shift in market sentiment is driven by policy changes of the central banking system.  There's a saying on Wall Street…"Don't fight the Fed".  In this case we are choosing to not fight the decisions made by the world's central banks.  Although we don't have an official buy signal from the market we are inclined to focus our attention on identifying potential long candidates.  All we need now is a confirmation day for a buy signal to be confirmed. 

---
The commentary above is an abbreviated version of our daily ETF trading newsletter,
The Wagner Daily
. Subscribers to the
full
version receive specific ETF trade setups with detailed trigger, stop, and target prices, as well as daily updates on all open positions. Intraday Trade Alerts are also sent via e-mail and/or text message, on as-needed basis. For your free 1-month trial to the full version of
The Wagner Daily
, or to learn about our other services, please visit
morpheustrading.com
.
Deron Wagner is the Founder and Head Portfolio Manager of Morpheus Trading Group, a capital management and trader education firm launched in 2001. Wagner is the author of the best-selling book, Trading ETFs: Gaining An Edge With Technical Analysis (Bloomberg Press, August 2008), and also appears in the popular DVD video, Sector Trading Strategies (Marketplace Books, June 2002). He is also co-author of both The Long-Term Day Trader (Career Press, April 2000) and The After-Hours Trader (McGraw Hill, August 2000). Past television appearances include CNBC, ABC, and Yahoo! FinanceVision. Wagner is a frequent guest speaker at various trading and financial conferences around the world, and can be reached by sending e-mail to:

deron

@

morpheustrading.com

.
---
DISCLAIMER: There is a risk for substantial losses trading securities and commodities. This material is for information purposes only and should not be construed as an offer or solicitation of an offer to buy or sell any securities. Morpheus Trading, LLC (hereinafter "The Company") is not a licensed broker, broker-dealer, market maker, investment banker, investment advisor, analyst or underwriter. This discussion contains forward-looking statements that involve risks and uncertainties. A stock's actual results could differ materially from descriptions given. The companies discussed in this report have not approved any statements made by The Company. Please consult a broker or financial planner before purchasing or selling any securities discussed in
The Wagner Daily
(hereinafter "The Newsletter"). The Company has not been compensated by any of the companies listed herein, or by their affiliates, agents, officers or employees for the preparation and distribution of any materials in The Newsletter. The Company and/or its affiliates, officers, directors and employees may or may not buy, sell or have positions in the securities discussed in The Newsletter and may profit in the event the shares of the companies discussed in The Newsletter rise or fall in value. Past performance never guarantees future results.
Charts created by TradeStation (tradestation.com).
© 2002-2011 Morpheus Trading, LLC
Reproduction without permission is strictly prohibited.