Stocks reversed sharply off their lows on Friday to close near session highs. All five major indices ended the day up. The small-cap Russell 2000 added 1.1% while the S&P MidCap 400 posted a 0.6% gain. Both the Dow Jones Industrial Average and the S&P 500 improved by 0.3%, while the Nasdaq tacked on 0.2%. Precious metals, oil services and transportation were big winners yesterday. Sectors that underperformed included footware, clothing & accessories and home construction.
Market internals were mixed on Friday. Volume slid by 5.3% on the Nasdaq and 6.0% on the NYSE. Advancing volume topped declining volume on the NYSE by 2.6 to 1 and on the Nasdaq by 1.1 to 1. Although neither the NYSE nor the Nasdaq posted an accumulation or distribution day, the price action was bullish on Friday.
Yesterday, on an uptick in volume, the Direxion Daily Semiconductor 3x Bull ETF (NYSEARCA:SOXL) formed its second consecutive reversal candle as it held support of the 10-day MA. A volume assisted move above the two day high of $43.32 could present a buying opportunity in this ETF.
(Click to enlarge)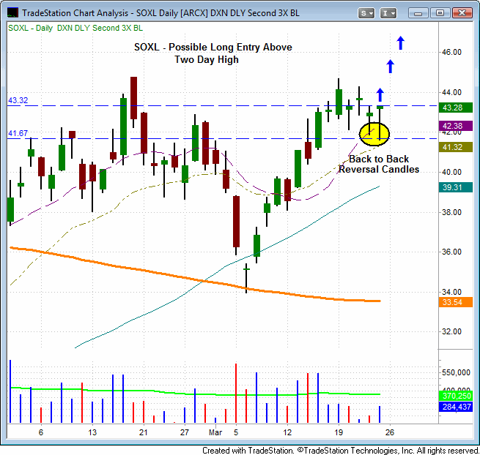 The commentary above is a short excerpt from
The Wagner Daily
, our nightly
stock and ETF swing trading newsletter
. Subscribers to the
full
version also receive specific entry and exit prices for all swing trade setups, an additional section dedicated to individual stock trades, and access to our Live Trading Room. To learn more about our swing trading strategy, please visit our
swing trading blog
.