Presently, there are four different open ETF positions (and ten open stock positions) in the model portfolio of The Wagner Daily, our nightly swing trading newsletter that provides exact entry and exit prices for our best stock and ETF picks. Of the ETF positions, iShares Real Estate Index Trust ($IYR) is currently showing the largest unrealized gain. However, its intraday price action over the past several days has surely been shaking out the "weak hands" who panic and sell at the first hint of weakness...and this leads us to an important mini lesson about the importance of utilizing a "set it and forget it" approach with regard to protective stop loss prices. Take a look at the daily candlestick chart of IYR below:
(Click to enlarge)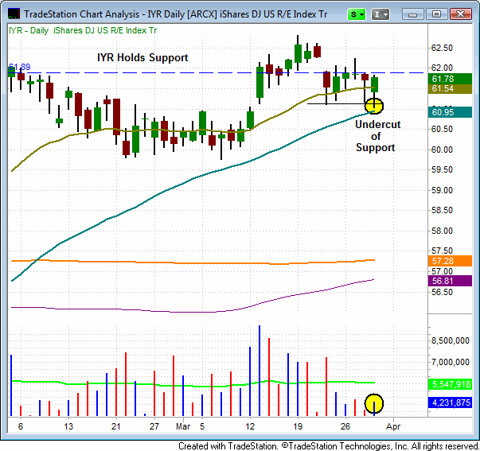 Yesterday, IYR formed a second consecutive reversal candle, which forms when the price declines substantially at some point during the trading session, but reverses to close near its intraday high. This creates a long "wick" or "tail" on the bottom of the candlestick bar. Such reversal candles show the bulls are in control, and usually lead to subsequent gains. More importantly, notice that IYR "undercut" support of its five-day low (highlighted in yellow on the chart), then reversed to close at its intraday high and just shy of its near-term resistance. Key support of the rising 50-day moving average lies just below yesterday's low. Furthermore, notice that yesterday's bullish reversal candle occurred on increasing volume.
All of these factors bode well for IYR if it can find its way back above the March 28 high of $61.89 (the dashed horizontal line). Recent price action in IYR is an excellent example of why we don't exit trades before they hit their stops (though there are occasional exceptions). It's easy to "choke off" a trade when the pressure is on, but markets often turn on a dime and you must be willing and able to sit through some pain in order to realize potentially larger gains. Utilizing a "set it and forget it" approach to setting your mechanical stops (GTC) is one way to do this. For traders not yet in IYR, consider entering the trade above the $62 area.
DISCLAIMER: There is a risk for substantial losses trading securities and commodities. This material is for information purposes only and should not be construed as an offer or solicitation of an offer to buy or sell any securities. Morpheus Trading, LLC (hereinafter "The Company") is not a licensed broker, broker-dealer, market maker, investment banker, investment advisor, analyst or underwriter. This discussion contains forward-looking statements that involve risks and uncertainties. A stock's actual results could differ materially from descriptions given. The companies discussed in this report have not approved any statements made by The Company. Please consult a broker or financial planner before purchasing or selling any securities discussed in
The Wagner Daily
(hereinafter "The Newsletter"). The Company has not been compensated by any of the companies listed herein, or by their affiliates, agents, officers or employees for the preparation and distribution of any materials in The Newsletter. The Company and/or its affiliates, officers, directors and employees may or may not buy, sell or have positions in the securities discussed in The Newsletter and may profit in the event the shares of the companies discussed in The Newsletter rise or fall in value. Past performance never guarantees future results.