Stocks lost ground last Friday, as volume edged higher as well. The major indices all fell more than one percent, with the higher beta exchanges leading the decline. The small-cap Russell 2000 and Nasdaq Composite both plunged 1.5%, while the S&P MIdCap 400 and the S&P 500 both slid by 1.3%. The Dow Jones Industrial Average showed the most resiliency, but still closed lower by 1.1%.
Market internals were bearish on Friday. Volume ticked up on both the NYSE and Nasdaq by 0.75%. Further, declining volume topped advancing volume by 6 to 1 on both exchanges. The decline in price action accompanied by higher volume and higher declining volume suggests that institutions continue to place selling pressure on the market.
On April 4th, the S&P Select Industrial SPDR Fund (NYSEARCA:XLI) lost support of its 20-day EMA and 50-day MA. Since then, XLI set a lower low on April 10th. XLI now faces resistance at its 20 and 50 day moving averages and offers a possible short entry on a bounce into these key marks, or on a move below last Friday's low of $36.32. We will be monitoring XLI closely for a possible short sale entry, and will send an Intraday Trade Alert to subscribers of The Wagner Daily if we enter the trade.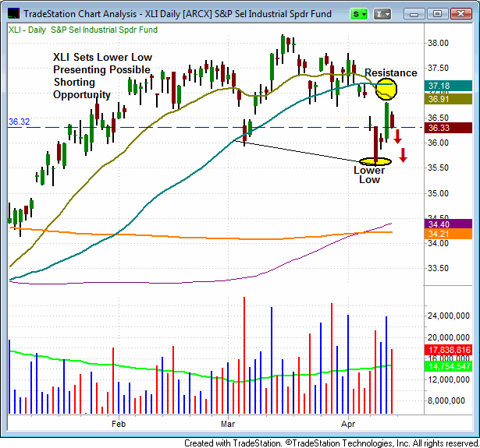 With last Friday's distribution day, the market appears to have more downside potential. The Nasdaq is now the only one of the five major indices still holding support of its 50-day MA. In contrast, the Russell 2000, S&P 500, S&P MidCap 400 and DJIA all face new resistance (which was previously support) at this key level of intermediate-term trend. Given the recent distribution in the broad market, at a minimum, it appears that several weeks of sideways action may be needed to repair the recent damage.

The commentary above is a short excerpt from The Wagner Daily, our nightly ETF and stock swing trading newsletter. Subscribers to the full version also receive specific entry and exit prices for all swing trade setups, an additional section dedicated to individual stock trades, and access to our Live Trading Room. To learn more about our trading strategy, please visit our swing trading blog.
DISCLAIMER: There is a risk for substantial losses trading securities and commodities. This material is for information purposes only and should not be construed as an offer or solicitation of an offer to buy or sell any securities. Morpheus Trading, LLC (hereinafter "The Company") is not a licensed broker, broker-dealer, market maker, investment banker, investment advisor, analyst or underwriter. This discussion contains forward-looking statements that involve risks and uncertainties. A stock's actual results could differ materially from descriptions given. The companies discussed in this report have not approved any statements made by The Company. Please consult a broker or financial planner before purchasing or selling any securities discussed in The Wagner Daily (hereinafter "The Newsletter"). The Company has not been compensated by any of the companies listed herein, or by their affiliates, agents, officers or employees for the preparation and distribution of any materials in The Newsletter. The Company and/or its affiliates, officers, directors and employees may or may not buy, sell or have positions in the securities discussed in The Newsletter and may profit in the event the shares of the companies discussed in The Newsletter rise or fall in value. Past performance never guarantees future results.
© 2002-2012 Morpheus Trading, LLC
Reproduction without permission is strictly prohibited.