The iShares Nasdaq Biotechnology ETF ($IBB), which we have been long in the model ETF trading portfolio of The Wagner Daily since August 14, showed relative strength by rallying 0.9% while the S&P 500 was flat yesterday (August 22). More importantly, it closed just above an area of near-term horizontal price resistance. For swing traders who missed our original August 14 buy entry, $IBB is now presenting a secondary buy setup (or a place to add additional shares to existing position). The first chart below is of the hourly timeframe, which shows yesterday's breakout above the near-term technical price resistance (the dotted blue line):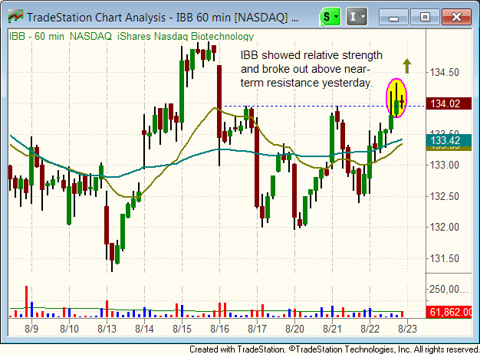 Shifting to the daily timeframe, notice that yesterday's rally in $IBB also correlated to a breakout above the downtrend line from the July 27 high (the descending blue line). Since this ETF has broken out above resistance levels on two different timeframes, it further increases the odds of $IBB moving higher from here. If looking for a secondary buy entry into $IBB, consider a buy trigger above yesterday's high of $134.32, which would confirm the breakout above resistance: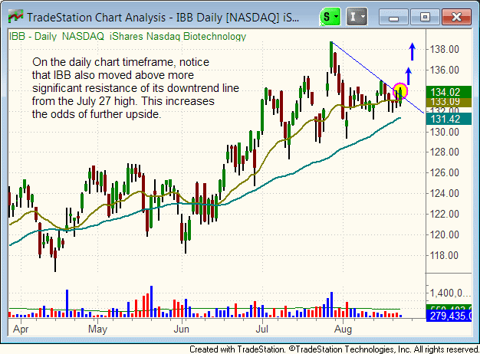 If you ran a scan on our free technical ETF screener last night, you may have noticed that $IBB is presently on the Potential Breakout watchlist, near the top of list due to the relative strength to the broad market it has been showing. Subscribers of The Wagner Daily newsletter should note our exact protective stop and target prices under the Open ETF Positions section of today's issue. If you're not yet a subscriber, you may test drive our ETF and stock swing trading newsletter risk-free for a month by clicking here.
DISCLAIMER: There is a risk for substantial losses trading securities and commodities. This material is for information purposes only and should not be construed as an offer or solicitation of an offer to buy or sell any securities. Morpheus Trading, LLC (hereinafter "The Company") is not a licensed broker, broker-dealer, market maker, investment banker, investment advisor, analyst or underwriter. This discussion contains forward-looking statements that involve risks and uncertainties. A stock's actual results could differ materially from descriptions given. The companies discussed in this report have not approved any statements made by The Company. Please consult a broker or financial planner before purchasing or selling any securities discussed in The Wagner Daily (hereinafter "The Newsletter"). The Company has not been compensated by any of the companies listed herein, or by their affiliates, agents, officers or employees for the preparation and distribution of any materials in The Newsletter. The Company and/or its affiliates, officers, directors and employees may or may not buy, sell or have positions in the securities discussed in The Newsletter and may profit in the event the shares of the companies discussed in The Newsletter rise or fall in value. Past performance never guarantees future results.
© 2002-2012 Morpheus Trading, LLC
Reproduction without permission is strictly prohibited.