Introduction
For those of you starting to build your own income portfolio it can be quite overwhelming the plethora of options in front of you. Personal experience has demonstrated to me that the first investments are the most critical for any investor. A bad first experience risks slanting an investors view of investing towards the negative. I have talked to quite a few people who started investing but then lost money with their first investment selections. These people became so discouraged and frustrated that they just quit investing. That is why I believe for all new investors it is important your first investments make you immediate returns. These returns do not have to be large but rather quick and frequent. For these reasons I would encourage new investors to seek out monthly paying income vehicles. I believe There are three specific investing vehicles that these first time investors should analyze: Preferred Share ETF's, Bond ETF's, and REIT's. I will discuss these three vehicles and list what I feel are the best options for each.
Preferred Stock ETF's
Before we can invest in Preferred stock, we must define what a preferred stock is.
Preferred stock: (also called preferred shares) is an equity security with properties of both an equity and a debt instrument. They are generally considered a hybrid instrument. Preferreds are senior (i.e. higher ranking) to common stock, but subordinate to bonds in terms of claim to their share of the company assets. Preferred stock usually carries no voting rights, but may carry a dividend and may have priority over common stock in the payment of dividends and upon liquidation.
Preferred shares offer very limited price appreciation. What they lack in price appreciation they make up for in dividend payments. The dividend rates of preferred share range anywhere from 5-9% generally. It is this payout that we are looking to take advantage of. Also by investing in an ETF instead of a single preferred share class from one company we pool our risk. This allows us to not be tied down to only one company should and unfavorable event occur. Below are three ETF's I think are worth consideration by first time investors.
(NYSEARCA:PGF) PowerShares Exchange Traded Fund Financial Preferred Portfolio - This ETF seeks investment results that correspond to the Wachovia Hybrid & Preferred Securities Financial Index. This Index is currently comprised of preferred stocks of approximately 30 financial institutions. These institutions include famous names such as: HSBC, Bank of America, JP Morgan, and Wells Fargo to name a few. This ETF focuses on the preferred securities of banks. This ETF pays dividends monthly and currently yields 6.18%.
(NYSEARCA:PGX) PowerShares Preferred Portfolio ETF - This ETF seeks to invest at least 90% of its total assets in the securities that comprise the Merrill Lynch Preferred Index. This ETF includes many of the same institutions as the investment above, but also includes preferred shares from some non-banking companies. This ETF pays dividends monthly and currently yields 6.31% annually.
(NYSEARCA:PFF) iShares S&P U.S. Preferred Stock Index Fund - This ETF seeks to match the performance of the S&P U.S. Preferred Stock Index. The Index measures the performance of a selected group of preferred stocks listed on the NYSE, AMEX and the Nasdaq Stock Market. This index like PGX includes bank and non-bank preferred shares. This ETF pays dividends monthly and currently yields 7.72% annually.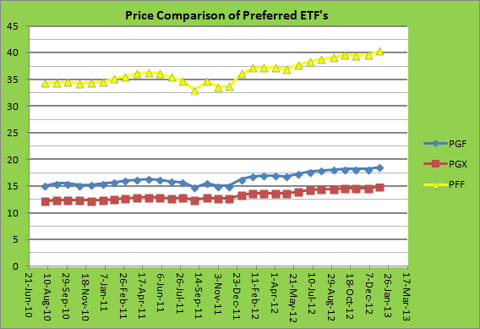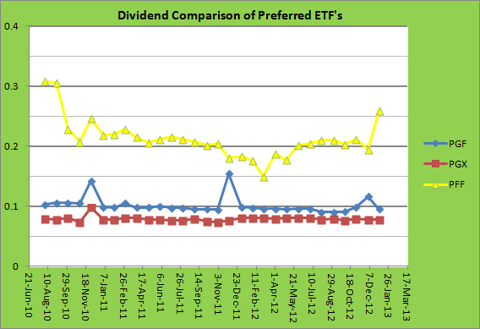 As you can see from the graphs above the income of these Preferred ETF's is generally reliable. the slow share price appreciation makes these ideal for income stock purposes.
Bond ETF's
Before we can invest in Bonds, we must define what a bond is.
Bond: A debt investment in which an investor loans money to an entity (corporate or governmental) that borrows the funds for a defined period of time at a fixed interest rate. Bonds are used by companies, municipalities, states and U.S. and foreign governments to finance a variety of projects and activities.
Bonds much like preferred stock offer very little price appreciation. There are two specific groups of bonds. Investment grade bonds are bonds issued by entities that have a solid credit rating. High yield or junk bonds are bonds issue by entities that have a less than stellar credit rating. Junk bonds have a much higher rate of default than investment grade bonds. This means that although the yield is higher there is a greater chance of losing money on your investment. Below are 5 ETF's I think are worth consideration by first time investors.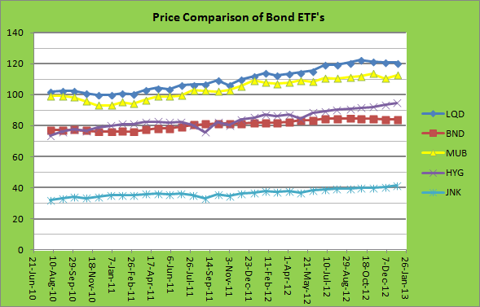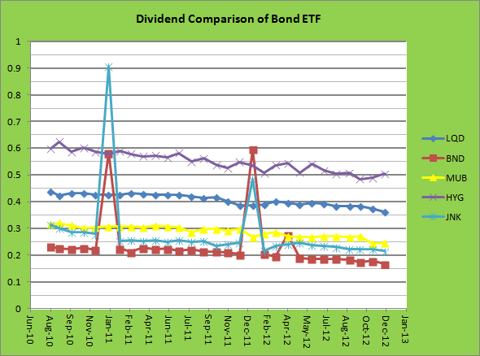 As you can see from the graph above the price appreciation of bonds over the last couple years has hurt the overall yield of bonds. You can also see that over that same period of price appreciation that the per share dividends have been falling as well. The price appreciation coupled with the falling dividend payments has made this a flat investment. The only way to make a profit on these ETF's is to take the compounding effect of reinvested dividends and couple that with the rising share price to make this a profitable trade. It is for this reason that we recommend a buy and hold strategy for these investments.
Real Estate Investment Trust's
Before we can invest in REIT's (Real Estate Investment Trust) we must define what a REIT is
REIT: A security that sells like a stock on the major exchanges and invests in real estate directly, either through properties or mortgages. REITs receive special tax considerations and typically offer investors high yields, as well as a highly liquid method of investing in real estate.
REIT's are slightly different than the preferred and bond ETF's we have previously talked about. They are company like entities that get special tax treatment so long as they pay a certain percentage (90%) of their profits to investors. These companies offer solid income as well as some level of price appreciation. Below are three REIT's I think are worth consideration by first time investors.
(NYSE:O) Realty Income Corporation - Realty Income Corporation engages in the acquisition and ownership of commercial retail real estate properties in the United States. This REIT has just recently closed acquisitions of another REIT. As a result of the acquisition it has declared an increase to its dividend. The new dividend amount will amount to $2.17 annually. This is an increase of 19% from the current annualized yield of $1.82. This REIT pays monthly dividends and currently yields 4.0% annually but as previously stated that is set to increase. It has also increased its dividend payments for 15 straight years.
(NYSE:LTC) LTC Properties Inc - LTC Properties, Inc. operates as a health care real estate investment trust (REIT) in the United States. It invests in senior housing and long term healthcare properties. This REIT pays monthly dividends and currently yields 4.9% annually. It has also increased its dividend payments for 3 consecutive years.
(NYSEMKT:WSR) Whitestone REIT - Whitestone REIT, a real estate investment trust (REIT), engages in the investment and operation of retail, office, and warehouse properties located in the Houston, Dallas, San Antonio, and Phoenix metropolitan areas. This REIT pays monthly dividends and currently yields 8.1% annually. It is not in the process of increasing its dividend payments.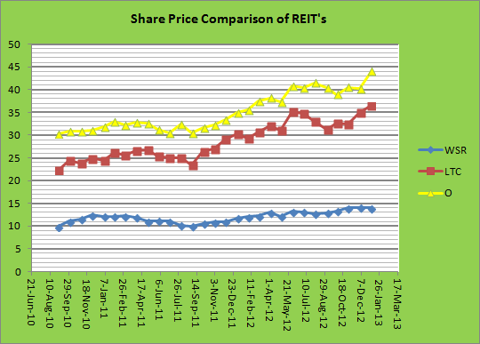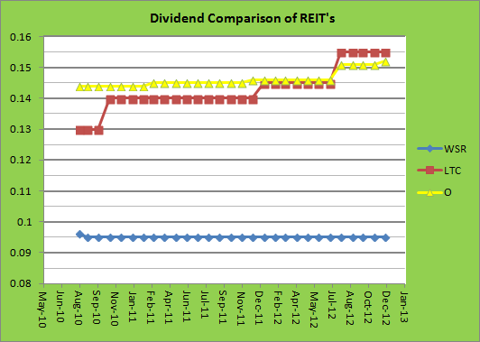 You can see from the graph above that these REIT's supply a reliable if not growing level of income. Couple that fact to the rising share prices of those companies and you have an ideal investment vehicle through which to see frequent profitable returns.
Summary: As I stated before I believe that the first selections made by a new investor will forever influence their view of investing for themselves. That is why I believe it is critical for those investors to make choices that will pay them immediate returns. These returns will not be large but they will be frequent. The more return they see the more it becomes worth their time to invest and broaden their scope.
Suggestion: I would suggest to first time investors that they should choose one stock from each of the categories that I outlined above. Pick one Preferred stock ETF, one Bond ETF and one REIT. You are not limited to the companies or ETF's that I have listed above. Their are many more options out there available to you. I have just tried to pick a few select options that I feel embody what a new investor should be looking for. Please post in the comments below if you decide to use any of my recommendations and why you chose what you did.
Disclosure: I am long O, HYG, PGX. I wrote this article myself, and it expresses my own opinions. I am not receiving compensation for it (other than from Seeking Alpha). I have no business relationship with any company whose stock is mentioned in this article.