Introduction:
As an income investor I am always looking for new and emerging markets and trends within developed countries that could potentially shift and or increase demand levels for certain market segments. I believe that the pharmaceutical industry is set to benefit from shifting market segments over the coming years. This shift may even signal a long term bull market for the entire pharmaceutical segment. Now that markets have started to rebound and the economy has leveled off many older workers are once again focusing on retirement. The retirement aging workers has the potential to cause significant waves in the market over the next 10 years as they shift from working into retirement. We are starting to see the emergence of this market as we speak and it would be wise for investors to get in on the ground floor of this economic shift.
Aging Population:
The great recession caused many people to postpone retirement and prolong working because of the deflation of their assets and holdings. Now that the market has rebounded from lows experienced during that tumultuous time many baby boomers are starting to focus on this finish line we like to call retirement. We hear all the time about the aging American population. As you can see in the below graphic based on data taken from the 2000 US Census the largest portion of the population by far is the segment aged 35-44. Since this data was based on 2000 census data if we adjust the age range based on the 13 years since this data was collected, that would shift this portion of our population to the 48-57 age range. This puts the oldest portion of this segment of the American population a mere 8 years from retirement. Some may even be considering early retirement as a possibility. This generation of Americans will drive shifts in the markets over the coming years as they start to retire. One of these segments will obviously be the pharmaceutical industry to which these people will look for medicine and treatments for whatever ailments they may encounter during their golden years.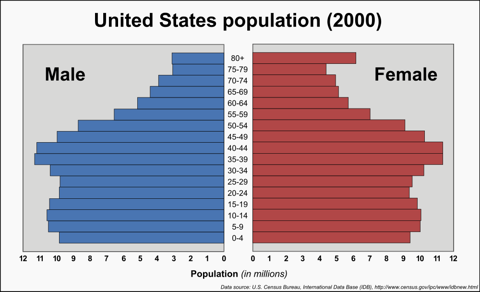 This segment of the economy will see increased demand for its product offerings over the next 10 years. I believe that investors should look for a bull market to emerge for the pharmaceutical segment of the economy within the next couple years with no apparent slowing for quite some time. I believe there is significant money to be made based on this future market demand.
Johnson & Johnson (NYSE:JNJ)
JNJ is more than just a pharmaceutical company. JNJ has a large consumer goods producing segment focusing on personal hygiene as well. JNJ is positioned to profit from any bull market that may emerge for pharmaceutical companies, but should the market fail to emerge with the strength that I believe it will JNJ's consumer goods segment shelters this stocks from complete exposure to the pharmaceutical market.
| | | | | | |
| --- | --- | --- | --- | --- | --- |
|   | 2008 | 2009 | 2010 | 2011 | 2012 |
| Revenue | 63.75B | 61.9B | 61.64B | 65.04B | 67.28B |
| Net Income | 12.95B | 12.27B | 13.33B | 9.697B | 10.85B |
| EPS | $4.62 | $4.45 | $4.85 | $3.54 | $3.94 |
JNJ missed the entire rebound rally after the great recession hit. It was not until early this year that it began to make any moves higher. It rallied with the broader market and appears to be slightly overbought at current levels. If earnings data does not significantly improve over the next year I would wait for a pullback to open a new position or increase holdings in this stock.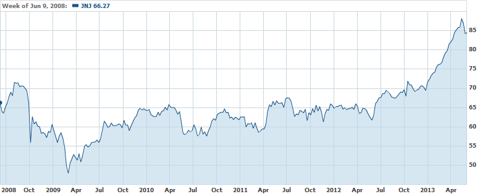 JNJ has nice exposure to the pharmaceutical and medical device market that it should benefit from any bull trends that may emerge, but its diversity also affords investors a level of sheltered protection should this market fail to emerge.
Merck & Co (NYSE:MRK)
MRK acquired Schering-Plough in 2009 and although its saw its revenue increase significantly after the acquisition net income has been inversely affected as a result of the acquisition. Net income has significantly fallen since 2009.
| | | | | | |
| --- | --- | --- | --- | --- | --- |
|   | 2008 | 2009 | 2010 | 2011 | 2012 |
| Revenue | 23.85B | 27.43B | 45.91B | 48.13B | 47.35B |
| Net Income | 7.81B | 12.9B | 861M | 6.26B | 6.17B |
| EPS | $3.66 | $5.67 | $0.28 | $2.04 | $2.03 |
MRK like JNJ missed the post great recession rebound that saw the broader market add more than 100% in value. MRK has started to rebound recently starting in mid 2012, but it has much farther to run. MRK is currently overbought based upon year-end earnings projections.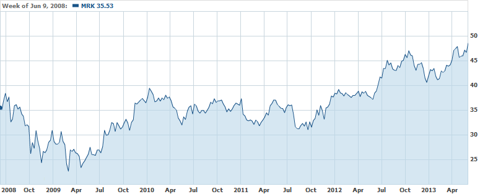 Although MRK's acquisition in 2009 nearly doubled revenue it has been a dragging factor as to why MRK has not seen significant share price growth over the last 3 years. If the demand growth in pharmaceuticals from the aging American population does manifest itself and MRK can figure out how to truly profit from its 2009 acquisition, MRK looks well positioned to profit from this market shift.
Pfizer Inc (NYSE:PFE)
PFE saw significant revenue increases after its acquisition of Wyeth in 2009. Although revenue increased by almost 35% after this acquisition, PFE has really struggled to make acquisition a profitable one as far as net income is concerned. As you can see in the two years following the acquisition net income is flat across those years.
| | | | | | |
| --- | --- | --- | --- | --- | --- |
|   | 2008 | 2009 | 2010 | 2011 | 2012 |
| Revenue | 48.3B | 50.01B | 67.06B | 67.43B | 58.99B |
| Net Income | 8.03B | 8.62B | 8.18B | 8.7B | 9.49B |
| EPS | $1.19 | $1.23 | $1.03 | $1.11 | $1.32 |
PFE like most pharmaceutical companies struggled to rebound after the great recession. It has made a recent charge though starting in early 2012 and has been on quite the rolls since. It may be overbought slightly but with its latest correction is in a buying range.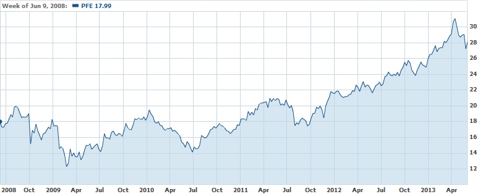 Although PFE's acquisition has struggled to contribute towards the company's bottom line increasing market share is never a bad strategy. If the bull market for pharmaceutical emerges like I expect it too PFE is well positioned to profit.
Bristol-Myers Squibb Co (NYSE:BMY)
BMY has been a rather interesting study over the last few years. Its fundamentals are constantly in a state of flux but yet the stock price keeps climbing higher. As you can see revenue and net income has been relatively flat over the last 5 years.
| | | | | | |
| --- | --- | --- | --- | --- | --- |
|   | 2008 | 2009 | 2010 | 2011 | 2012 |
| Revenue | 20.6B | 18.81B | 19.48B | 21.24B | 17.62B |
| Net Income | 3.16B | 3.22B | 3.09B | 3.7B | 1.96B |
| EPS | $1.65 | $1.72 | $1.80 | $2.18 | $1.17 |
Even though revenues have been relatively flat the share price for BMY has increase almost 135% over the last 5 years. This has placed BMY into the sell range. It you own BMY I would recommend taking a portion of your profits off of the table because this trend cannot continue.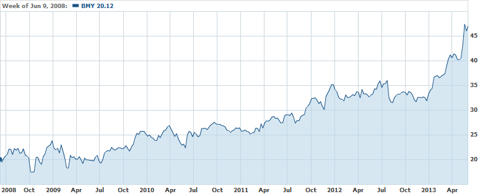 Although BMY will profit from an increase in pharmaceutical demand should it arise based on current levels and fundamentals it appears to be significantly overbought. This will mute any future gains arising from the aging of America's workforce. I expect BMY to lag the broader pharmaceutical industry over the coming years should current trends hold.
Eli Lilly & Co (NYSE:LLY)
LLY is an interesting play on this potential increasing demand in this industry. LLY is a pharmaceutical company that operates in two segments, human based and animal based divisions. How many retired people do you see with pets? It has long been proven that pets improve the mood of their owners and also are a source of entertainment. LLY in my view is for those people who want to double down on any potential bull market.
| | | | | | |
| --- | --- | --- | --- | --- | --- |
|   | 2008 | 2009 | 2010 | 2011 | 2012 |
| Revenue | 20.38B | 21.84B | 23.08B | 24.29B | 22.6B |
| Net Income | (2.07B) | 4.33B | 5.07B | 4.35B | 4.09B |
| EPS | ($1.89) | $3.94 | $4.58 | $3.90 | $3.67 |
If you believe as I do that the aging American workforce will increase the demand for pharmaceutical products, than you may also believe that companion animal pharmaceuticals may be set for an increase in demand as well. This is based on the assumption that a portion of the retirement age population will have and own pets for which they will also purchase medication as they age. LLY is a strong buy at current valuations.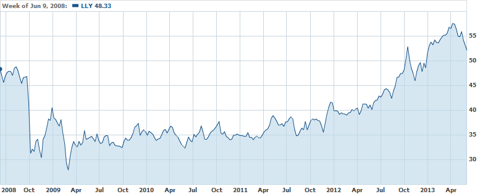 LLY has seen its stock price hold steady for the most part since the great recession ended. Since the middle of 2012 it has seen nice growth in its share price. I believe that LLY is positioned better than most pharmaceuticals to profit from an increase in demand for its products, not only from humans but also their companion animals as well.
Summary:
America's aging population will cause a significant market demand shifts over the coming years. As the largest segment of our population retire and downsize I expect certain markets like housing will see prices depressed due to the flood of houses being made available by retiring couples. However, the pharmaceutical industry is one that I feel, if positioned well, will profit greatly from this aging group. Please comment in the section below and let me know if and how you are planning to profit from America's aging population.
Disclosure: I am long JNJ. I wrote this article myself, and it expresses my own opinions. I am not receiving compensation for it (other than from Seeking Alpha). I have no business relationship with any company whose stock is mentioned in this article.