I submitted the article below to SeekingAlpha, but unfortunately it was not possible to publish it before Annaly Capital earnings report (August 6th).
Basically, my view was of a quarterly dividend kept same as previous $0.30 level, and of a quite weak market reaction even in case terrific results were effectively reported.
The first prevision turned out to be correct: Q2/2014 will be $0.30.
Now let's see the market reaction when the bell rings at 9 am EDT.
In case you are interested, below you can read the full article that I submitted.
----------------------------------------------------------------------------
Next August 6th, Annaly Capital Management (NYSE:NLY)'s earnings report for Q2/2014 will be one of the latest to be released within the mREITs sector, and is surely the most awaited by those who, like me, are currently long the stock.
Throughout this article I would like to share some thoughts and considerations on what to be expected from the report and how the figures could be evaluated by the market.
Unique transition position
So far, I've read a lot of articles highlighting the fact that Annaly is switching its business model from a pure Agency mREIT to a hybrid model in which a commercial Real Estate component is growing more and more important for the company balance sheet.
I also believe that this change is indeed a key fact about Annaly, and thus I am very surprised to see the company always compared to the same, old peers.
The table below shows a list of 23 REITs in different sectors, sorted by market cap. as of August 4th.
23 REITs in different sectors, sorted by market cap. as of August 4th (source: Google Finance).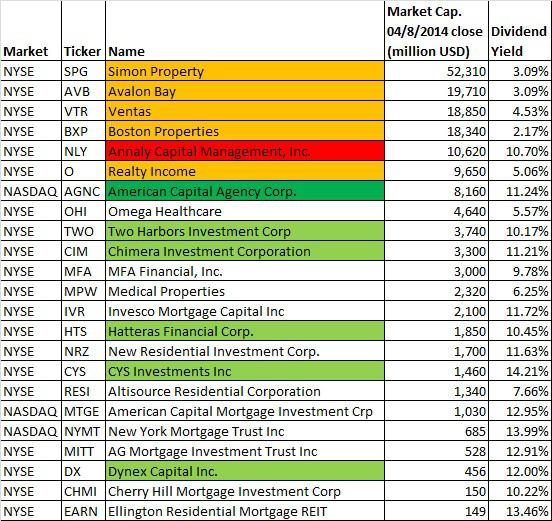 All the articles you can read on the web (either on Seeking Alpha or other websites) always benchmark Annaly against the smaller companies highlighted in green color in the table, American Capital Agency Corp. (NASDAQ:AGNC) being the closest peer.
Personally, I've never stumbled upon an article comparing Annaly to any of the bigger companies within the orange group instead, e.g. Boston Properties (NYSE:BXP), which are still REITs but with different business models, in different sectors and of bigger size than Annaly.
As Annaly grows and diversifies into a hybrid REIT, I think it would make sense to consider more and more the company within a wider universe of reference, not always looking down to what smaller sisters are doing, but also looking up to the way that bigger brothers are pointing out.
Dividend Yield
In the following of this article, we will often refer to the "orange group" and to the "green group" defined in the table above.
It can be useful to compare Annaly's dividend yield with those in the orange and green groups, in order to get confirmation of the ongoing business model transition and to assess its current progress status.
Annaly's dividend yield compared to peers (Source: Google Finance)

| | | | |
| --- | --- | --- | --- |
| Annaly | 10.70% |   |   |
|   | Mean | Min. | Max. |
| Orange Group | 3.59% | 2.17% | 5.06% |
| Green Group | 11.55% | 10.17% | 14.21% |
The table above shows that Annaly is still far away from the business model, risk perception and thus dividend yield range offered by the companies in the orange group; still Annaly's yield is well below the average in the green group and very close to its low end.
Dividend
That said, what to expect about Annaly's next quarterly dividend?
I read that many people foresee a dividend increase from the current quarterly $0.30 level, but I think it would be more reasonable to expect a confirmation of $0.30 for the upcoming quarter due to the following 3 reasons:
1) the general dividend trend in the wider REIT sector is flat, as shown in the chart below: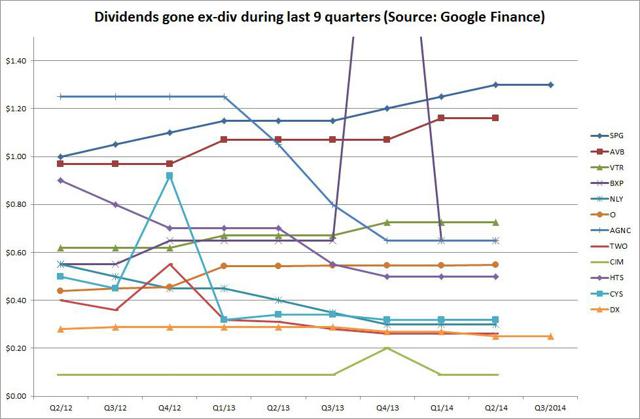 2) current earnings per share at Annaly don't cover the current $0.30 dividend. The history is completely different e.g. for AGNC or Dynex (NYSE:DX)
EPS vs. dividend for AGNC, NLY and DX
 
EPS
Dividend declared
Ticker
Q2/14 estimate
Q2/14
Q1/14
Q2/14
Q1/14
AGNC
0.67
0.87
0.71
0.65
0.65
NLY
0.26
?
0.23
0.3
0.3
DX
0.27
0.26
0.25
0.25
0.25
3) finally, also the consensus on estimated EPS for Q2/2014 is at $0.26 (source: Earnings Whisper website), below the current dividend.
Mr. Market likes to be unpredictable, and being long NLY it would really make me happy to be proven wrong, but due to the 3 reasons above I'm not likely to think that a dividend increase will be announced on August 6th.
Earnings Surprise
And what if Annaly really manages to deliver a terrific report, beating all expectations?
Also in this case, I would suggest some prudence as a key aspect to be kept in mind is the unpredictability of the market reaction to the earnings reports. AGNC and Dynex reports provided a great example in this sense just last week:
AGNC crushed the analysts' consensus of $0.67 EPS beating it by +29.85% to $0.87, and still the market reaction was all but enthusiastic
on the other side Dynex fell behind consensus, but still didn't got punished too severely by the market
Market Reaction to recent AGNC and DX earning reports (Source: Google Finance)
 
EPS
Quotes (ED = Earnings Day)
Ticker
Q2/14 estimate
Q2/14
Q1/14
ED-1
ED
ED+1
AGNC
0.67
0.87
0.71
23.58
23.69
23.48
DX
0.27
0.26
0.25
8.44
8.44
8.36
The market is not expecting that much out of Annaly: as said, the consensus EPS is $0.26, up from last quarter's $0.24 but still lower than the current dividend ($0.30).
Another clue is the absence, this quarter, of the usual rally of the stock before the earnings report.
Conclusions
I currently have 2 positions open on NLY, the first one (3 lots) with a mean price of $10.57, and the second, more recent one (1 lot) opened at $11.43 just after the stock went ex-dividend last June.
While I am still long NLY and feel comfortable on my $10.57 position, what I am personally looking for from the earnings report date is a last-minute rally of the stock prices in order to be able to sell my $11.43 position in the green and then be free to either profit from any pullback or bad news and cumulate, or to diversify into other opportunities.
I also think that dividend sustainability (coverage) is one of the key factors to be monitored about NLY, because it is one of the values where this specific company shows a different situation and behavior with respect to peers.
Thanks for reading, I'm looking forward to reading your comments and ideas.
Disclosure: The author is long NLY.