I am often asked, "When will this recession end?' or "When will companies start rehiring workers?".  My favorite question is, "What is going to happen in the market over the short-term?"  Bottom line:  I don't know and here is a news flash for you—no one else does either.
While these questions are important and reflect the concern that most people have regarding the state of the American economy, I think most people are missing a valuable lesson to be learned.  Although, no one knows the future with a high degree of certainty it is inevitable that tragedies, financial calamities and uncertainty—like prosperity and success—will be a part of the financial landscape.  The important question for each of us is: "How can I financial prepare myself and my family?"
I am an optimist by nature and a strong believer in the resiliency of the American economy, however since I know for certain that recessions and depressions will happen again in the future, it is prudent to prepare for the next wave of financial storms.  Using a SWOT analysis you can take the specific steps to protect you and your family from the next "financial hurricane".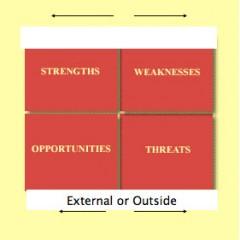 The SWOT Analysis: Taking Inventory
The first step towards preparedness is to calmly assess where you are right now and what do you have to work with.  I recommend a "SWOT Analysis".  A SWOT analysis is an overview of your Strengths, Weaknesses, Opportunities, and Threats.  Take a sheet of paper and divide it into four quadrants as shown below:
The strengths and weaknesses areas are aspects within your life that you control. Within the Strengths and Weaknesses quadrants—write down all the activities and attributes that improve or weaken your financial situation.  Some examples might include:  "I am saving money in my 401(k) plan every month" or conversely "I never track how I spend my money".
Use the Opportunities and Threats quadrants to list specific areas that you want to take advantage of or you want to avoid in your financial planning.  Some examples might include: "I want to buy a new home since real estate prices are low" or "I don't have an estate plan-what happens if I die?"
Try to be fairly specific in your lists.  Try to write down at least five to ten areas in each quadrant. After you have completed your SWOT assessment review each quadrant and analyze whether you can complete the action items listed or if you need to get professional help from a trusted advisor such as a CPA or Certified Financial Planner (CFP®).
By completing the SWOT analysis AND taking actions to improve your financial situation you'll be better positioned for the future—NO MATTER WHAT HAPPENS.

steelelarson.com/home.php