This post forms part of my regular series of monthly updates, and consists of two parts: (1) Portfolio review, showing the performance of the portfolio that I manage; and (2) Research review, updating the performance of recommendations published, including any changes to previous views.
I. Portfolio Review
Introduction: Blue Sky Capital is a long-only strategy that invests in global equities. The investment style is fundamentals-oriented, concentrated and long-term. The portfolio consists of 15-25 high-quality companies in the U.S. and Europe, usually held for multiple years. The portfolio has been in existence since late 2008, and is the main vehicle for my personal net worth.
Portfolio Performance: The portfolio lost -1.6% in GBP during October, vs. MSCI World's -2.3%. This brings the portfolio's performance to +26.4% year-to-date, vs. MSCI World's +18.7%; year-to-date performance was partly reduced by new funds deposited, which increased the denominator in performance calculations. Cash was at 8% of the portfolio at month end and was a small headwind for performance.
Performance of the portfolio since its inception in late 2008 is shown below: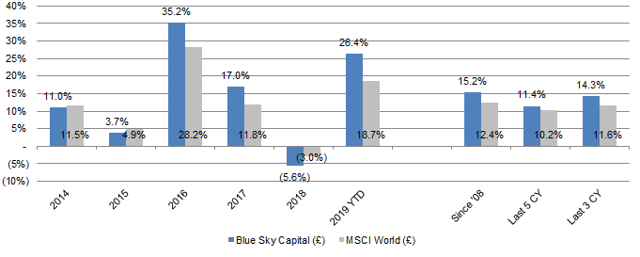 The portfolio has historically maintained a high cash balance, which has dampened returns. Since inception, the portfolio has outperformed the MSCI World Index by an average of nearly 300 bps a year, with the outperformance widening in recent years.
Performance Attribution: The top 5 contributors and top 5 detractors during the month, and for year-to-date, are as follows: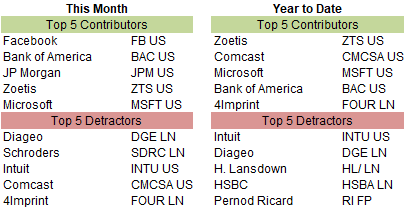 Portfolio Changes: We initiated new positions in Hargreaves Lansdown (OTCPK:HRGLF) and Pernod Ricard (OTCPK:PDRDF) during the month, and exited our position in Schroders (OTCPK:SHNWF). Cash was 8% of the portfolio at the end of the month, falling by approx. 150 bps, due to net purchases of shares and currency.
Top 10 Holdings: The top 10 holdings at the end of the month, compared to the top 10 holdings at the start of the year, were as follows: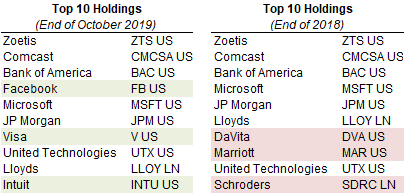 The top 10 holdings represented 64% of the portfolio's value (including cash).
II. Research Review
A list of all the research recommendations I have published on Seeking Alpha, and the stocks' subsequent performance, is shown in the table below: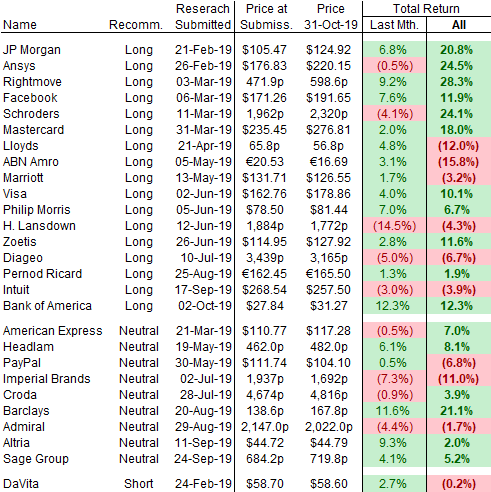 Recommendations which were closed subsequently are shown separately:

My published research has focused mainly on long ideas. Among the 17 published so far this year, 4 have already returned more than 20%, including Rightmove (OTCPK:RTMVF), Ansys (ANSS), Schroders (OTCPK:SHNWF) and JP Morgan (JPM); a further 5 have gained more than 10%. 2 long ideas have lost more than 10%, both European banks, ABN Amro (OTCPK:ABNRY) and Lloyds (LYG).
On the short side, among the 4 ideas published, 2 returned more than 10%, specifically Barclays (BCS) and Altria (MO) (both since exited, with Barclays shares having gained 21.1% since we upgraded it to Neutral in August).
Disclosure: I am/we are long nearly all the stocks mentioned.