How have the major global financial markets performed in the 30-day period that follows various scenarios involving the last day of the month. This multimedia query examines this situation when the last day of the month is during February and when the last day of the month falls out on a Friday. The results might be startling if you are an ardent believer in the "efficient market theory". Click on the link below to view the multimedia presentation that examines the effects of these scenarios on the major global macro markets. In order to view this presentation you must have Adobe Flash Player downloaded on your computer.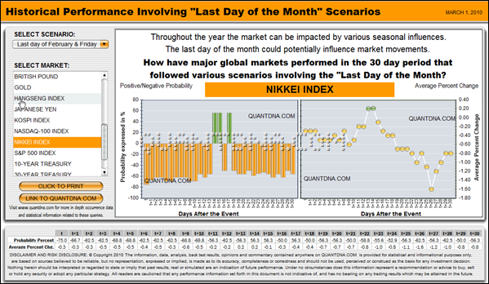 Click on the image above or the link below in order to access the 3D-DNA presentation:
http://quantdna.com/wp-content/uploads/2010/03/LDOM.swf
 
© Copyright 2010 The information, data, analysis, back test results, opinions and commentary contained anywhere on QUANTDNA.COM  is provided for statistical and informational purposes only, are based on sources believed to be reliable, but no representation, expressed or implied, is made as to its accuracy, completeness or correctness and should not be used, perceived or construed as the basis for any investment decision. Nothing herein should be interpreted or regarded to state or imply that past results, real or simulated are an indication of future performance. Under no circumstances does this information represent a recommendation or advice to buy, sell or hold any security or adopt any particular strategy. All readers are cautioned that any performance information set forth in this document is not indicative of, and has no bearing on any trading results which may be attained in the future.
Disclosure:
No position