The AUD (NYSEARCA:FXA) has been sold off hard and there was no surprise to this, it came from 3 main reasons
AUD being used as a proxy to short Emerging markets
China Slowing down- as a major trading partner its key
RBA rate cuts
the EURAUD cross pair had the best quarter in a long time, much stronger than during the 2008 financial crisis with a move at the end of Q2 being up 15.9%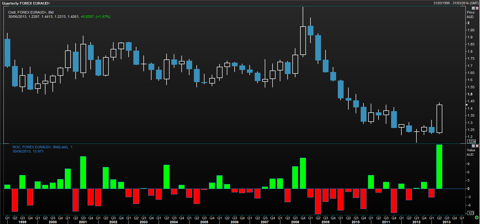 The RBA argument can be clearly expressed through this next chart showing the AUDUSD (FXA) vs. the 1Y swaps and base rate differentials.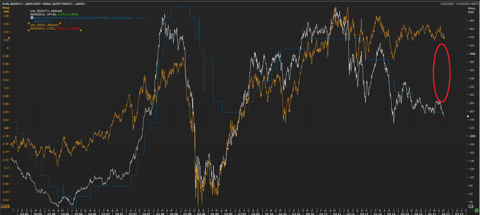 This was taken pre AUD drop and explains a fundamentally clear reason as to why it had to fall. Divergences don't occur for ever and one of the underlying factors had to change, and in a world where base rates aren't going up the AUD had to fall.
Where we stand now is that the Emerging market sell-off is slowing and we have potentially game-changing Chinese GDP readings.
I think that even though we have a good chance of heading much, much lower down towards 0.85/0.8 we are in stall for a low volatility summer and I would recommend either shorting End of August Straddles which have an approx range of 94.50 to 87.50.
Either getting short Volatility or getting long the AUDUSD due to lower volatility and the inverse correlation they have (due to risk tendencies for the AUD as a carry currency) would be the best play for the Summer.
Jeremy.
Disclosure: I have no positions in any stocks mentioned, but may initiate a long position in FXA over the next 72 hours.