A note: I attempted to submit this as my first article last week, however SA informed me that they are looking for Fundamentally based articles with technicals as a secondary, so I have opted to post this as an instablog. I still think the return potential on an out-of-the-money short play is fantastic. SLV's swing low today is taking it back down to its lower channel line. A break of this will usher in a move down to previous support at $26.11.
--
Silver is renowned for its high beta and explosive moves. Gold's little cousin is subject to more raw speculative interest, the tides of industrial supply and demand, is a much smaller market, thus more subject to the ebb and flow of investor demand.
As such, it can present a speculator with some excellent opportunities to play a swing move or breakout. I will be recommending an options play on the SLV ETF, which should generate excellent returns in a matter of a few months, or less.
Anybody who follows silver or uses it as a cash savings vehicle can recall the wild ride the metal has taken over the last 24 months. A blow-off top to just shy of $50.00/ounce, with record COT long commitments by small speculators, followed by a breathtaking crash which shaved almost 40% off of the price in less than three weeks.
Since that time, silver has swung between the mid-40's and the mid-20's, offering some excellent opportunities for technical traders to play large moves and gain significant profits. I believe the technicals for silver are showing signs that another significant move is just around the corner.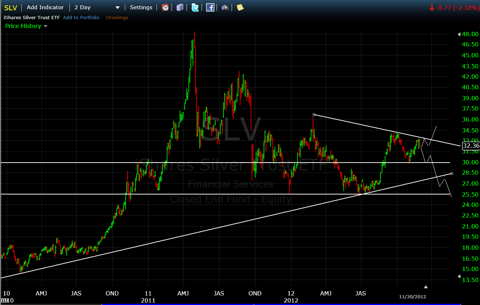 SLV is either set to begin its next large leg down, which should carry the metal to at least its previous support zone at $26.11, or is is going to re-challenge it's two previous 2012 highs - the most recent one, at $34.08, achieved on Oct 1, should act as a magnet for the price if it breaks out of the down-sloping resistance line.
However, silver has more downside risk than upside potential at the moment. If we take a look at a few internal measurements, namely the Money Flow Index and RSI readings, we can see that there is a consistent history of internals diverging from price movement, often pointing to the next mid-term move.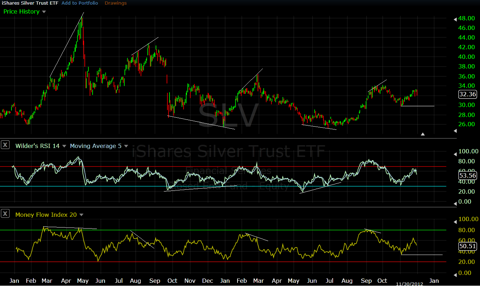 As we can see here, over the past few two years, RSI and Money Flow have both been fairly reliable indicators of where to find a bottom or top in price action.
Right now is an opportune time to use the super-leverage that options offer to maximize potential gains while limiting total position size risk. The VIX is sitting at a very complacent 15.87 print, meaning time premiums are on the low end in price right now. While I am expecting overall market volatility to pick up, especially after the new year, silver should begin to make its move even sooner.
I recommend targeting a short play down to the $26.11 level, which has offered very strong support for the last 12 months. If the internal divergence on SLV's technicals are the harbinger of a significant decline, expect the recent 12% increase in Small Speculator open long positions on the COT to unwind quickly. Options writers are complacent on SLV, despite its volatility over the past 24 months, with a potential 90-day+ move down to $26.00 costing only pennies per contract. I recommend purchasing the March 16 $28.00 Put for less than $0.40 per contract. If the price moves down to $26.00 on or before March 16, 2013, each contract will have an in-the-money value of $200 plus time premium, for a gain of 400%.
As an insurance policy, I also recommend buying the possibility of a breakout play. If silver decides it's going to keep on moving up, expect resistance at the down-sloping trendline initially (see first chart). A break of that point leaves a few possible price targets - the first is $34.00. SLV recently made four separate daily attempts to breach this point, and was repelled down each time. This would be the initial target for a long options position. I recommend purchasing the March 16 2013 $32.00 Call option for less than $2.50/contract. The March 32 Call currently has $1.36 of intrinsic value, based on the SLV share price, and $1.00 time premium. If the price of SLV moves up to $34.00, each option will have an intrinsic value of $200 plus time premium.
The second price target is the earlier high from March 2012, at $36.01. If silver reaches this price, each March 32 Call contract will have an intrinsic value of $400 plus time premium. If silver manages to break this point, the next real magnet for price lies at the open gap from Sept 21, 2011 at $38.56.
Silver's consolidation period looks to be drawing to a close. It is well within historical norms to expect a move of at least 10% in a very short time. Probabilistically, and judging by the internal momentum indicators, SLV looks to have a stronger chance of a significant decline over the next three months. I will be weighting my options positions more heavily to a downside move, using the calls as a means of covering my principal investment should SLV decide to break out.
Commercial Shorts have been increasing on silver of late, and they historically have been successful with selling into late rallies and unwinding into late declines. For weekly COT reports for the last three weeks, as well as a longer-term history of PM COTs, see here:
A NOTE: Since initially attempting to publish this article last week, I have purchased the $28 March Puts at $0.26.
Disclosure: I am short SLV.