Much debate goes back and forth about whether HFT, quote stuffing and other activities exist. This is ridiculous.

Take a look at this chart.....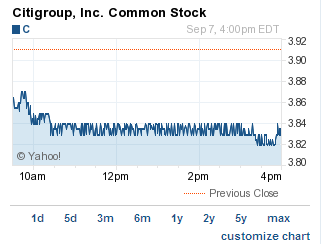 Do you really think a whole bunch of "investors" sub-pennied over a hundred million shares back and forth from 11-3.  Nope.  This is "liquidity" churning for rebates.

What to do - join the party of course.  You too can be a high frequency trader.  Wait for some short timeframe (5-10 minute bar) oversold and buy.  Wait 30 seconds - and flip it back - make one penny - maybe two. Repeat.

While I find HFT structurally damaging to the market, (and the US) it IS the market.  There is little left.  Fundamentals don't matter. Retail investors are sidelined. The above chart is the visual representation of computers trading against computers. One can only take the market for what it is and work with it, not try to apply constructs against what the market "should" be under ideal circumstances.


If you can't beat them - join them.  Keeping in mind you will still be sub pennied by frontrunning co-located servers.  Still better than buy and hold.

Disclosure: Long VXX, Will trade in and out of C as described above.