In July of this year Ampio Pharmaceuticals (NYSEMKT:AMPE) announced that it was advancing and developing a new drug for the treatment of inflammatory breast cancer, renal cell carcinoma and glioblastoma multiforme. The inventor, Dr. David Bar-Or says, "NCE001 has demonstrated remarkable in vitro effects on aggressive cancer cells of these three lineages. These three cancers are orphan status and do not have adequate treatment options so NCE001 may qualify for an accelerated approval path by regulatory agencies including the FDA."
On the surface this was an exciting press release and one that most shareholders would love to read about their company, but a closer look reveals that it could be even far more reaching and may have significant consequences in cancer therapeutics in general. NCE001 is a "phosphatase activator" as opposed to today's highly valued "kinase inhibitors" and is the first of the newest class of cancer therapeutics designed to stop the growth of cancer. Dr. Bar-Or explained the focus on this particular drug, "NCE001 activates a specific intracellular phosphatase largely involved in inflammation, angiogenesis and cell proliferation pathways." NCE001 could be a significant breakthrough for the most common cancers like lung, breast, colon and prostate because it has shown remarkable results in pre-clinical studies on multiple cancers and because it is an entirely new approach with sound underlying science for controlling the high growth rate of abnormal cells in the body that cause cancer.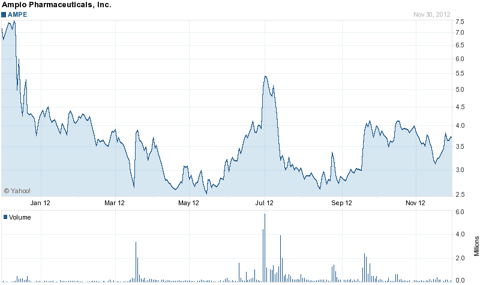 Cancer treatments
Surgery, chemo, radiation, angiogenesis drugs and kinase inhibitor drugs are the most common treatments for cancer but are still not as effective we would like as evidenced by death rates that continue to remain very high.
Chemotherapy may be the most common cancer treatment but this National Institutes of Health link states that a very large study on about 250,000 cancer patients who underwent chemotherapy experienced a disappointing 2.3% 5-year survival rate. Chemo is very questionable when one considers that 244,000 chemo patients out of 250,000 died before the 5-year mark.
For little over a decade kinase inhibitors have been highly valued as a promising new class of drugs for effective cancer treatment. Hoping to improve survival rates, they were designed to slow down the rapid cell reproduction but they too have not yet delivered acceptable performance. There are several new kinase inhibitor drugs in clinical trials and results will be known in the coming years.
Some examples of kinase inhibitors are:
Bosutinib, also known as Bosulif by Pfizer (NYSE:PFE). Bosutinib received FDA approval on September 5, 2012 for the treatment of adult patients with chronic, accelerated, or blast phase Philadelphia chromosome-positive chronic myelogenous leukemia with resistance, or intolerance to prior therapy.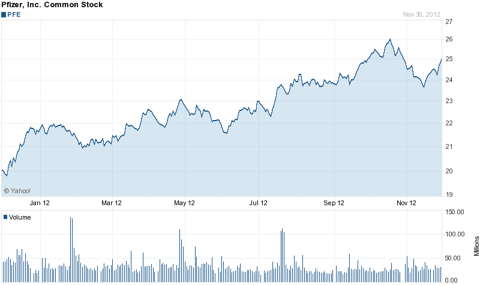 An earlier and controversial kinase inhibitor originally developed by Imclone, Cetuximab (Erbitux) is given by intravenous infusion for treatment of metastatic colorectal cancer and head and neck cancer. It is manufactured and distributed by Bristol Myers Squibb (NYSE:BMY) and Eli Lilly and Company (NYSE:LLY)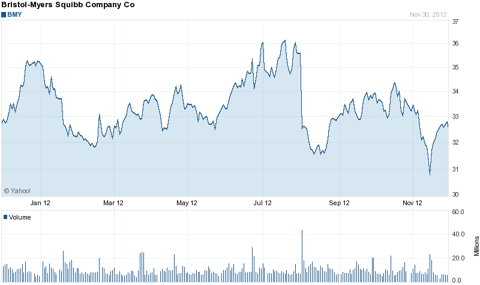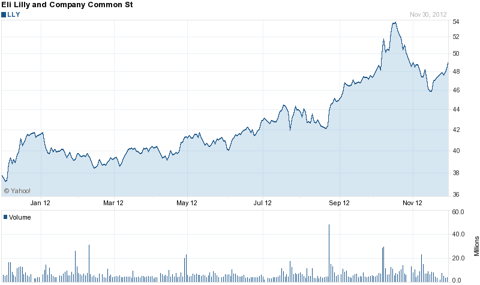 Kinase inhibitors for cancer treatment are viewed very positively and with a great deal of enthusiasm on Wall Street. For example, Pharmacyclics (NASDAQ:PCYC) is developing the kinase inhibitor, Ibrutinib that has sent shares soaring from $12 to over $70 in the last year with investment targets of much higher numbers in the coming years.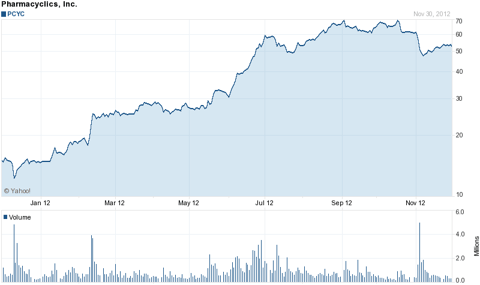 Kinase Inhibitors sales
The global kinase inhibitor market was over $29 billion in 2011 and projected to grow to over $40 billion by 2016.
The new generation NCE001 "Phosphatase Activator" cancer therapeutic
Armed with decades of research, clinical experience, intimate knowledge of molecular biology, a fully equipped lab and staff, a rich arsenal of biologic samples and data from thousands of patients, and a brilliant mind, Dr. David Bar-Or discovered that NCE001 was the perfect candidate to treat Alzheimer's. But realizing that clinical trials for Alzheimer's would be very difficult, very expensive and very time consuming, he shifted his thinking and redesigned NCE001 to treat cancer because he suspected that it would be able to do what kinase inhibitors were intended to do and possibly even do it better. Dr. Bar-Or theorized that NCE001 would restore balance to the process of "Phosphorylation" resulting in stopping runaway cell reproduction and therefore effectively treating cancer.
Results from early trials not only confirmed Dr. Bar-Or's theory about NCE001 and phosphatase activators, but according to Dr. Bar-Or the results were remarkable! NCE001 was born as an entirely new class of therapeutics and Ampio Pharmaceuticals immediately began filing patent applications and now has a strong patent position because patents have been granted in the United States, Canada, Europe and China. Now that the patents have been granted, Dr. Bar-Or will submit publications of this exciting breakthrough to the top-tier scientific journals. NCE001 as a phosphatase activator is going to be big news when its publications are released.
NCE001 may qualify for fast track approval because it treats terminal cancers that have no effective treatment. Since the mechanism underlying NCE001 may be applicable to many cancers, it could be an effective treatment for a broad spectrum of common cancers that go beyond inflammatory breast cancer, renal cell carcinoma and glioblastoma multiforme. Approvals for those broader indications will certainly take longer but will have the advantage of demonstrating safety through early trials for inflammatory breast cancer, renal cell carcinoma and glioblastoma multiforme. Demonstrating safety early will save substantial time, money and risk.
"Phosphatase Activators" are a new class of cancer therapeutics
The science underlying NCE001 (phosphatase activator) is sound as evidenced by scientific publications such as "PP2A fulfills its promises as tumor suppressor: Which subunits are important?" This National Institutes of Health link states that phosphatase activators are an important new target for cancer therapeutics. Phosphatase activators are positioning to become the next generation of cancer treatment drugs and NCE001 is the first one to the party and well ahead of the pack.
Ampio has entered into a development agreement with Syngene International (Bangalore, India) to manufacture and conduct all preclinical stages of development of NCE001 all the way to an IND submission to the FDA. These three cancers do not have adequate treatment options so NCE001 may qualify for an accelerated approval path by regulatory agencies including the FDA."
NCE001, an exciting new class of cancer therapeutics, adds even more sparkle to Ampio's already dazzling pipeline of drugs that are in late stage and even pivotal stage trials.
Ampio Pharmaceuticals pipeline
Ampion is a biologic anti-inflammatory with profound efficacy and no adverse side effects. Pivotal Phase III trials are beginning in the next 30 days and are expected to complete by June 2013. Ampion could be ready for BLA application for final FDA approval by mid 2013 meaning Ampion could receive a decision by the FDA by late 2013 or early 2014.
Zertane is repurposed Tramadol to treat male sexual dysfunction of premature ejaculation. There are no approved treatments for PE. Zertane has been shown in prior trials to be effective and has no adverse side effects. Zertane is beginning it's pivotal Phase III trials in the next 30 days and could be ready for a final NDA filing for final approval by mid 2013 indicating a potential decision by the FDA between late 2013 and early 2014.
Optina is in pill form rather than injection into the eye to treat Diabetic Macular Edema. Optina is beginning its Phase IIB trial within the next 30 days and could be ready for a final phase III and NDA filing by early 2014 meaning an FDA decision by mid to late 2014. Optina has demonstrated in prior clinical trials and studies that it is an effective treatment for DME and has no adverse side effects. Optina is the only drug for DME that actually repairs the problem of leaking blood vessels in the retina rather than just inhibiting the growth of new blood vessels like Lucentis and Eylea.
Ampio's ORP diagnostic device is a revolutionary new diagnostic for measuring a patient's overall health by measuring the balance of pro oxidants to anti oxidants that is an excellent predictor of serious health issues such as cardiovascular events. Ampio expects to submit a 510k submission to the FDA within the next 6 months and the turnaround time for that 510k submission is 90 days. A 3,500 patient trial has been completed.
Ampio continues to develop a very rich pipeline in record time, with record low costs and with minimal risk.
Investors should realize that there is risk in investing in all companies and that Ampio pharmaceuticals is no exception. Even though I personally believe most of the risk has been mitigated and managed very well, there is always the possibility that certain drugs may fail their clinical trials and may therefore not receive an FDA approval and there is a risk that the company may not have sufficient funds to continue operations. As in any investment, the investor makes his money by carefully weighing the risk to reward ratio.
Disclosure: I have no positions in any stocks mentioned, but may initiate a long position in AMPE, PCYC over the next 72 hours. I wrote this article myself, and it expresses my own opinions. I am not receiving compensation for it. I have no business relationship with any company whose stock is mentioned in this article.