Elevator Pitch
Gold seems to be gathering strength for a longer run up, and NUGT is a good option for taking advantage of the move, but you need to be really, really careful.
In November, 2014, I wrote an article about Gold and a Kid on a Swing. I still believe you can 'see the waves coming', like a surfer, but there can be some nasty turns that can really throw you hard, especially if you're playing a stock like NUGT. I think a better analogy is that of a bull rider, not a kid on a swing or a surfer.
Gold is now back up to the level it was at in November, 2014, crashing through $1200 an ounce (pre-opening today, February 11, 2016). If you've been holding physical gold since then, you had a long slide down, like a kid at the park, and now you've climbed back up to the top. Will it go down again, or is it now ready to begin a longer climb up?
If you were holding mining stocks and didn't sell them, some are nearly back to the same level, others are still down significantly. If you were holding NUGT and didn't sell, then you were slaughtered and are down by a factor of 10 since July and August, 2014.
If you were paying attention and sold back in the summer of 2014, then you've had a fantastic holiday and I can only assume that you were also paying attention this fall and have been buying back in.
Gold has made a 12% move up from a low of about 1071 (Jan.14), whereas the miners are generally up about 50% (GG +54%). NUGT on the otherhand has rocketed up +187% (as of the high on Monday and Tuesday, $49.90, up from $17.40 on Jan.19, just a few short weeks ago).
In October, 2015, gold made a similar move up and if you bought NUGT off the bottom, then you doubled your money and sold at the target of $50.
You can clearly see how the price really moves dramatically with NUGT, and you really need to be selling near $50 or have a tight stop, and then you can buy it all back near $40 for a tidy 20% additional gain. When it breaks below $40, you get out and wait for the dust to settle. This is exactly what it did in July-August, 2014, but the equivalent price was $400-$500 prior to the 1:10 consolidation in September, 2015.
For all of December, I was struggling to build a position, to be ready for the next run up, but still afraid it may plunge much, much lower again. After all, many people still felt that gold was going to go to $900 or lower. The gold chart, however, was telling me that gold was building strength and likely to make a move higher. And, in each of the past few years, gold has made a significant move in January, so I was planning to be ready.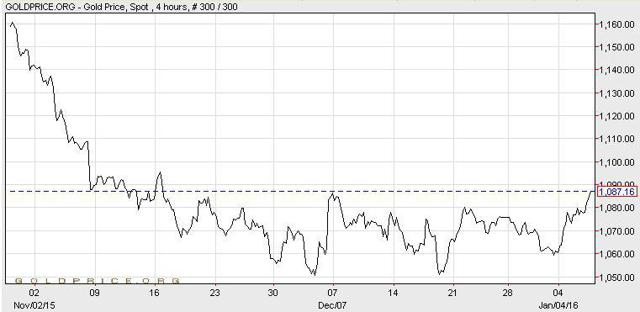 That certainly looks like a fairly solid bottom, so in early January I was loaded and ready. Unfortunately, NUGT decided do a hard reversal in direction, and that's when most bullriders get bucked off. Me included.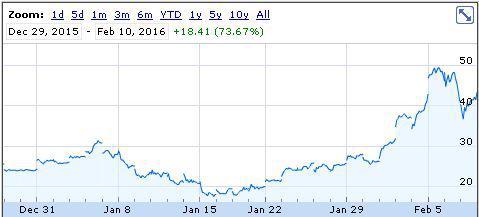 As you can see, after selling on the drop, it was really hard to begin building a position again, and when it went below $20... well, I remember it doing that before and continuing down to the low teens. (Before the 1:10 consolidation) I had no desire to be holding shares for that.
But, when the tide turns, you have to be willing to go with it, and I jumped back on. Gold actually didn't pull back that far, so that helped instill some extra confidence that it was indeed headed higher.
The move by NUGT since Feb.3, just 6 trading days ago, almost a 100% gain at the top, was more than I could even imagine possible. The move down late Tuesday caught me completely by surprise and I didn't have a stop sell order in place. Why not? Because time and time again, I get stopped out only to have the price immediately turn back up and leave me in the dust, and I hate that. Perhaps even more than losing money.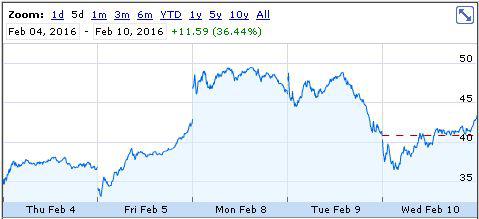 Of course, remembering September, 2014 and October, 2015, when it broke below $40 I sold all my remaining shares and was hoping (praying) that it would continue lower. But, it simply refused to do so, and gold, after a totally bogus move at the opening was also showing solid strength.
The black lines show the time period when the U.S. markets are open.
I really blew it yesterday (Wed, Feb.10) because I didn't buy back all my NUGT shares and stick with them. I really, really believed that gold was going to go higher, but after not selling on Tuesday and having it drop from $49 to $41, I really, really didn't want to be buying them back and having them drop to $35. Still, the trend after the bogus move late Tuesday and early Wednesday was still to the upside.
So, clearly NUGT is going to open well over $50 today, which is more than 30% higher than yesterday's low of $36.19 and I only have a quarter of the shares that I had on Tuesday. That hurts!! Which leads to the big question, and the point of this blog post: What should I do today and in the future? I want to formulate a clear strategy that works regardless of any price manipulation and it has to be almost mechanical so I can't get emotional or think my way out of it.
I'm like a bullrider that has been riding the same bull for over 2 years, and I think I just about have him figured out, but he still manages to buck me off when I'm not careful.
I would really appreciate your suggestions and comments, and I will continue to post on this blog to keep you updated on my progress. For today, I plan to buy a little at the opening and hope it drops in the first half hour so I can buy some more. I can't imagine it turning back lower from here, so it's time to get aggressive, before it moves significantly higher.
The gold chart suggests that it could now be at a ceiling (this is 1 hour prior to the opening).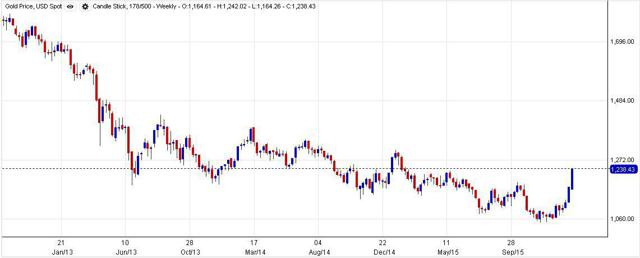 From this chart, caution is advised, and it could easily fall back significantly, but the upside is potentially huge if it moves back to the levels seen in 2013, let alone the highs of $1900 or the "$5000 gold" that many pundits are predicting. And remember, gold is up 15% from its recent low, and NUGT is up nearly 200%.
I plan to continue riding the NUGT bull for at least a 10x gain. But remember, gold is down less than -35% from its all time highs and NUGT is down well over -90%. When NUGT falls, sell everything and get out of the way. Even the short term falls, like this week, are massive, over -20% in a matter of hours from late Tuesday to early Wednesday.
That said, you don't want to sell when it's rocketing higher, simply to lock in some gains and feel safe. I fought that feeling all last week, and if you have extra cash, you should be buying more. Good luck to all of you, and have fun riding the NUGT bull.
Disclosure: I am/we are long NUGT.