Previously we analysed technical factors for gold. Now it's turn to take a look at the fundamentals.
First, despite a steep decline for some reasons there has been a shortage of physical gold. This is quite odd in a bearish market. It would seem that there should be a long line of those willing to sell their coins and bars and no buyers, but in reality things are the other way round. If you want to buy some real metal rather than a futures contract on the COMEX, then you'll have to pay a premium.
A good illustration is the state of affairs on the Shanghai Gold Exchange (SGE) (see Figure 1). The average spread equalled USD 12.83 per troy ounce in Q1 compared to USD 29.65 in the second quarter, when the metal took a pounding. The highest spread (USD 102.72) was recorded on April 15.
Figure 1. Gold price spread on SGE and the spot market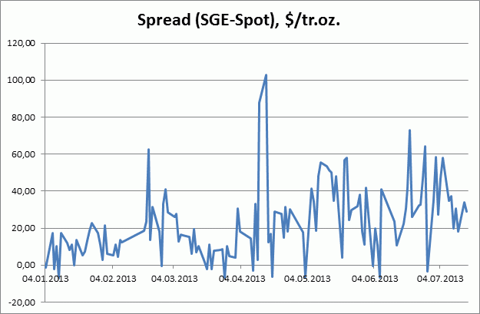 Source: Reuters
The delivery side also looks interesting. Based on the exchange's data, during the first half of 2013 futures buyers demanded a delivery of 1,098 tons of gold compared to 1,139 tons in 2012. By comparison, only 160.7 tons of gold was delivered on the COMEX in January - June 2013.
For the record, 1,098 tons of gold constitute around an eighth of US gold stockpiles and roughly 40% of annual global gold production. Such a figure cannot be considered a minor one.
Second, we'd like to focus on GLD. Nearly everybody says that a drop in gold supplies sends a bearish signal, but no arguments are put on the table. Just imagine, you're holding long positions in GLD and you want to close them. You just sell the shares and that's all. Why should one incur expenses to convert shares into bars? Taking hassle of receiving, shipping and subsequently selling bars? It makes no sense.
A trust itself takes no part in the purchase and sale of physical gold.
"The Trust's Authorized Participants are the only persons that may place orders to create and redeem Baskets and, in connection with the creation of Baskets, are solely responsible for the delivery of gold to the Trust. The Trust never purchases gold in connection with the creation or redemption of Baskets or for any other reason."
http://www.spdrgoldshares.com/usa/faqs/#q4fa24b4ed8f8f
So gold held in ETFs tends to fall not because of the closure of long positions. However, gold ultimately flows out of the trust. We think that the possible reasons are as follows:
· holding physical gold (the receipt of physical gold from the trust's custodian) is guaranteed;
· arbitrage trading (the sale of physical gold at higher prices in Asia); and
· the execution of delivery obligations, e.g. under deals transacted on the spot market in London.
And none of them is a bearish one.
Third, and perhaps most importantly, attention should be paid to the cost of gold output. According to the various sources, the average cost of gold production, so called all-in costs, ranges from USD 1,100/oz to USD 1,300/oz. We'd like to emphasize that some costs cannot be cut in principle. Specifically, the content of gold in ores has continuously been falling. While a ton of ore contained, on average, 2.8 grams in 2002, the 2011 indicator dropped to 1.2 g/t. By comparison, the metric equaled 7-8 g/t in the 1960s.
Based on the foregoing, we find the current price levels extremely attractive to buy gold in the long-term outlook. And even though there is a chance that gold contracts could slide below USD 1,100/oz, we don't think they will stay so low more than two or three quarters. In this case, gold mining companies will begin to cut output en masse at the most cost-intensive goldfields, which could lead to a shortage of physical gold and, consequently, push up prices.
Disclosure: I have no positions in any stocks mentioned, and no plans to initiate any positions within the next 72 hours. I wrote this article myself, and it expresses my own opinions. I am not receiving compensation for it. I have no business relationship with any company whose stock is mentioned in this article.
Additional disclosure: I am long non US Gold ETF.