Uranium Investment Thesis: The current spot price is below the average cost of mining uranium and economically unfeasible in the long-term. Although there remains a surplus inventory from secondary sources, the market relies ~80% on mined production each year, and there are a variety of demand drivers that should increase use of nuclear power over time. An imminent supply shortage and the need for utilities to renew long-term contracts will force normalization in spot prices from current levels around $24 / lb to at least the global average production cost, $35 / lb.
Market Psychology
The Fukushima Daiichi disaster in March 2011 caused irrational fear and downside expectations for uranium prices and use. For 6 years the price has trended lower, reaching a low of $19 / lb in late 2016.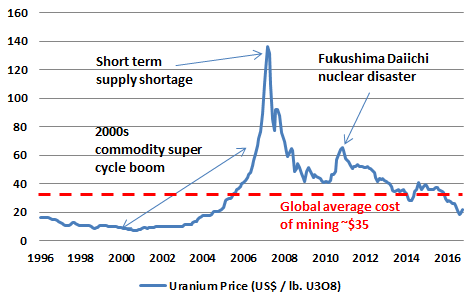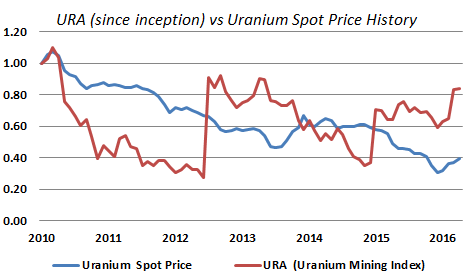 Public fear of nuclear reactors post Fukushima caused some governments to cancel nuclear developments. Nuclear reactor containment and safety technology has greatly improved since then. As the public demands greater use of clean energy, countries will need to manage public perception of nuclear as a viable option.
Demand Catalysts for Price Normalization:
Expect prices to increase once miners renew long-term contracts. During the 2007 price spike, nuclear reactor operators raced to sign supply deals for up to 10 years out of fear prices would stay sky high. Those contracts are trailing off and are part of the reason miners have been able to remain solvent despite current spot prices. At current prices miners are reluctant to conclude term contracts and prefer to wait for an upturn.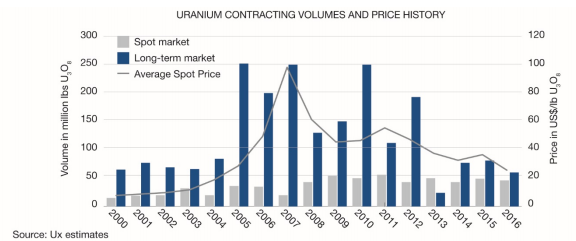 Nuclear power will increase to meet large increases in future electricity demand. China, India, and South Korea account for roughly half of the reactors currently under construction in the world. About two-thirds of these are expected to come on line in the next three years. The global reactor pipeline (operable + constructing + planned + proposed) now exceeds pre-Fukushima levels. Reactors under construction are projected to lift global demand 14% this year.

Long-term need for clean, reliable, cost-efficient energy sources Nuclear Power is a cost-effective method for energy production, reinforcing the likelihood that planned nuclear reactor development will continue. Many countries will need nuclear power to reach carbon emission reduction targets. As opposed to wind and solar, nuclear is a clean energy source that can reliably provide power regardless of time or geography.

Supply Catalysts for Price Normalization:
Current spot prices are below average cost of production, thus market dynamics will force prices higher. Miners know a supply gap is coming, but they need higher prices to justify starting new mining projects. Utilities will agree to higher prices, because they know new production is needed, and uranium represents a small part of their operating costs.
Uranium producers have reduced output due to market prices. With current mine capacity, uranium demand is going to exceed supply sometime in the next few years. Spot prices remained low partially due to the recent sale of military uranium stockpiles, but these secondary supplies will be unable to support the long-term demand gap. It takes 10 years to start pr oduction on a new uranium mine, therefore supplies go through long expansion and contraction cycles. The market will need higher prices to begin a supply expansion.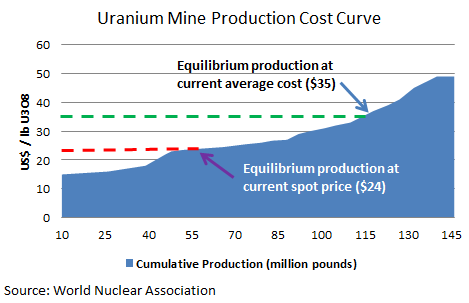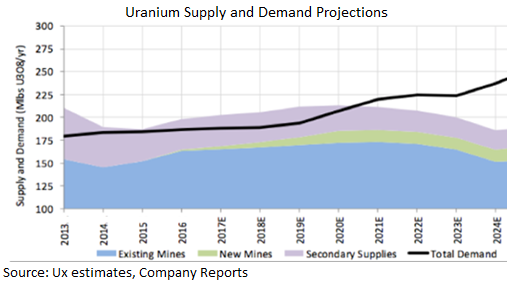 Investment Considerations:
Investment returns will depend on when and to what extent the supply deficit occurs, but in the long-term prices should at least equal the average global cost of production of $35. As miners regain bargaining power, they should be able to achieve higher margins.

Downside protection - Can prices realistically go lower? Current annual consumption of uranium is ~175 million lbs to service the world's 438 nuclear reactors. Mined production currently services 80% of the world's nuclear reactors and this percentage will only increase as military supplies dwindle. If prices stayed at $24 / lb in the long-term, the equilibrium production from miners would be ~60 million pounds (see Production Cost Curve graph). With many new nuclear reactors being built and a working life of 40 years per reactor, it is highly unlikely that long-term demand for uranium will fall by over 50%.