Disney (NYSE:DIS) has seen mixed results so far this year with the ESPN subscriber issue weighing on the company's share price. On the other hand, Disney's parks and studio segments have been returning impressive results. Stripping out the headlines, I am interested in determining whether or not Disney and its current dividend yield of 1.5% belongs in my dividend growth portfolio. Thanks to David Fish and his U.S. Dividends Champions list for the dividend streak and subsequent Dividend Growth Rates ("DGR").
QUICK SCREEN
Current Share Price: $95.21
52 Week Range: $86.25-$120.65
EPS: 5.57
P/E Ratio: 17.1
Price/Book: 3.5
Price/Sales: 2.8
Yield: 1.5%
DG Streak: 6 YRS
5-YR DGR: 31%
Graham #: $58.38
VALUATION
Disney's shares have been range bound for the better part of 2016, is trading far below its 52-week high and has significantly underperformed the broader market.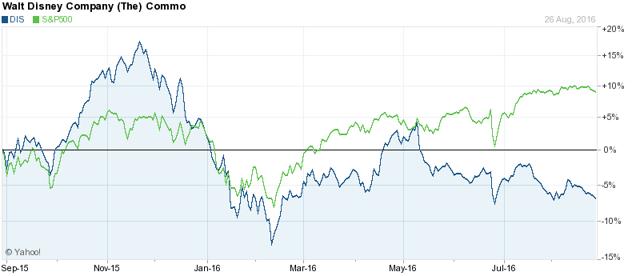 Source: Yahoo finance
Despite its under-performance, Disney is not particularly cheap trading at a 17.1 PE and trading well above its Graham number. That being said, Disney is a high quality company that typically commands a premium and has consistently been growing revenue and EPS.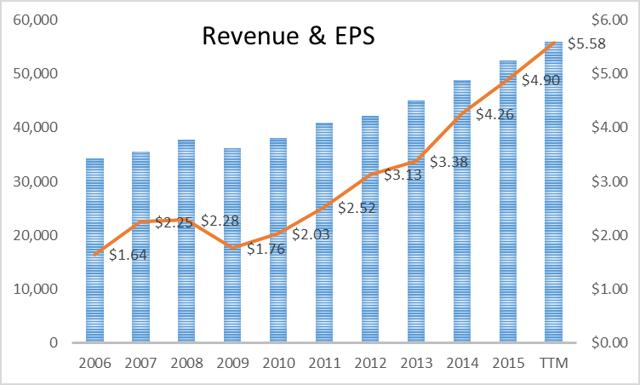 Source: Morningstar
When compared to its historical 5-YR averages, the results are somewhat mixed:

*Source - Morningstar
Disney is currently trading at a discount to 5-YR historical averages on a P/E and P/FCF basis and above 5-YR historical averages on the P/B and P/S ratios.
Morningstar has a fair value on the company of $134.00 and believes it to be undervalued based on their implied P/E of approximately 24 times their fiscal 2016 EPS forecast and 15 times 2016 EBITDA.
DIVIDENDS
At first glance, Disney's current 1.5% yield is not overwhelming and at the moment falls short of my 2.5% minimum requirement for portfolio inclusion. However, the company still warrants further consideration given that both its 3-YR and 5-YR growth rates is 31% and I believe high dividend growth/low yield stocks still have a place in a diversified dividend growth portfolio. Using the following estimates, I will determine what DIS's dividend could look like in 5 years.
Earnings estimate: Analysts yearly estimates
Dividend estimate: 1-YR Dividend growth AVG of 15%
P/E estimate: In-line with today's P/E

The reason I selected the 1-year dividend growth number over Disney's 3-YR and 5-YR growth rates was two-fold. For starters, I prefer to work with a more conservative number. Secondly, with Disney having switched from annual to semi-annual payments in 2015, it led to an overly high dividend payout as it included both an annual and semi-annual payment. Take a look at the dividends paid out below and you will notice the discrepancy: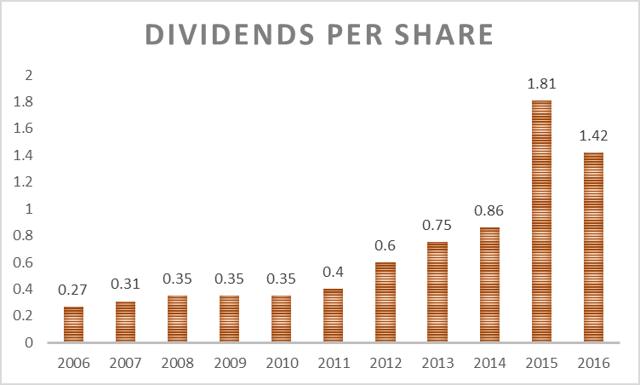 If you were to use the last annual payout of 1.15 (declared in 2014 but paid in 2015), versus 2016 you would get an increase of 24% YOY. In 2015, the annual increase was 33% and in 2014, the increase was 15%. In my view, this makes the 3-YR and 5-YR growth rates unreliable and it is more prudent to use the most recent semi-annual dividend increase of 15% as a base projection.
Based on the scenario above, Disney's share price could appreciate by annualized rate of 7.2% through 2020 and total annual returns including dividends would be approximately 9.2%. Disney's payout would approach 2% by 2020 and its payout ratio would be a respectable 33%. Given Disney's anticipated growth pattern, they have ample room to comfortably raise their dividend by double digits in the next few years.
What Analysts Are Saying
There are currently 33 analysts covering Disney with an average OVERWEIGHT rating and an average price target of $111.41, a 19.8% upside over today's share price. 15 analysts rate the company a BUY, 16 a hold, while only 1 has the company listed as a SELL.
Disney is fairly valued
I have mixed feelings about Disney's valuation at the moment. Disney shares are trading at a discount based on historical P/E ratios keeping in mind that historical performance is not always a precursor to future success. They have also significantly underperformed the market despite continuing to grow earnings and revenues. As a result, it has provided long-term investors an opportunity to pick up shares at decent valuations as compared to historical prices.
However, they still have some significant challenges ahead. They need to stabilize their ESPN numbers, find ways to adapt to the changing media landscape and their YOY box office comparisons will be very difficult to match. Although they have an impressive slate of upcoming films, if films underperform at the box office Disney could see some big misses. That being said, I believe that Disney and its wide moat is a well-managed company and I am comfortable holding Disney at these current prices.
If you would like to receive updates for any of my upcoming articles, please click the "Follow" text at the top of this page next to my profile.
Disclosure: I am/we are long DIS.