At the suggestion of Bob Wells in a comment thread, I started tracking the Value Line Timeliness Rank performance vs SPY. The December 30, 2018 list and subsequent changes are presented below. The column headings are:
Ticker, Company Name
Timeliness Added Date - Date the ticker Timeliness was changed to 1.
Timeliness Removal Date - Date the ticker Timeliness was changed from 1.
Days on the List - Number of days Timeliness stayed at 1.
Start Date Price - if purchased at closing, price paid for 1 share.
Current Price - Price as of the date removed, or May 24, 2019.
Return w/o Dividends - Return without dividends reinvested, dates above.
SPY Return - SPY return for the same dates above.
The Value Line Timeliness Rank is defined here:
Value Line - Value Line University
I used the Dividend Channel calculator for the returns. For stocks still on the list I used closing prices for May 24, 2019. For stocks removed from the list I used the closing price for the date of removal.
In the spreadsheet below, Green indicates the return 'winner', Red indicates the return 'loser', for the period.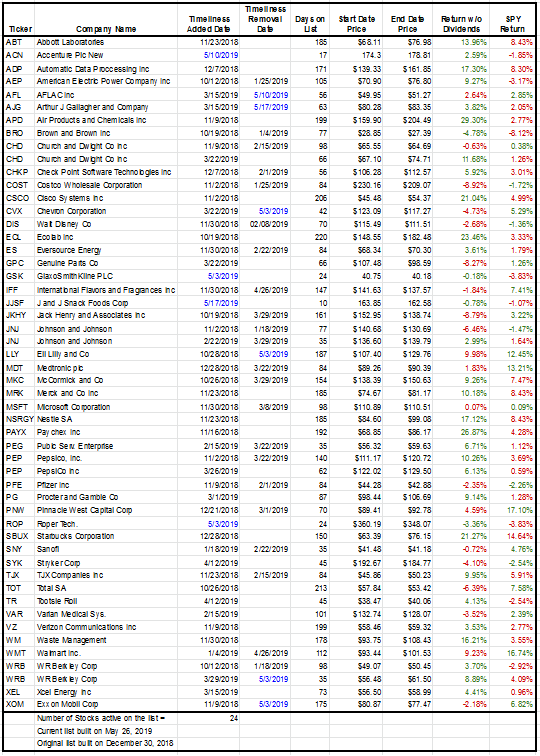 In Part 4, I changed the following:
Corrected the 'Start Date Price' and return columns for DIS. (minimal effect).
Corrected the 'Start Date Price' for WRB, adjusted for split.
Morningstar Portfolio:
Using Morningstar's Portfolio Manager, I input buy/sell transactions from the above table into a Portfolio according to the following rules:
Buy on the date a stock is added to the list using closing price for that day.
Sell on the date removed from the list using closing price for that day.
No dividend reinvestment.
Purchase whole shares up to $1,000 investment for each stock.
This is NOT an actual portfolio.
Below shows the performance of this portfolio according to Morningstar Portfolio Manager: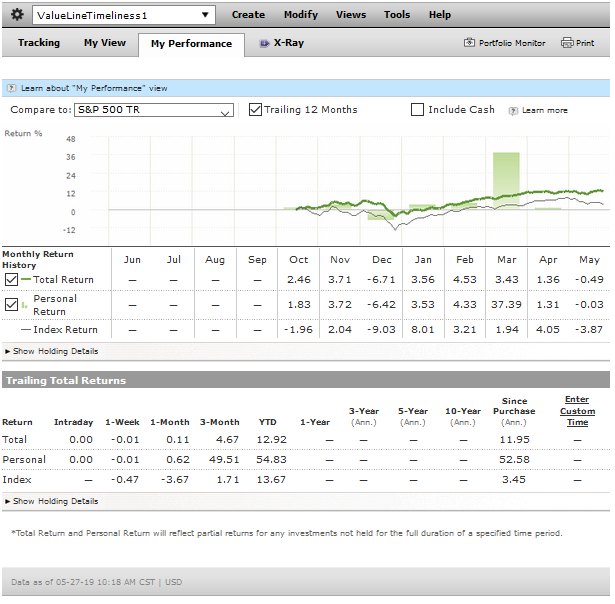 The Portfolio holdings are shown below. Shares held, 0.00, indicate all shares sold.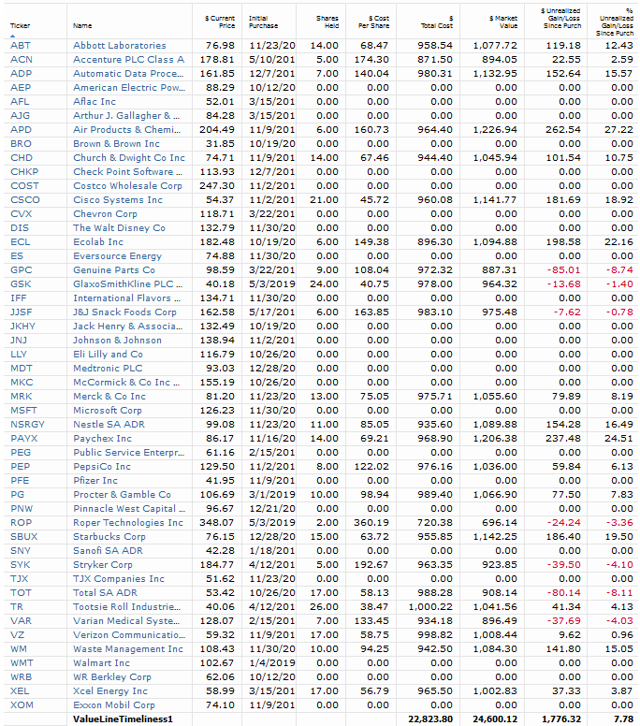 Observations
One thing that bothers me is a stock on the list, then off, then back on. JNJ was on the list from 11/2/2018 until taken off 1/18/2019, 77 days. JNJ then rejoined the list on 2/22/2019, after 35 days, only to be removed again on 3/29/2019 after 35 days. Similar to CHD, although it is still on the list.
I may change the criteria and only sell, in the fake portfolio, when Timeliness changes from 2 to 3. This suits my style better and may provide a little momentum after purchase.
The team is still debating changes.(the team are the voices in my head!)
Any suggestions are welcome.