On Twitter there have been many reports suggesting lack of demand for Tesla's (TSLA) model 3. Examples are price reductions, inventory build up and low order-delivery time spans, even for locations far from the Fremont factory.
There have also been many reports on Twitter complaining about the quality of this car. Examples are complaints about autopilot and self-driving features, charging behavior at low temperatures, rain sensors, paint issues, range issues, plates underneath the car separating from the chassis, difficulties with opening/closing at low temperatures, problems with sunroof glass and so on.
Have a look at the frequency of incidents according to independent statistical research on truedelta.com. It appears the problems are so frequent there is a scale issue when displaying the frequency on their website: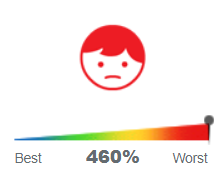 I must add this is based on only 16 people but the result is certainly consistent with the numerous and very detailed complaints directly to Musk on Twitter and on the Tesla forums.
Other reasons for lower demand are increased competition, such as from Jaguar I-Pace and Hyundai Kona and of course decreasing tax incentives, starting next quarter. So it is not a stretch to think demand for model 3 will fall of a cliff.
Of course sales in Europe and China are possible. I see this as unlikely though with apparent homologation problems in Europe and transport costs.  I do not think Tesla can compete in this market segment in China because of high labour costs in the US, especially in Fremont, California. Furthermore I think the model 3 quality is just too low for Europeans as they are used to near flawless quality and reliability of new cars. 
See the thread on Twitter below for a summary of my assumptions for what this means for the balance sheet going forward.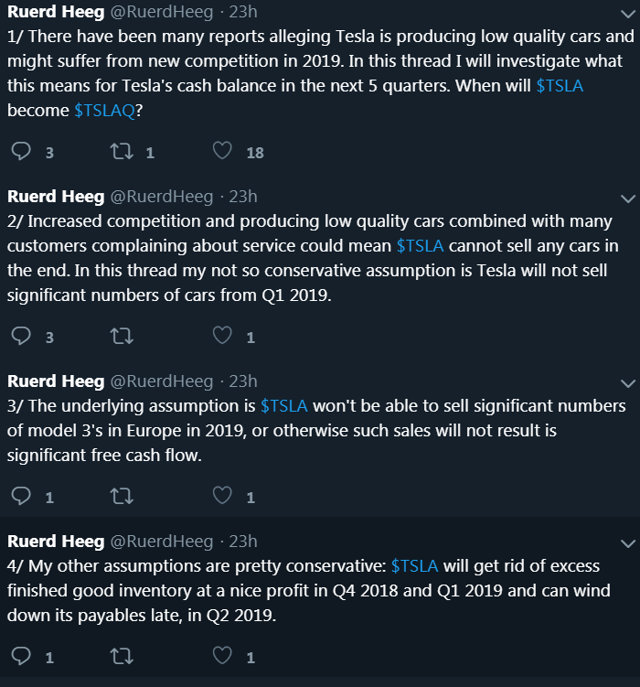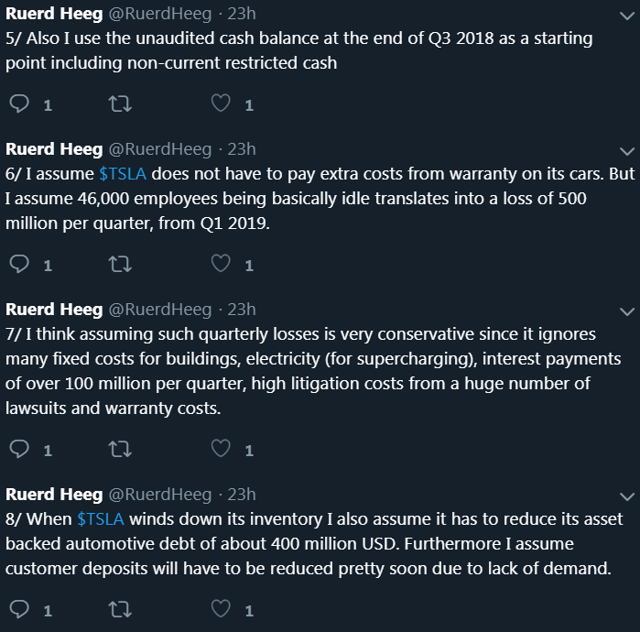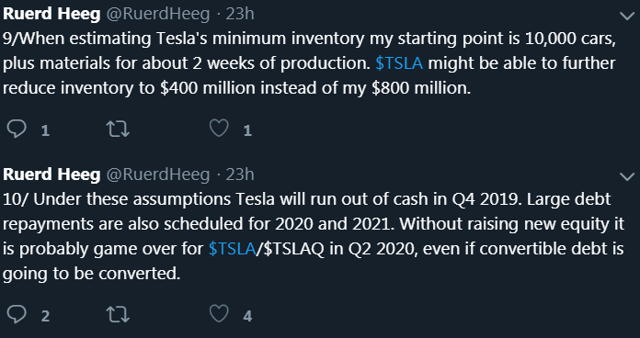 You can play with the numbers after downloading the spreadsheet here. See this screenshot of the spreadsheet: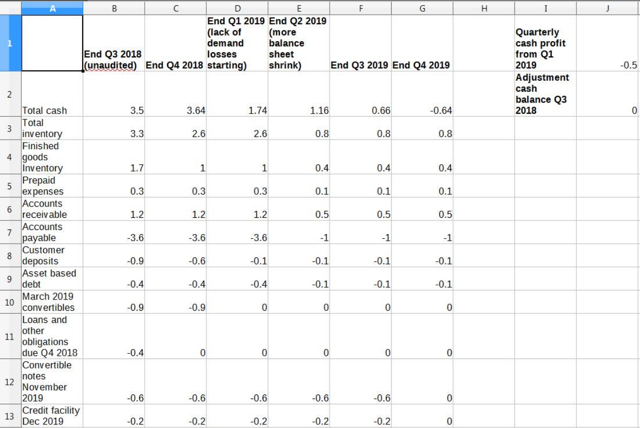 Of course I got feed back on Twitter. Several people think my core assumption is too pessimistic. They think my concerns on the demand for model 3 are overdone. But I have not had much feed back on my next assumption: that Tesla will start to suffer cash losses of about 500 million USD because of lack of demand for model 3. Even if my demand concerns are overdone such losses are very well possible. We should not forget average sales prices will be lower going forward for 2 reasons:
Tesla has lowered model 3 prices and including common options also Model S and model X prices
Tesla seems to have finished selling its huge backlog of high margin Model 3 cars
Furthermore Tesla seems to have under reserved warranty costs and has to spend much on lawsuits. I also think I have been generous for Tesla in estimating future inventory, prepaid expenses, customer deposits, accounts payable and asset based debt. Finally the unaudited Q3 cash position of $3.5 billion was much unexpected. It is very well possible audited financial statements for 2018 show a much lower cash balance than expected based on my assumptions.
Disclosure: I am/we are short TSLA.