Tesla (TSLA) filed the annual report over 2018. I did not expect it would go so smoothly. The interesting thing is there is no going concern warning in the annual report though now it turns out Tesla did not pay back $180 million of debt in December 2018. See my comments on Twitter, also copied in the images below: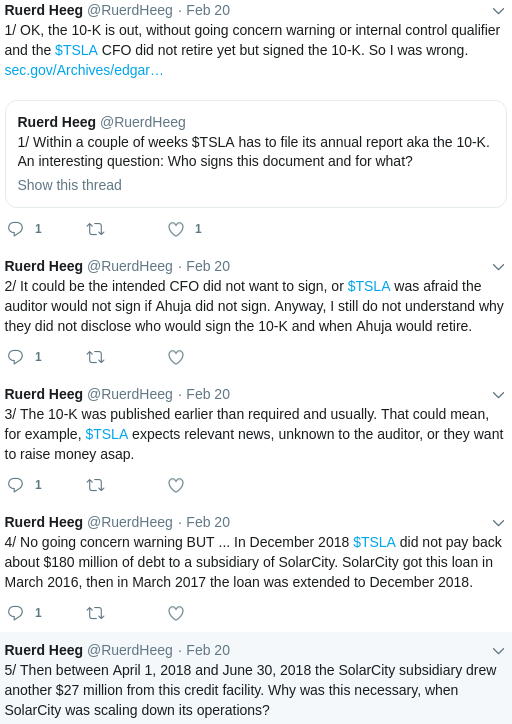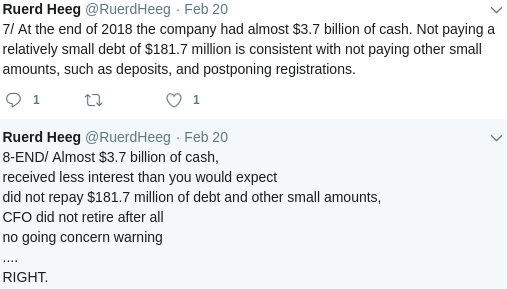 That Tesla is at least very slow refunding its own customer has just been confirmed by Lora Kolodny at CNBC. So the evidence is more than anecdotal stories on Twitter. BTW, most of these investigated refunds were in 2019 instead of 2018 (h/t @subach). He wonders how much the total of refund liabilities was. Unfortunately I could not find it in the annual report.
With $3.7 billion in cash I cannot think of any good reason for not paying back this $180 million of Solar City debt. Tesla does not give a reason either. It does not explain why it expects to be able to repay the debt in April 2019, and why it did not pay in December 2018 and in January 2019.
But could not paying be harmful to the company? Not directly since a subsidiary of SolarCity was responsible for the debt instead of the holding company Tesla. Business at SolarCity is not exactly thriving. So a next step for Tesla could be to steer to a chapter 7 or maybe 11 just for this apparently insolvent SolarCity subsidiary.
I do not know whether this scenario is possible in the US. For example in The Netherlands bankruptcy is often for the whole company rather than on just a single subsidiary. So in The Netherlands the judge might declare our equivalent of chapter 7 on Tesla Motors, SolarCity, The Boring Company and SpaceX if this debt of $180 million won't be repaid. But suppose in the US it would be possible that SolarCity can be declared bankrupt without affecting the other companies.
That will relieve the automotive segment from a lot of obligations, potentially providing one or two years of extra runway. Not more than 2 years because Tesla also has non-Solar City debt. And it does not solve many other issues: the quality of the cars, the lack of demand, increased competition, low margins and the lack of funding for necessary capex (new models and factories). See also this great summary thread on Twitter.
Furthermore it puts a big dent into the credibility of Elon Musk. I suspect Tesla took over SolarCity because he wanted to keep up his credibility and therefore wanted to prevent SolarCity from going bankrupt. At the moment his credibility (as perceived by many naive and ignorant investors) is the biggest factor still supporting Tesla shares at stratospheric valuation levels.
So imagine what would happen with the stock price if just SolarCity files for chapter 7 or 11. My advice: Short the stock and sell if you still own it!