Tesla: What To Expect From A Serious Broad Market Downturn
Investors are still underestimating the consequences of the coronavirus for world-wide markets. Valuations of public companies in the US are still close to the historically high valuations in 1929, just before the crash. In this situation a small disturbance can break the rally. What happens then?
1970 nifty-fifty rally
Let's start with the depression in the 70-ties of last century.  Initially the stock market was euphoric. Among the rallying stocks were the so-called nifty-fifty stocks. It did not end well because in 1973/74 the stock market crashed. Here is the S&P 500 (SPY) for that period: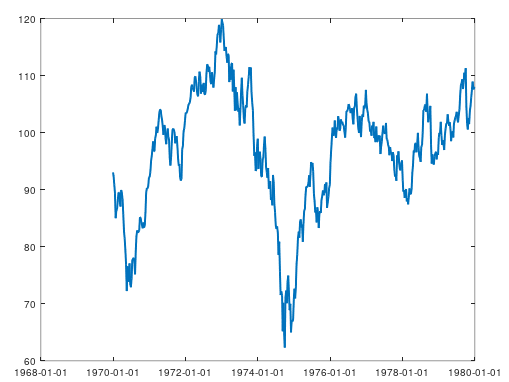 The peak was at the end of 1972 or at the beginning of 1973. As can be seen for the chart it took almost 2 years before the market bottomed, at the end of 1975. Investors had to wait until 1980 until the S&P 500 passed 110 again. Of course losses of investors in the nifty-fifty stocks were higher than broad market losses and it took longer for them to break even.
1998 dotcom rally
Now take a look at the dotcom period: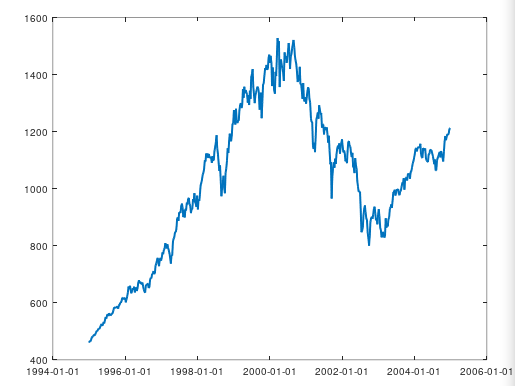 The peak was somewhere mid 2000. It took until the beginning of 2003 before stocks prices started going up again, so more than 2 years. It took until well into 2006 before the S&P went above 1400 again. However the few investors holding on their diversified portfolio of dotcoms never recouped their losses.
2007 Financial crisis
Now look at the financial crisis starting in 2007: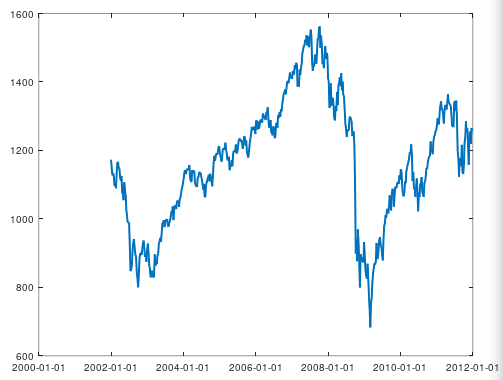 The highs were around the same level as in the dotcom period many years ago. The peak was at the end of 2007. It took until the end of the first quarter of 2009 before stocks had bottomed, so more than a year. At the end of 2010 the S&P 500 reached the 1400 again.
Before the financial crisis many people had invested in banks, insurance companies and emerging markets. Their losses were higher and they had to wait longer for breaking even.
Current stock market euphoria
Now we have again extremely high valuations and the S&P 500 is peaking to new all-time highs: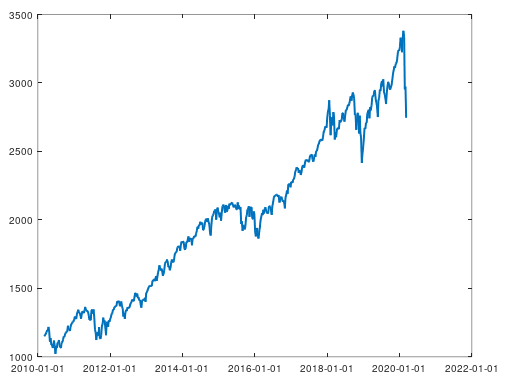 There is a good reason for the rally to stop: economic implications of the coronavirus. Do not expect to see the bottom in just a couple of months. It will take 1-2 years, or more. Therefore: expect a steady decline going forward.
Currently many technology stocks are in fashion. Like in previous market downturns do not expect such stocks to be good long term investments. Much more likely is that such stocks will do much worse than the broad market.
1929-1932 peak-bottom
I do not have charts for the S&P 500 during the 1929 bear market because I do not have access to data to create them. But they are here. As you can see the index peaked in August 1929. It took until June 1932 until it bottomed, so almost 3 years. Stocks are still at valuations similar to 1929. And like in 1929 the most popular and overvalued stocks are technology stocks. Because of these similarities I expect the current downturn to last at least 2 years. 
Implications for Tesla
I would not bet on a downturn in any broad market index. However betting on overhyped and overvalued stocks is different, especially now. One of the most overhyped and overvalued stocks is Tesla (TSLA). Just as other fashionable stocks it will not do well in a broad market downturn.
Moreover I expect its cars sales will take a hit because of the coronavirus. Tesla delivers the bulk of its cars in the 2 weeks before quarter end. Right now it seems the coronavirus will interfere with this peculiar delivery scheme. Because of that Tesla could run out of cash, even though Tesla has just raised over $2 billion in new equity. Of course Tesla can still raise new equity. But at the start of a bear market lasting several years I do not doubt raising new money will cause the stock price to dive further.
For this and other reasons (see here and here) my opinion on Tesla is still: strong sell.
Disclosure: I am/we are short TSLA.
Additional disclosure: Global Deep Value Stocks is a long only newsletter. I do not discuss stocks like Tesla in Global Deep Value Stocks.