Equity allocations among individual investors rebounded to a three-month high last month, according to the September AAII Asset Allocation Survey. Fixed-income allocations fell and cash allocations declined modestly. 
Stock and stock fund allocations rose 1.9 percentage points to 68.7%. Equity allocations were last higher in June (68.8%). September was the 54th consecutive month that equity allocations were above their historical average of 60.5%. 
Bond and bond fund allocations fell 2.2 percentage points to 15.1%. The historical average is 16.0%. 
Cash allocations declined by 0.2 percentage points to 16.1%. September was the 70th consecutive month that cash allocations were below their historical average of 23.5%. 
The change in allocations occurred as stocks rose last month, while rising yields pushed Treasury prices down. Optimism in our weekly survey also rose above its historical average for the first time since last February. 
Even though individual investors list Washington politics and valuations as the primary factors influencing their outlook for stock prices, they don't view bonds as being particularly attractive either. Many AAII members have previously described the ongoing low interest rate environment as causing them to invest in stocks over bonds. September's increase in Treasury bond yields was likely not enough to alter individual investors' perception of interest rates. 
Last month's special question asked AAII members what would prompt them to increase their allocations to stocks. Nearly half of all respondents (44%) said a decline in stock prices and/or a pullback in valuations would prompt them to allocate more to stocks. Many in this group said they are waiting for a correction or bear market to occur. Slightly more than 36% of all respondents said they were either happy with their current allocation or were otherwise fully allocated to stocks relative to their age and/or strategy. Approximately 14% are looking to Washington D.C., particularly for progress on tax reform. About 8% of respondents say change in interest rates and/or the economy would be required for them to boost their equity allocations. 
Here is a sampling of the responses:
"A significant stock market correction."
"Nothing, as I'm currently heavily weighted in equities."
"Valuations are getting 'frothy.' A 10% to 15% correction would grab my interest again."
"Nothing, because at my age, I need to keep some money in bonds."
"Passage of tax reform and tax cuts."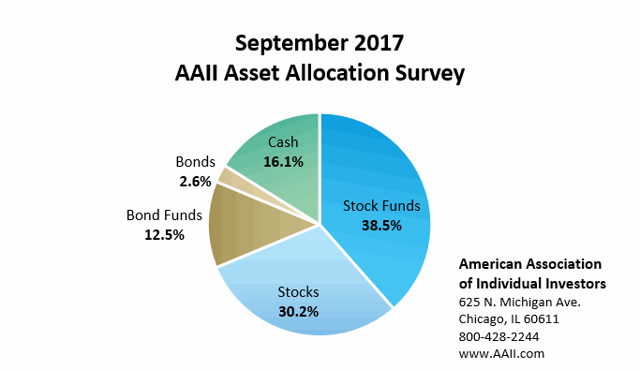 September AAII Asset Allocation Survey results:
Stocks and stock funds: 68.7%, up 1.9 percentage points
Bonds and bond funds: 15.1%, down 2.2 percentage points
Cash: 16.1%, up 0.2 percentage points
 September AAII Asset Allocation Survey details:
Stocks: 30.2%, up 2.0 percentage points
Stock funds: 38.5%, unchanged
Bonds: 2.6%, down 0.9 percentage points
Bond funds: 12.5%, down 1.3
 Historical Averages:
Stocks/Stock Funds: 60.5%
Bonds/Bond Funds: 16.0%
Cash: 23.5% 
*The numbers are rounded and may not add up to 100%.
The AAII Asset Allocation Survey has been conducted monthly since November 1987. The survey and its results are available online.
If you want to become an effective manager of your own assets, consider a risk-free 30-day Trial AAII Membership.
Disclosure: I/we have no positions in any stocks mentioned, and no plans to initiate any positions within the next 72 hours.