The latest AAII Sentiment Survey shows the percentage breakdowns of individual investors' expectations for the short-term direction of stock prices being close to average. Bullish sentiment, neutral sentiment and bearish sentiment are all within a few percentage points of their historical averages. 
Bullish sentiment, expectations that stock prices will rise over the next six months, rose 0.5 percentage points to 35.9%. The historical average is 38.5%. 
Neutral sentiment, expectations that stock prices will stay essentially unchanged over the next six months, fell 3.1 percentage points to 32.4%. Neutral sentiment is above its historical average of 31.0% for the fourth consecutive week and the 34th out of the last 37 weeks. 
Bearish sentiment, expectations that stock prices will fall over the next six months, rebounded 2.6 percentage points to 31.6%. The historical average is 30.5%. 
Bullish sentiment is below its historical average for three consecutive weeks for the first time since early September. Year to date, optimism has been below average on 39 out of 48 weeks. 
While the continued rise of the major U.S. stock indexes into record territory is encouraging to some individual investors, many others have previously expressed concerns about the possibility of a pullback or a more severe drop occurring. Tax reform could also be playing a role. While some of our members are optimistic about the prospects of tax reform being passed, about 40% of those polled in a different weekly AAII survey said the proposed legislation could hurt them. 
Also having an effect on investor sentiment are earnings growth and economic growth. Other individual investors view stocks as being a bit too overpriced or are concerned about the lack of volatility. Washington politics also continues to be at the forefront of many individual investors' minds. 
This week's special question asked AAII members how they thought the average consumer is fairing relative to a year ago. The majority of respondents (57%) perceive that consumers are faring better. Job and wage growth, continued economic growth, rising stock prices, low inflation and optimism were among the reasons given. About 16% say the average consumer is faring about the same as last year, while 15% believe the average consumer is faring worse. Stagnant or low wage growth along with rising prices (including housing and health care) were commonly listed as reasons why. 
Here is a sampling of the responses:
"People are feeling better. The markets are up, unemployment is down and wages are rising."
"About the same because the small increases in wages are offset by the small rise in inflation."
"Better. The economy and the stock market are both improving."
"Not well. Prices are going up, while incomes are stagnant."
"More optimistic. Employment is up and asset prices are up."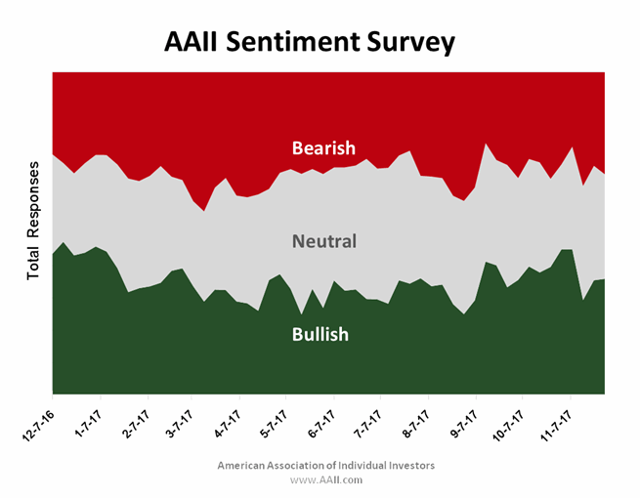 This week's AAII Sentiment Survey results:
Bullish: 35.9%, up 0.5 percentage points
Neutral: 32.4%, down 3.1 percentage points
Bearish: 31.6%, up 2.6 percentage points 
Historical averages:
Bullish: 38.5%
Neutral: 31.0%
Bearish: 30.5%
The AAII Sentiment Survey has been conducted weekly since July 1987. The survey and its results are available online.
If you want to become an effective manager of your own assets and achieve your financial goals, consider a risk-free 30-day Trial AAII Membership.
Disclosure: I/we have no positions in any stocks mentioned, and no plans to initiate any positions within the next 72 hours.