Optimism among individual investors about the short-term direction of the stock market is at a five-week high. The latest AAII Sentiment Survey also shows declines in the proportion of individual investors describing their short-term outlook as being "neutral" or "bearish." 
Bullish sentiment, expectations that stock prices will rise over the next six months, jumped 8.1 percentage points to 45.0%. Optimism was last higher on November 9, 2017 (45.1%). This is the first time in five weeks that bullish sentiment is above its historical average of 38.5%. 
Neutral sentiment, expectations that stock prices will stay essentially unchanged over the next six months, fell 2.0 percentage points to 26.9%. Neutral sentiment was last lower on November 2, 2017 (26.4%). The historical average is 31.0%. 
Bearish sentiment, expectations that stock prices will fall over the next six months, plunged 6.1 percentage points to 28.1%. Pessimism was last lower on November 9, 2017 (23.1%). The historical average is 30.5%. 
Bullish sentiment is above its historical average for just the 10th week this year. Though optimism has been below average for much of the year (an average reading of 34.5%), 2017 has not been a year of excessively low optimism. Rather, this year is on track to rank eighth (out of 31) in terms of having the lowest average calendar-year bullish sentiment reading. 
Most of this week's results were recorded before the outcome of Alabama's special election were known and yesterday's Federal Open Market Committee meeting statement and committee member forecasts were released. Our previous polling of individual investors shows that most are not currently making investment decisions based on the pending tax legislation. While some of our members are optimistic about the prospects of tax reform being passed, about 40% of those polled in a different weekly AAII survey said the proposed legislation could hurt them. 
This year's record highs for the major U.S. stock indexes have encouraged some individual investors, though others have expressed concerns about the possibility of a pullback or a more severe drop occurring. Also affecting investor sentiment are earnings growth, economic growth, valuations and the lack of volatility. Washington politics remain at the forefront of many individual investors' minds. 
This week's special question asked AAII members how they perceive the performance of the stocks they own or follow relative to the year-to-date returns of the S&P 500 index and the Nasdaq composite. Slightly more than 37% of respondents said their returns are either close to the major indexes, are beating the S&P 500 but not the Nasdaq or have some stocks that are beating the indexes and some that are trailing. Approximately 35% say they are either beating one or both of the aforementioned indexes or otherwise happy with their year-to-date returns. Just under 26% say they are underperforming, though many of these respondents explained they are using more conservative allocations or are focused more on value stocks, which have lagged growth stocks year to date. 
Here is a sampling of the responses:
"My stocks have done well overall, exceeding the S&P 500."
"Some stocks are above the S&P 500 and the Nasdaq, while some are below."
"About the same. Roughly in line with the market's gains."
"I have performed lower due to a value-based stock selection strategy."
"Mine will underperform both of those indexes, but will be less volatile."
"I follow AAII's Model Shadow Stock portfolio. The performance is above expectations."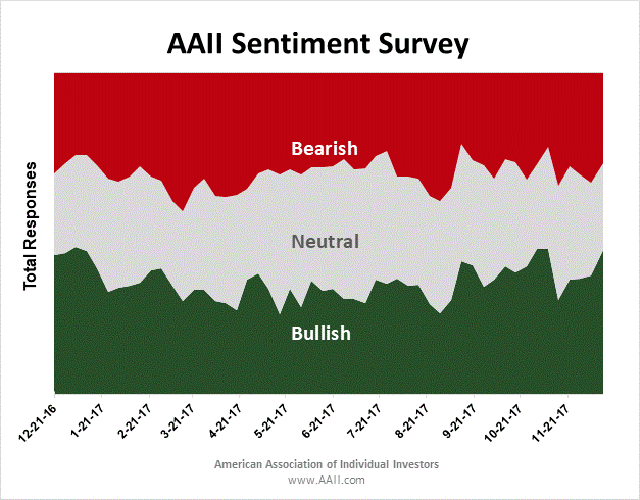 This week's AAII Sentiment Survey results:
Bullish: 45.0%, up 8.1 percentage points
Neutral: 26.9%, down 2.0 percentage points
Bearish: 28.1%, down 6.1 percentage points 
Historical averages:
Bullish: 38.5%
Neutral: 31.0%
Bearish: 30.5%
The AAII Sentiment Survey has been conducted weekly since July 1987. The survey and its results are available online.
If you want to become an effective manager of your own assets and achieve your financial goals, consider a risk-free 30-day Trial AAII Membership.