Individual investors' exposure to equities declined slightly, but stayed above 70% for a second consecutive month in January. The January AAII Asset Allocation Survey also shows small increases in fixed income and cash allocations. 
Stock and stock fund allocations pulled back by 0.8 percentage points to 71.2%. January was the 58th consecutive month that equity allocations were above their historical average of 60.5%. 
Bond and bond fund allocations rebounded by 0.5 percentage points to 15.5%. This is the third time in five months that fixed-income allocations are below their historical average of 16.0%. 
Cash allocations rose 0.3 percentage points to 13.3%. December was the 74th consecutive month that cash allocations were below their historical average of 23.5%. 
January was just the 38th month with equity allocations at or above 70% during more than the 30-year history of our asset allocation survey. Last month's reading, like the month before it (December 2017), is partially a reflection of the ongoing bull market in equities and last year's record highs for the major indexes. These factors combined have boosted the value of stock holdings. 
Also playing a role are low interest rates and increased optimism among individual investors about the short-term direction of the stock market. Bullish sentiment in our weekly Sentiment Survey has been in excess of 40% for eight consecutive weeks. 
Last month's special question asked AAII members what, if any, allocation changes they expect to make this year. Two out of five respondents (40%) said they do not expect to alter their allocations or will only make small changes. Nearly 19% of respondents said they intend to boost their exposure to equities, especially if stock prices fall. Conversely, 11% say they will reduce their equity allocations. About 9% expect to increase their cash allocations. Slightly more than 8% intend to increase their exposure to fixed-income investments. Some respondents listed more than one intended change. 
Here is a sampling of the responses:
"No changes. I'm right where I want to be."
"I am waiting for the market to go down to plow the balance of my cash allocation back into the market."
"Transition from bond funds into more stock funds."
"Slight increase in cash via profit-taking from equities. I'm nearing retirement."
"I expect the stock market's returns will be better than bonds when measured against inflation."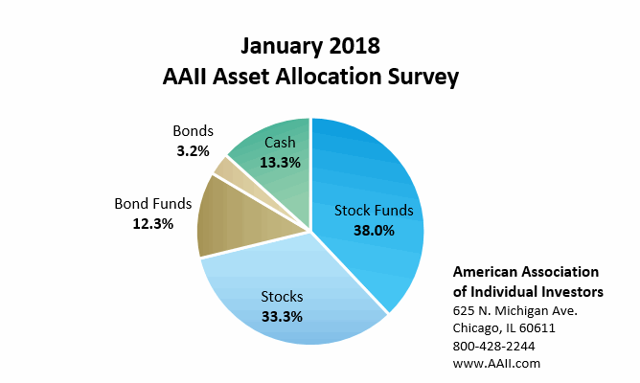 January AAII Asset Allocation Survey results:
Stocks and stock funds: 71.2%, down 0.8 percentage points   
Bonds and bond funds: 15.5%, up 0.5 percentage points          
Cash: 13.3%, up 0.3 percentage points  
January Asset Allocation survey details:
Stocks: 33.3%, up 0.9 percentage points
Stock Funds: 38.0%, down 1.7 percentage points
Bonds: 3.2%, down 0.2 percentage points
Bond Funds: 12.3% up 0.3 percentage points 
Historical Averages:
Stocks/Stock Funds: 60.5%
Bonds/Bond Funds: 16.0%
Cash: 23.5% 
*The numbers are rounded and may not add up to 100%.
The AAII Asset Allocation Survey has been conducted monthly since November 1987 and asks AAII members what percentage of their portfolios are allocated to stocks, stock funds, bonds, bond funds and cash. The survey and its results are available online at: www.aaii.com/investor-surveys.
 If you want to become an effective manager of your own assets, consider a risk-free 30-day Trial AAII Membership.
Disclosure: I/we have no positions in any stocks mentioned, and no plans to initiate any positions within the next 72 hours.