The percentage of individual investors describing their outlook for stocks as "neutral" rose to its highest level in nearly two years. At the same time, optimism is at its lowest level in more than six months according to the latest AAII Sentiment Survey.
Bullish sentiment, expectations that stock prices will rise over the next six months, plunged 10.9 percentage points to 26.4%. Optimism was last lower on August 31, 2017 (25.0%). The drop keeps optimism below its historical average of 38.5% for the third time in five weeks.
Neutral sentiment, expectations that stock prices will stay essentially unchanged over the next six months, jumped 5.9 percentage points to 45.2%. Neutral sentiment was last higher on May 25, 2016 (52.9%). The historical average is 31.0%.
Bearish sentiment, expectations that stock prices will fall over the next six months, rose 5.0 percentage points to 28.4%. Though a four-week high, pessimism remains below its historical average of 30.5% for the 12th time in 13 weeks.
Neutral sentiment has now risen for five consecutive weeks, increasing by a cumulative 18.7 percentage points. Conversely, optimism has fallen by a cumulative 22.1 percentage points since Valentine's Day. At current levels, neutral sentiment is unusually high, while optimism is unusually low. Since our survey was started in 1987, the S&P 500 index has experienced average six-month returns following unusually high neutral sentiment readings and better-than-average returns following unusually low bullish sentiment readings.
Trade policy appears to have had some impact, though it's uncertain how much. Tariffs and trade policy were specifically mentioned by some respondents to this week's survey even though we did not ask about it. Many individual investors are also anticipating continued volatility and/or think the political backdrop could have a further impact on the stock market. Higher interest rates are having an influence on some, but not all individual investors. Also playing a role are valuations, tax cuts, earnings and economic growth.
This week's special question asked AAII members to share their thoughts about the current duration of the bull market, which will mark its ninth anniversary tomorrow. Responses varied. Slightly less than two out of five respondents (38%) believe the bull market will continue at least through the end of this year, if not longer. Some of these respondents cited expectations for sustained economic growth, while others conditioned their forecasts on a sharp rise in interest rates or a political event not occurring. Nearly 26% of respondents think the bull market is near the end of its run. The possibility of higher interest rates or tariffs were given as reasons. Approximately 22% see risks and/or uncertainty as having increased, with many of these respondents expecting stock prices to be more volatile going forward. Some of these respondents cited politics and tariffs as risks.
Here is a sampling of the responses:
"I expect the bull market to continue as long as no 'crisis' events occur."
"I think we are in for a roller-coaster ride this year."
"The market is looking very tired after running for nine years."
"I am amazed at how the long the bull market has run, seemingly oblivious to the nature of politics."
"Should go at least one more year unless the Fed kills it."
"It's a little long in the tooth, but so am I. I don't believe either of us is quite finished."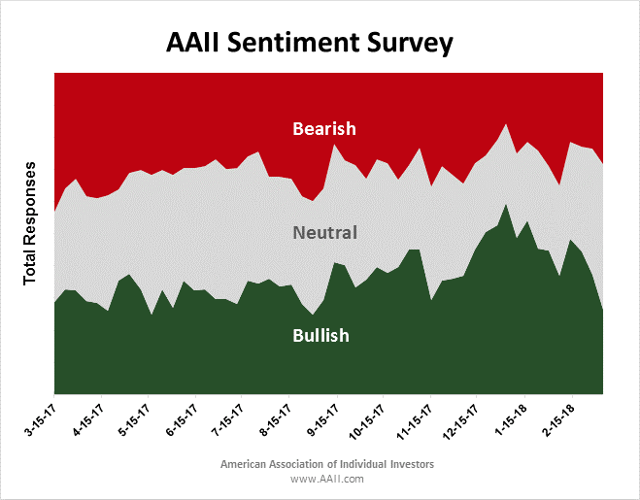 This week's AAII Sentiment Survey results:
Bullish: 26.4%, down 10.9 percentage points
Neutral: 45.2%, up 5.9 percentage points
Bearish: 28.4%, up 5.0 percentage points
Historical averages:
Bullish: 38.5%
Neutral: 31.0%
Bearish: 30.5%
The AAII Sentiment Survey has been conducted weekly since July 1987. The survey and its results are available online.
If you want to become an effective manager of your own assets and achieve your financial goals, consider a risk-free 30-day Trial AAII Membership.