Pessimism rebounded to a six-week high in the latest AAII Sentiment Survey, though it continues to remain below average. Both optimism and neutral sentiment declined.
Bullish sentiment, expectations that stock prices will rise over the next six months, pulled back by 3.6 percentage points to 33.2%. The drop keeps optimism below its historical average of 38.5% for the fifth time in seven weeks.
Neutral sentiment, expectations that stock prices will stay essentially unchanged over the next six months, fell 3.5 percentage points to 38.3%. Even with the decline, neutral sentiment remains above its historical average of 31.0% for a fifth consecutive week.
Bearish sentiment, expectations that stock prices will fall over the next six months, jumped 7.2 percentage points to 28.5%. This is a six-week high. Even still, pessimism remains below its historical average of 30.5% for the 14th time in 15 weeks.
At current levels, all three indicators are within their typical historical ranges. Most of the responses to this week's survey were recorded before yesterday's interest rate hike announcement.
Many individual investors are anticipating continued volatility and/or think the current political backdrop could have a further impact on the stock market. Trade policy is influencing some individual investors' sentiment, but not all. Similarly, higher interest rates are having an influence on some, but not all. Also influencing sentiment are valuations, tax cuts, earnings and economic growth.
This week's special question asked AAII members what influence fourth-quarter earnings had on their outlook for stock prices. The majority of respondents fell into one of two groups. Slightly more than two out of five respondents (43%) said fourth-quarter earnings had limited or no influence. Many of these respondents pointed to other factors such as politics, the new tax law and trade policy. Others said they simply do not focus on quarterly earnings. Approximately 39% of respondents view fourth-quarter earnings as being positive for the stocks. Several of these respondents believe profits will help to support stock prices, while others view earnings as helping to offset other negative factors. Just 16% expressed a negative view of the market, primarily citing either the political backdrop or prevailing valuations.
Here is a sampling of the responses:
"Not much. The market is too focused on Washington and its circus."
"They were certainly encouraging. The real risk, in my view, is not the economy, but global and political."
"Reaffirmed my outlook for continued positive upward momentum."
"Earnings were good, but not good enough to support current stock prices."
"Some. I'm more concerned about interest rates and the overdue correction."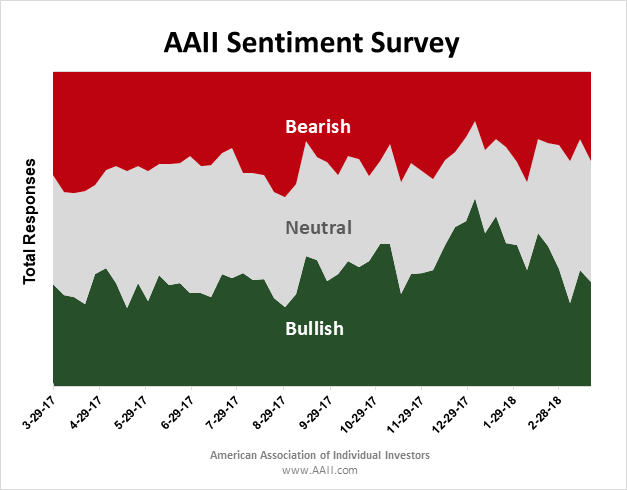 This week's AAII Sentiment Survey results:
Bullish: 33.2%, down 3.6 percentage points
Neutral: 38.3%, down 3.5 percentage points
Bearish: 28.5%, up 7.2 percentage points
Historical averages:
Bullish: 38.5%
Neutral: 31.0%
Bearish: 30.5%
The AAII Sentiment Survey has been conducted weekly since July 1987. The survey and its results are available online.
If you want to become an effective manager of your own assets and achieve your financial goals, consider a risk-free 30-day Trial AAII Membership.
Disclosure: I/we have no positions in any stocks mentioned, and no plans to initiate any positions within the next 72 hours.