The percentage of individual investors expressing optimism about the short-term outlook for stocks is at a 15-week high. The latest AAII Sentiment Survey also shows a decline in neutral sentiment and a modest increase in pessimism.
Bullish sentiment, expectations that stock prices will rise over the next six months, rose 3.9 percentage points to 38.9%. Optimism was last higher on February 21, 2018. The historical average is 38.5%.
Neutral sentiment, expectations that stock prices will stay essentially unchanged over the next six months, fell 4.3 percentage points to 34.4%. Even with the decline, neutral sentiment remains above its historical average of 31.0% for the 16th consecutive week.
Bearish sentiment, expectations that stock prices will fall over the next six months, edged up 0.4 percentage points to 26.7%. Bearish sentiment remains below its historical average of 30.5% for the eighth consecutive week and the 22nd time out of the past 26 weeks.
This is just the second time in the past 15 weeks that optimism is above average. The recent improvement mostly reflects a shift from investors describing their outlook as "neutral" to "bullish." Pessimism, meanwhile, has stayed pretty stable. Bearish sentiment readings have been within a 1.5 percentage point range during four out of the last five weeks.
Many individual investors, but not all, anticipate continued volatility and/or think that the current political backdrop could have a further impact on the stock market. Trade policy is influencing some, but not all, individual investors' sentiment. While many either approve of the Federal Reserve's plan to gradually raise interest rates or don't expect it to affect the stock market, some AAII members are concerned about the impact that rising rates will have. Also influencing sentiment are valuations, tax cuts, earnings and economic growth.
This week's special question asked AAII members how the changes (actual and anticipated) to trade policies are impacting their expectations of how U.S. stocks will perform. Slightly more than two of out five respondents (41%) say the changes will hurt stocks and/or the economy. Conversely, nearly 24% of respondents don't expect trade policy to have a lasting impact and 13% think it will eventually help stock prices. About 6% of respondents are waiting to see what happens, while another 6% say the effects will depend on whether a company operates in foreign or domestic markets.
Here is a sampling of the response:
"I expect trade policies to be a negative for the market until they are reversed."
"I expect a trade war with our trading partners to negatively impact the U.S. economy."
"It will help the stock market. The U.S. economy will be stronger in the long run."
"The anticipated changes in trade policy will have a minimal effect on stock prices. If it turns into a trade war, the effect could be a major negative one."
"Overall, I think it will be a net benefit to small companies and possibly hurt mega-cap international companies."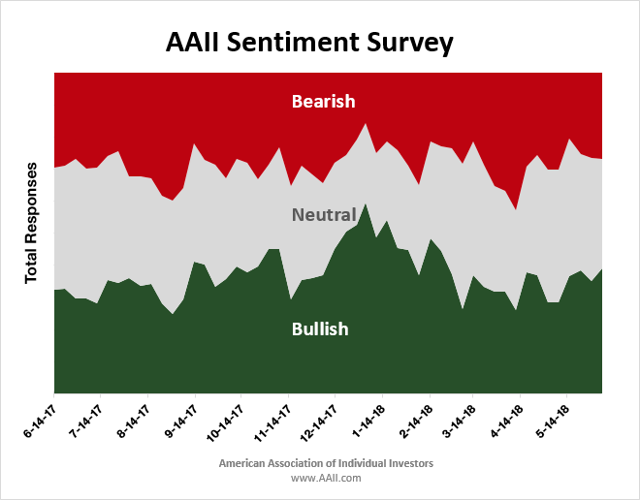 This week's AAII Sentiment Survey results:
Bullish: 38.9%, up 3.9 percentage points
Neutral: 34.4%, down 4.3 percentage points
Bearish: 26.7%, up 0.4 percentage points
Historical averages:
Bullish: 38.5%
Neutral: 31.0%
Bearish: 30.5%
The AAII Sentiment Survey has been conducted weekly since July 1987. The survey and its results are available online.
If you want to become an effective manager of your own assets and achieve your financial goals, consider a risk-free 30-day Trial AAII Membership.
Disclosure: I/we have no positions in any stocks mentioned, and no plans to initiate any positions within the next 72 hours.