Optimism among individual investors about the short-term direction of the stock market pulled back, but remains above its historical average (albeit barely so) in the latest AAII Sentiment Survey. Meanwhile, pessimism rebounded and neutral sentiment rose.
Bullish sentiment, expectations that stock prices will rise over the next six months, fell 6.1 percentage points to 38.7%. Optimism is above its historical average of 38.5% for the fourth time in five weeks.
Neutral sentiment, expectations that stock prices will stay essentially unchanged over the next six months, rose 1.6 percentage points to 35.1%. Neutral sentiment remains above its historical average of 31.0% for the 18th consecutive week.
Bearish sentiment, expectations that stock prices will fall over the next six months, rose 4.5 percentage points to 26.2%. Even with the increase, pessimism remains below its historical average of 30.5% for the 10th consecutive week and the 24th time out of the past 28 weeks.
This week's rebound puts bearish sentiment back into its recent 1.5 percentage-point range. Pessimism has fluctuated between 25.2% and 26.7% during six out of the past nine weeks.
At current levels, all three sentiment indicators are within their typical historical ranges.
The recent record highs for the Nasdaq composite and the Russell 2000 index are helping to keep optimism above where it was over the past few months. Nonetheless, many, but not all individual investors anticipate continued volatility and/or think that the current political backdrop could have a further impact on the stock market. Trade policy is influencing some individual investors' sentiment as well. While many approve of the Federal Reserve's plan to continue gradually raising interest rates, some AAII members are concerned about the impact that rising rates will have. Also influencing sentiment are valuations, tax cuts, earnings growth and economic growth.
This week's special question asked AAII members what they thought about the Federal Open Market Committee (FOMC) potentially raising interest rates one or two more times this year. Nearly half of all respondents (48%) think it is a good idea. Many of these respondents say that the central bank needs to continue normalizing rates, that it's the right time to keep raising rates, that it's a sign of sustained economic growth or that the hikes help to counteract inflation. Approximately 24% expect more rate increases this year, with more respondents anticipating two hikes instead of one. Nearly 13% think further increases would be a bad idea because of the potentially negative impact on the economy and/or stocks. Some respondents add that a trade war would alter their opinions.
Here is a sampling of the responses:
"Great idea. Get back to some degree of normalcy."
"I think that it is pretty much expected and would not hurt dramatically if that was the only influence."
"Interest rate hikes probably need to happen. However, trade wars and a lack of wage increases is a concern."
"Not much. I believe expectations for further rate hikes are already baked into the market."
"Could pose a danger to the financial markets and asset prices."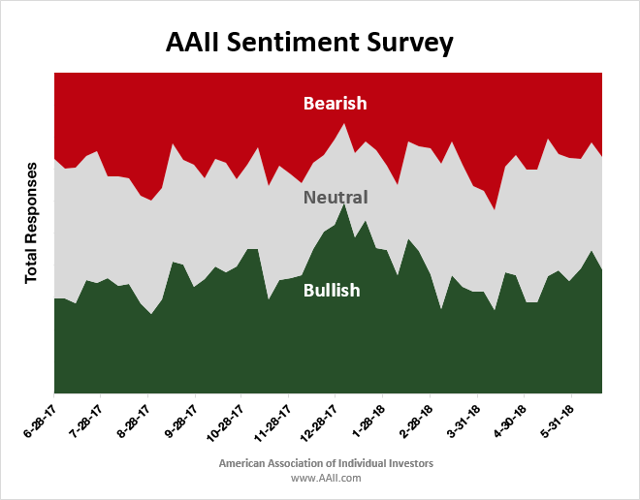 This week's AAII Sentiment Survey results:
Bullish: 38.7%, down 6.1 percentage points
Neutral: 35.1%, up 1.6 percentage points
Bearish: 26.2%, up 4.5 percentage points
Historical averages:
Bullish: 38.5%
Neutral: 31.0%
Bearish: 30.5%
The AAII Sentiment Survey has been conducted weekly since July 1987. The survey and its results are available online.
If you want to become an effective manager of your own assets and achieve your financial goals, consider a risk-free 30-day Trial AAII Membership.
Disclosure: I/we have no positions in any stocks mentioned, and no plans to initiate any positions within the next 72 hours.